Welcome to my Quiz Rewards app review!
Quiz Rewards claims you can earn loyalty gift cards just for answering quiz questions from your phone.
I was excited to test my trivia skills and earn some gift cards in the process, but I lost my motivation after reading some reviews on Google Play.
The app has been downloaded 1 million times and rated 2.4 out of 5, which tells me that lots of people are not getting any rewards.
In this review, I will uncover everything you need to know about Quiz Rewards and give you my honest opinion. Is it a legit or a fake app? Can you redeem your coin for gift cards?
Let's find out!
If you want to work remotely and earn a full-time income online, don't forget to check out my #1 recommendation. This is the same program that helped me reach $1,600 per month and quit my job in 2019.
Quiz Rewards App Review
Name: Quiz Rewards
Company: eGames.com
Website: http://www.cashquizz.com/
Type: Trivia game
Membership Eligibility: Worldwide
Overall Rating: 2/5
What is Quiz Rewards? 
Quiz Rewards (aka CashQuizz) is a trivia game that gives you the opportunity to earn Coins by answering quizzes in 16 categories. You can play single or multiple player modes.
The app is available on Android and iOS devices. However, you will find the iOS version with the name Cash Quiz.
According to the Terms of Service, you can earn rewards based on your skills and not on luck. Once you accumulate enough coins, you can supposedly exchange for Gift cards from major retailers.
Pros and Cons
Pros 
You can invite and challenge your friends.
Take part in tournaments.
It's available worldwide.
Cons
You must wait for your opponent to answer the quiz within 24 hours.
Lots of people won't accept your challenge, and you will waste time.
It takes a long time to reach 10,000 coins to redeem for a gift card.
Most questions are very hard. Don't feel bad if you don't know the answer as your opponent probably won't know better.
There are not many tournaments.
Some people have technical problems.
Many questions are targeted to a UK audience.
How Does Quiz Rewards Work? 
Installation and Registration
You can download the Quiz Rewards app for free on Google Play. Or, search for Cash Quiz on the App Store if you want to play the game trivia game on iOS.
Next, sign up with either your Facebook or Google account and agree to the "Terms of Use".
How to Play the Trivia Game
The app gives you two game options: Tournaments and Challenges.
Challenges
When you click on "New Challenge", Quiz Rewards will choose a random opponent to play with you.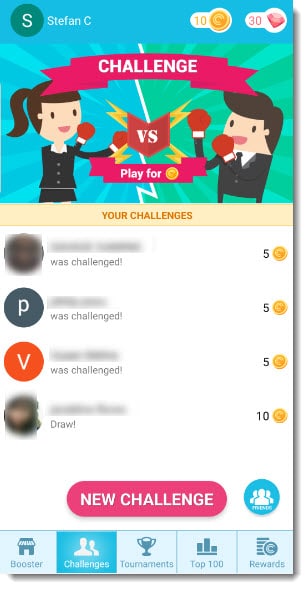 Choose the number of coins you want to set, and if you are a winner, you will double your stake. Otherwise, you will lose your coins. You can set a minimum of 5 coins per challenge.
Instead of putting your own coins at stake, you can watch a video so you can play the trivia for "free". Keep in mind there is a limited number of videos available each day.
Your opponent has 24 hours to accept the challenge, otherwise, you will get your coin stake back.
The trivia game has over 45,000 questions divided into 16 categories such as movies, cars, sports, geography, and general knowledge. You have 10 seconds to answer each question,
In my opinion, the questions are ridiculously hard for most people, and unfortunately, there is not enough time to search on Google.
For example, would you know who invented shoe lacing or which cartoon was a parody of James Bond? Me neither!
Contests (Tournaments) 
You can also take part in tournaments, whose goal is to get the most correct answers within the shortest time.
If you are among the 100 best players, you will get coins for every quiz question you answer correctly. And, the faster you answer, the more coins you will get.
You may also win real prizes such as gift cards from Amazon and Uber.
The best players are revealed as soon as the contest ends, and you will get a notification if you are among the winners.
The downside is that there are few tournaments running at any given time. Also, the app won't send you a push notification when a new one starts.
Invite Friends
What I like about Quiz Rewards is that you can invite your friends and play against him. The best part is that you can play for coins! You will also earn 15 Gems for each friend you invite.

How to Redeem Your Coins?
You can redeem 10,000 coins for a $10 gift card from Amazon, Airbnb, Uber, and more. You can choose your gift card by visiting the "Rewards" menu.
When I entered the rewards section, I didn't find any gift cards available. It was completely empty!
I thought maybe the app will unlock the gift cards automatically when users reach 10,000 coins. However, one user said the only option was to donate to charity.
It takes ages to reach the minimum payout threshold because, most of the time, you only get 5 coins if you win.
Not only that, but not everyone will accept your challenge and you won't win every time. So, you may have to answer over 2000 quizzes to accumulate 10,000 coins, which is insane!

This reward platform is going viral! Cash out via PayPal, Visa, Gift Cards, and in-game currencies - Click here to find out how to generate an extra $10+ per day! 
What Other People Are Saying About Quiz Rewards? 

There are lots of negative reviews on Google Play. Many users give up playing Quiz Rewards not only because it's difficult to accumulate enough coins but also because they don't see any gift cards in the reward section.
I have read many reviews and couldn't find anyone who received a gift card.
People want to get rewarded for their achievements, and I have to stress that reaching 10,000 coins in this game is such a big one!
Also, people complain that many questions are centered around the UK, which is unfair because not everyone is familiar with UK culture and history.
Conclusion – Is Quiz Reward Legit? 
Quiz Rewards is designed for people who enjoy challenging trivia games. However, I think most people give up when they realize how difficult it is to accumulate coins. It takes a significant amount of time, knowledge, and patience.
Quiz Rewards is a legit app, but you should not expect to earn loyalty rewards.
Verdict: Legit
Is There a Better Quiz App? 
Unfortunately, you cannot rely on any Quiz app to earn cash rewards. Maybe they reward a few lucky players every once in a while, but the majority of people get nothing in return for their time and effort.
For example, the Quiz World app stops giving virtual dollars before players can reach the minimum cashout. So, they can never cash out!
If you want to earn a little extra money for completing simple tasks, I recommend a GPT platform called Prizerebel. I have been redeeming points for PayPal cash for over 2 years, and they always paid me quickly.
How to Earn a Full-Time Income From Home
There are many ways you can work remotely and bring in a full-time income from home. My favorite strategy is called affiliate marketing!
It comprises providing helpful content and promoting other people's products in return for commissions.
Whenever someone clicks on your affiliate links, they get directed to the merchant's website. Then, you will earn a commission if the visitor purchases a product!
It takes time and hard work to attract enough clicks that convert to sales. That's why I highly recommend you build a solid foundation for your internet business.
In 2015, I joined this excellent step-by-step program that helped me grow an online asset that is covering all my living expenses.
You can sign up for free now and watch the first 10 lessons for free! In my opinion, that's the best course and website building platform you will find on the internet.
Final Words
Thanks for visiting my blog and reading my Quiz Rewards app review. I hope it was helpful!
If you want to ask questions or share your thoughts about this particular quiz app, drop us a comment below.

Stay safe and until next time!