Welcome to my Happy Swine app review!
I have recently discovered Happy Swine, a free mobile application that rewards you for downloading and trying games on your Android device.
The company claims you will earn coins for every minute that you play the games. After collecting enough coins, you can supposedly convert your balance to cash via PayPal and gift cards.
At first glance, Happy Swine seems like a great way to have fun and earn some extra cash on the side. But does it actually pay? Is it legit?
In this review, I am will uncover the truth and give you my honest opinion about this app!
If you want to learn step-by-step the same strategy that earns me over $1,600/mo from my laptop, check out my #1 recommendation. No previous experience required! 
Happy Swine App Review
Name: Happy Swine App
Company: JustDice GmbH
Type: Get paid to download and play games
Membership Eligibility: Worldwide
App Installs: 100,000+
Overall Rating: 2/5
What is Happy Swine? 
Happy Swine is an Android application that rewards you for downloading and playing games on your phone or tablet.
The app is managed by JustDice GmbH, a German company that operates other similar apps such as  CoinPop, App Station, and App Flame.
Happy Swine is funded by game developers who pay an advertising fee whenever a user downloads and plays the games. Then, the app shares a percentage of the revenue with players through the reward program.
I have reviewed over 7 apps from this company and they all work the same way. You just have to download a game and collect coins while playing.
Is Happy Swine Legit? Does it Pay?
Happy Swine is not a scam, but many people complain that their coins are not added correctly.
Some users report that they received multiple payments from the company. It took a few days, but they were able to cash out with no issues.
Unfortunately, there are many people who report missing payments too. In this review, a user complained that he is still waiting for two payments for almost 2 months!

Some people claim that Happy Swine asks for your PayPal password to cash out. Maybe they have a reason to do so, but as a precaution, I would never enter my PayPal credentials.
All the reward platforms I have reviewed so far require only the email address.
Pros and Cons
Pros 
Easy way to earn money from your phone.
It's free – no purchases required.
Withdraw via PayPal and Amazon gift cards.
Quick registration.
There are no ads while playing games.
Cons
There not many games available. Depending on your country you may not have any apps on the list.
Not everyone receives the payment.
The app will ask for your PayPal password so you can withdraw the money. This can be a risk!
Some users complain that they are not getting free spins after installing an app.

How Does Happy Swine Work?
Installation
After downloading Happy Swine on Google Play, you must consent to the use of your personal information and provide your age and gender.
Next, you must give permission for Happy Swine to track the use of other apps. This will allow the company to access which apps you installed and the amount of time you played the game. Otherwise, the app won't give you credits for playing.
Coins vs Rewards
As soon as you open the app, a bonus of 1,000,000 coins will be waiting for you.
Just keep in mind that you will need 5,000,000 coins to exchange for 0.50 euros via PayPal. The
If you want to redeem via Amazin Gift cards, the minimum is 2.50 euros (24,250,000). The minimum cashout requirement can change at any time.
To cash out, tap on the menu and then "Payouts". Next, select the payment method, the cashout amount, and follow the instructions.
How to Earn Coins
The first time you open Happy Swine, they will let you spin the wheel 10 times to collect coins. You can unlock more spins after 12 hours if you download and play a game.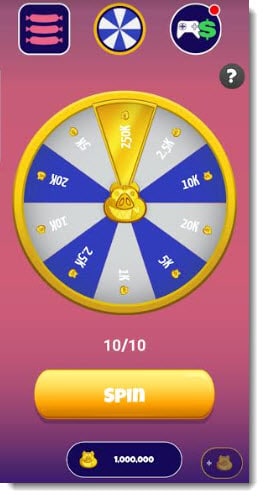 If you click the golden pig in the bottom right corner, you will see a list of games you can install. It tells you the number of coins you will earn per minute of gameplay.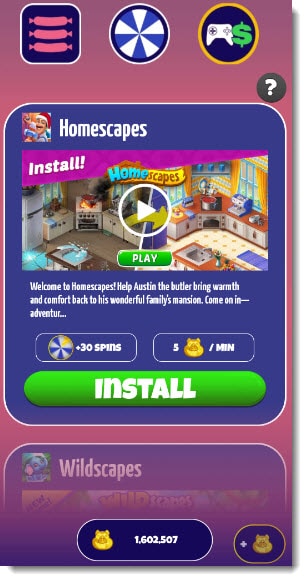 In the beginning, you may only find 1 or 2 games available, but after installing both, the Happy Swine app will probably show you a few more.

All you have to do is tap on the green button "Install", download the game on Google Play and start playing. When you return to Happy Swine, you will get a notification saying how many coins you have earned.
Be aware that you can only get coins for trying games that you have never downloaded before.
Note that the number of coins per minute changes as you play. Unfortunately, the more you play a specific game, the fewer coins you will get per minute.
If you play a game long enough, they will stop giving coins and you will have to install another app. This happens because the game developer agreed to pay a specific fee per installation, which is not infinite.
The downside is that you will get stuck if you run out of games. If there is no game available, the only alternative to collect more coins is by inviting friends, which I will explain below.

This reward platform is going viral! Cash out via PayPal, Visa, Gift Cards, and in-game currencies - Click here to find out how to generate an extra $10+ per day! 
Invite Friends
Just like most reward and sweepstakes apps, happy Swine will reward you for referring friends. You will get 500,000 coins for every person that installs the app through your invitation link.
In addition, you will get 25% of all the coins your friend earns and your friend will receive 25% of the coins you earn.

Conclusion 
Happy Swine is a legit app, but you should not expect to earn any money from it. The reason that the company doesn't guarantee any winnings as per the Terms of Service. Some people get paid, while others don't!
I only recommend this app if you already play similar games on your phone. At least you have a chance to get some money in the process.
The main problem is that Happy Swine may ask for your PayPal password to process your payment. In that case, I advise redeeming your coins via Amazon vouchers.
Now, if you are tired of making pennies and want to finally make a substantial amount of money online, pay close attention to the next section.
Verdict: Legit
How to Earn a Full-Time Income From Home
With the economy in shambles, more and more people are searching for ways to make money on their own terms. No one can rely on jobs to pay our bills anymore!
If you want to create a steady source of income working from home, I suggest affiliate marketing!
Lots of people (including me) are making thousands of dollars per month by building affiliate sites that run 24/7 and generates commissions.
It takes time and effort to grow an authority site that attracts a significant online audience. You don't want to follow ineffective strategies that will just waste your time, money, and patience!
That's why I recommend you learn from expert marketers who walked the way. This excellent online business program will give you the knowledge, tools, and support you need to succeed.
I've been a long-term member who has reached $1,600 per month thanks to their teachings!  So, I can't recommend it highly enough!
Final Words
Thanks for reading my Happy Swine app review. I hope it was helpful!
If you have any questions or want to share your thoughts about this app, drop us a comment below.
Stay safe and until next time!