Welcome to my HuYu App Review!
Lots of people are downloading mobile applications that reward users for scanning receipts. One platform that is slowly gaining more popularity in the UK is called HuYu.
The app gives you points for scanning shopping receipts and completing surveys from your phone. Then, you can redeem points for gift cards once you reach the minimum redemption.
HuYu has built a solid reputation on both Google Play and App Store, but despite the high ratings, the app has collected many negative complaints.
So, can you really turn your receipts into rewards with HuYu? How much money can you make? Is it a legit or a scam? In this review, I will explain how this app works and give you my honest opinion about it.
If you want to learn step-by-step the same strategy that earns me over $1,600/mo from my laptop, check out my #1 recommendation. No previous experience required! 
HuYu App Review Review
Name: HuYu
Website: huyuapp.co.uk
Company: dunnhumby limited
Type: Get rewarded for snapping receipts.
Membership Eligibility: U.K. residents  over the age of 18
Similar apps: Receipt Hog (U.K.), Shoppix (U.K.), CoinOut (the US and Canada)
LEGITIMATE
Overall Rating: 3/5
What is HuYu? 
HuYu is a mobile app that rewards you for scanning grocery receipts from eligible supermarkets in the U.K. It accepts receipts from Tesco, Sainsbury's, Asda, Lidl, Waitrose, Morrisons, Ocado, and Co-op.
You will get points for every receipt you scan and upload through the app. You can also take part in occasional marketing research studies and collect points for sharing your opinions.
All the data and opinions you share with HuYu will be combined to give retailers high-level reports on consumer trends and buying habits. The information will help them make better decisions to improve their products and promotions.
The good news is that all the data you share with HuYu partners cannot personally identify you. Besides, the developers will never sell your personal information to third parties.
Is HuYu Legit? Will They Pay You? 
Yes, I am confident HuYu is legitimate!
HuYu is operated by a consumer data science called dunnhumby limited, which provides insights for major brands in the U.K.
You may experience technical issues and receipts can get rejected incorrectly, but the company will try to solve the issue if you send them an email.
If you check the reviews on Google Play you won't find any user complaining about Payments. So, as long as you collect enough points, you will get paid.
Pros and Cons
Pros
All the data you share with the company is anonymized.
HuYu won't share your data with third-parties.
Cons
Some people report technical issues trying to upload receipts.
You can only scan 10 receipts per week.
It only accepts receipts from a few big chain supermarkets.
HuYu does not exchange points for cash payments.
There are not many surveys available.
It takes a long time to cash out.
How Does HuYu Work? 
Install the app 
To use the HuYu app, you must be over 18 years old. Although you can download the app from any country, only residents in the UK are eligible to exchange points for rewards.
After installing the app on Google Play or App Store, you will be asked to read and accept the Terms and Conditions.

Sign up 
You can access HuYu and start collecting points immediately as a guest. However, you can only redeem your points for vouchers after signing up.
You can create a free account quickly using your Facebook or Google account. The good news is that HuYu will give you a signup bonus of 10 points.  
Points vs Rewards
Once you collect 500 points, you can request a £5 gift card. The full list of reward options will be available when you reach 500 points.
Unfortunately, HuYu doesn't give users the option to redeem points for PayPal cash. If you prefer getting paid via PayPal, I recommend installing this popular scanning app alternative.
How to Collect Points? 
Scan Receipts
To collect points with your in-store receipts, tap on "Earn" and then "Scan Receipt.".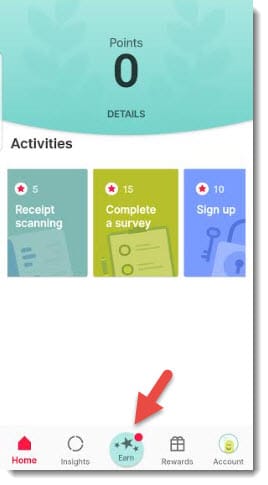 Then, center your grocery receipt on a dark background and snap it.
If the receipt is too long and doesn't fit in one photo, simply add more images. To avoid rejection, make sure your receipt is not damaged or blurred.
HuYu also accepts e-receipts from Morrisons, Sansbury's, Tesco, Ocado, and Waitrose.
To submit your e-receipt, you must generate and copy a HuYu code first. Then, forward your e-receipt to the email provided and use your code as the subject line.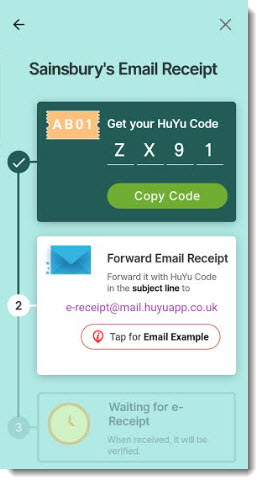 Before submitting your e-receipt, I recommend reading the FAQ section on the website to make sure you are doing the right thing.
You will get 5 points per receipt and 10 points per e-receipt.
IMPORTANT: The company allows you to upload receipts from members of your household. However, it forbids the use of other people's receipts and threatens to deduct points or even close your account if you break this rule. The question is, how do they know someone is not a household member?
Complete Surveys
HuYu will invite you to take part in occasional surveys and share your opinions with brands. Most surveys take 5 – 15 minutes to complete and will give you less than 100 points (£1) each.

This reward platform is going viral! Cash out via PayPal, Visa, Gift Cards, and in-game currencies - Click here to find out how to generate an extra $10+ per day! 
Before taking the survey, they will ask you a few questions to make sure your demographics match with their ideal candidate. If you qualify, you will get rewarded once you complete the survey.
You may not get lots of survey invitation with HuYu, which is why it can take months to cash out.

Completing surveys can be very time consuming and you will waste a lot of time with disqualifications. Still, they will help you to reach the minimum redemption faster!
Online surveys as not the best way to make money online, but some people make over $100 per month by taking part in surveys via GPT platforms like Prizerebel and Offernation.
Refer a Friend
Another way to collect points with HuYu is by sharing your referral code with your friends. Your referral code is located in the "Refer a friend" section.
Both of you will get 50 points after they download the HuYu app and scan their first receipt.
If you have a friend's code, click on "account" followed by "Referral code". You will get an extra 50 points on your first receipt scan.
The downside of HuYu's referral program is that you can only invite a maximum of 3 people.
As of writing, HuYu has suspended their referral program, but they promise to reopen it soon.
How Much Money Can You Make? 
Not a lot because you can only scan a maximum of 10 receipts per week. So, you will earn £0.50 or £1 per week depending on whether you submit paper or e-receipts.
You can accumulate more points if you complete surveys, but don't expect to receive lots of invitations.
In my opinion, it's not so difficult to earn £5 worth of gift cards at least once every 2 – 3 months.
Does  HuYu Respect Your Privacy? 
HuYu strives to protect your privacy according to the strict General Data Protection Regulation. In the Privacy Policy, the company explains what data they collect from you, how they use the data, your rights, and more!
What I like about HuYu is that they will not use the data to advertise third-party products and services. Besides, the data is kept as an aggregate, which means they cannot identify you from other users.
You can always opt-out of communications, withdraw your consent, erase your data, and exercise other rights by sending them an email.
Users Reviews 
Lots of people have redeemed their points for a £5 gift card with no issues whatsoever.
However, I found many complaints about technical issues, missing points, and incorrect receipt rejections.
One user said HuYu said his receipt was too old even though it was 2 days old. Another user claimed that HuYu often rejects her receipts stating that they are not from accepted stores, even though they are.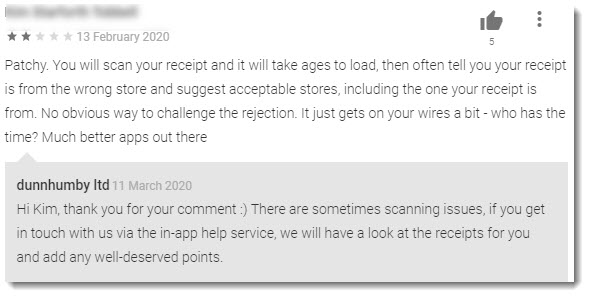 Unfortunately, you can experience scanning issues that prevent you from getting your well-deserved credits.  People have been unable to upload receipts lately due to issues with the scanner.

The company is always replying to complaints on Google Play and informing about updates aimed at solving the issues.
If you are having any issues, contact the company at [email protected], and I am sure they will go the extra mile to help you.
Conclusion 
HuYu is a legitimate application that you can use to turn your receipts into rewards.
It's a trusted app, but the earning potential is too low and you can experience scanning problems and other technical issues. You can waste a lot of time and patience contacting the support and trying to find a solution.
Some people take over 3 months to receive their £5 gift card because they don't go shopping multiple times a week. Besides, the small number of eligible retailers is a very limiting factor.
I think the company should include other businesses on the list such as license stores, coffee, and shops.
Verdict: Legit
What Are the Alternatives? 
If you are searching for an alternative app in the UK, I suggest you have a look at Shoppix, and Receipt Hog.
Both apps accept receipts from any grocery store, restaurant, and cafe, which makes it a lot easier to accumulate points.
With Receipt Hog, there is also the advantage of redeeming your points for PayPal cash. However, nothing prevents you from using multiple apps to maximize your earnings.
Regardless of how many apps you are using, it's difficult to earn a decent amount of money by scanning receipts, completing offers, or taking part in marketing research studies.
Next, I would like to share with you a business model that you can use to generate hundreds and even thousands of dollars per month. The great thing about this method is that it allows you to create an online business with very little startup capital and grow a full-time income from home.
Earn A Full-Time Income From Home
In 2015, I was taking surveys to earn a little extra money from home, but I'd spend hours in front of the computer only to make £1 or £2. It was very frustrating!
Then, I started searching for better opportunities when I discovered affiliate marketing.
In short, this business model consists of providing helpful content and promoting other people's products in return for commissions.
This exact step-by-step program helped me build an online business that runs 24/7 and generates recurring commissions.
It took time and a lot of work to make this business get traction, but I wanted to be able to work from my laptop and travel the world.
So, I followed the training and worked consistently until I finally reached my goals and quit my job last year.
I want to give you the motivation and say that you are capable of reaching your goals too! If you want guidance from expert marketers, click the link below to learn more about the training.

>> Click here and check out my #1 recommendation!
Final Words
Thanks for taking the time to read my HuYu app review. I hope it was helpful!
If you have any questions or would like to share your thoughts about this reward application, drop us a comment below.
Stay safe and peace out!