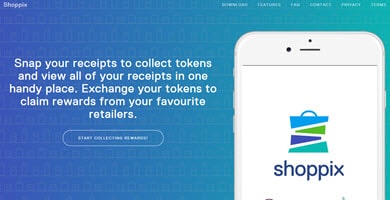 Welcome to my Shoppix App Review!
Millions of people are using their phones to generate extra income every month.
Thanks to the internet and current technology, anyone can use a combination of different strategies to stop living paycheck to paycheck.
In today's post, we are going to take a close look at another opportunity to earn money called Shoppix.
Shoppix is an app that allows you to earn tokens for snapping receipts and answer quick surveys.
You can then exchange tokens for PayPal and vouchers from major retailers.
In this review, I am going to cover everything you need to know about Shoppix and give you my honest opinion.
Is it legit and safe to use? How much money can you earn?
If you want to work remotely and earn a full-time income from home, check out my #1 recommendation. This program helped me reach $1,600/mo in online revenue and quit my job in 2019. No special skills required!
Shoppix App Review
---
Name: Shoppix
Company: TNS UK LIMITED
Website: https://www.shoppixapp.com/
Type: Get paid for snapping receipts.
Membership Eligibility: UK (+18)
Price: Free
Minimum Payout: £5
Similar app: Receipt Hog, HuYu, SnapMyEats.
LEGITIMATE
Overall Rating:

4.5/5
What is Shoppix?
---
Shoppix is a simple app that allows you to turn your receipts into real money and rewards.
The app is available for permanent UK residents, and it's very similar to Receipt Hog, HuYu, and SnapMyEats.
As a member, you will earn tokens every time you snap receipts and take surveys from your Android or iOS device.
Shoppix will also reward you with scratch cards as well as entries into the weekly prize draw.
The reason why the company is collecting receipts is to generate reports for marketing research purposes.
This is different than cashback incentives, whereby consumers get paid a small percentage of what amount they spend.
Shoppix is not as popular as Receipt Hog, but it has received a lot of positive feedback and excellent ratings on both Google Play and App Store.
Is Shoppix App Legit?
---
Yes, I am confident that Shoppix is legit and safe to use.
It's reassuring to know that the vast majority of people receive payments without any issues.

However, that doesn't mean everyone will have a positive experience.
Many users complain about invalid receipts even though there is no apparent reason for rejection.
Some people also report technical problems and payment delays.

Pros and Cons of Shoppix
---
Pros
Earn free money!
Tokens add up quickly compared to other apps.
It's very easy to use.
Earn bonus tokens for snapping receipts on the same day of purchase.
Earn tokens for answering relevant surveys.
You can upload e-receipts.
Cons
You can only scan one receipt per day from the same store.
Shoppix does not approve receipts that are 7 days older. Similar apps have a deadline of 14 days.
Sometimes Shoppix may reject your receipt by mistake.
Some people experience technical problems.
It's still not well optimized for tablets, so you may experience some glitches.
How Does Shoopix Work?
---
Registration
Once you install the app, you can create a free account with your Facebook account or email address.
You can insert a referral code and earn 200 Tokens (30p) once your first receipt is approved.
Unfortunately, Shoppix was not offering a referral code as I was writing this review. But you can easily find one by Googling "Shoppix referral code".
Next, you will receive an email to validate your account.
Complete your Profile
Upon validating your account, log in and complete a quick profile survey.
Your profile will help the company to send you surveys that match your demographics and interests.
According to Shoppix, your data is collected anonymously and will not be shared or sold to third parties without your consent.
What is the Value of a Token?
100 Tokens are worth approximately 16.6p.
Snap a Receipt
Once you get a receipt from purchasing goods and services, tap on the camera icon at the bottom of the screen.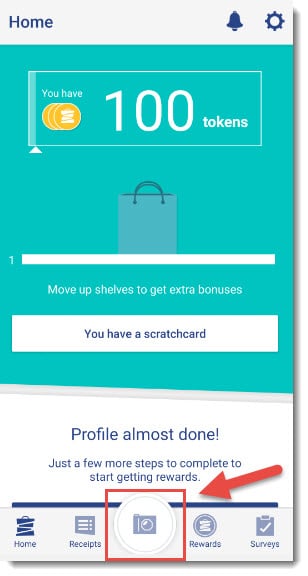 Then, snap the receipt inside the dotted lines and answer two questions.
Tokens will be pending for a day or so until the receipt is approved.
You will earn 25 Tokens (4p) for each valid receipt plus a bonus of 5 tokens if you submit the receipt on the same day.
You can submit as many receipts as you want, but you will only get paid for the first 30 valid ones every week.

This reward platform is going viral! Cash out via PayPal, Visa, Gift Cards, and in-game currencies - Click here to find out how to generate an extra $10+ per day! 
Valid Receipts
To be deemed valid, each receipt must clearly display the following:
The merchant's name.
Date of purchase – no more than 7 days old.
The individual items or services purchased and the total price.
You can submit receipts from supermarkets, shops, restaurants, and cafes, etc.

Receipts from travel, hotel, and financial services are not accepted.
It's important to know that you can't snap receipts from the same merchant more than once a day.
Despite all diligence, errors can occur, and your receipt may be rejected incorrectly.
For example, some people report that a receipt was rejected because it was already used by another person.
If you think you have forwarded a valid receipt, send an email at [email protected] so that they can investigate.
Complete Surveys
Another way to collect tokens with the Shoppix app is by completing general surveys or specific surveys based on your receipts.
You can find new survey opportunities by checking the survey section on the app.
Also, any receipt that you submit can trigger a survey based on your purchasing habits.
The typical survey awards 30 tokens and takes approximately 5 minutes.  
Scratch cards
After completing a survey, you may get digital scratchcards for a chance to win bonus tokens.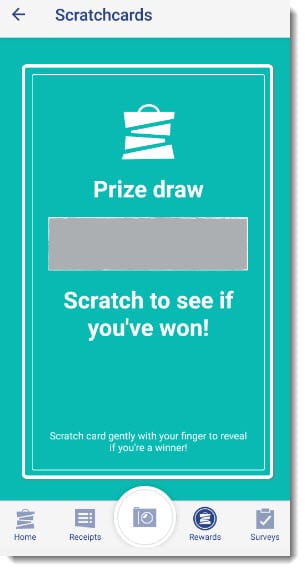 You will also get one or two scratchcards for snapping receipts in consecutive weeks.
All scratchcards will give you an entry into the weekly prize draw.
As of writing this review, Shoppix is giving away 10,000 tokens for 2 winners and 2,000 Tokens for 8 winners.
Move Up the Shelves
A bag lights up every week when your first receipt is approved.
You will get a bonus every time you light up all the bags on a shelf and move to the shelf above.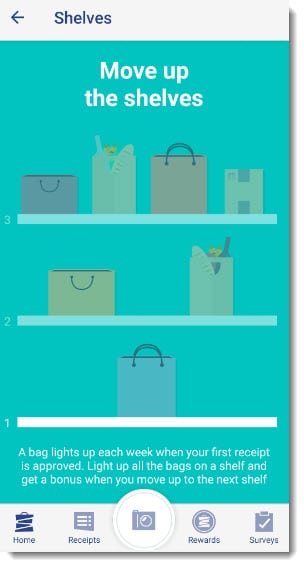 How Much Money Can You Earn With Shoppix?
---
As you know, you can get paid for up to 30 receipts each week.
That's 3,600 Tokens or £6 per month!
However, the fact that you can't snap receipts from the same place more than once in a day is a limiting factor.
Still, if you snap all your receipts and answer all the surveys, you should expect to earn at least £5 per month.

How to Redeem Your Tokens?
---
You can exchange your Tokens for vouchers from your favorite retailers such as Amazon, iTunes, and Love2Shop.
There are 3 payments amounts available:
£5 – 3200 Tokens
£10 – 6000 Tokens
£20 – 11500 Tokens
Final Thoughts
---
Shoppix is a legit and pretty decent app to turn your receipts into cash rewards.
I highly recommend it!
I like this app because it is easy to use and provides other ways to collect tokens from surveys and scratchcards.
Another great thing about Shoppix is that tokens add up quicker compared to similar apps.
The app has been rated 4.7 (excellent) on both Google Play and App Store, and there are lots of positive reviews!
Nevertheless, technical problems and incorrect rejections can occur, and you can waste time trying to find a solution.
Verdict: Legitimate – Recommended
How to Make A Full-Time Income From Home
---
Apps like Shoppix are great for a little extra money, but…
If you are reading this section is because you want to at least pay all your bills with your online revenue!
It's possible!
In fact, there are lots of people earning £1 k and even £10 k per month all over the world.
But in my opinion, the most exciting and profitable strategy is to create an online business based on affiliate marketing.  Here is why:
Set your own schedule.
Unlimited income potential.
No customer service.
No Boss!
It's ridiculously cheap to operate.
No Product fulfillment.
This training program gave me a clear plan of action to grow an online audience and make lots of affiliate sales.
Just keep in mind that this type of business takes time to flourish, but on the other hand, it can completely change your life! 
>> Learn more about my story and recommended program here. 
Final Words
Thanks for taking the time to read my Shoppix app review. I hope it was helpful!
If you have any questions, feel free to leave a message in the comment section below.
Stay safe and till next time!