Welcome to my Fiat Pay app Review!
You may have found Fiat Pay while searching for easy ways to make money on your phone.
It's a very simple app that allows you to earn coins (CR) every 13 minutes from a faucet.
You can also earn coins by playing games such as the Russian Roulette, Tetris, Pyramid, Flappy Coin, and Jumping Fan.
Google play has been flooded with unscrupulous app developers who are only interested in their own pockets.
Therefore, lots of people are skeptical about Fiat Pay and wondering if they can really make real money.
In this Fiat Pay review, I am going to explain exactly how the Fiat Pay app works and give you my honest opinion.
It is legit? Can you really withdraw the money?
Let's find out!
If you want to work remotely and earn a full-time income from home, check out my #1 recommendation. This program helped me reach $1,600/mo in online revenue and quit my job in 2019. No special skills required!
Fiat Pay App Review
---
Name: Fiat Pay
Website: cryptoriches.ru
Type: Faucet
Membership Eligibility: Worldwide
Similar app: BFast BFree
LEGITIMATE
Overall Rating: 2/5
What is Fiat Pay?
---
Fiat Pay is a Russian faucet app available Worldwide for Android users.
A Faucet is basically a reward system that pays users for doing incredibly simple tasks from time to time.
With Fiat Pay, you can earn coins every 13 minutes just for pressing the CR button and watching the video.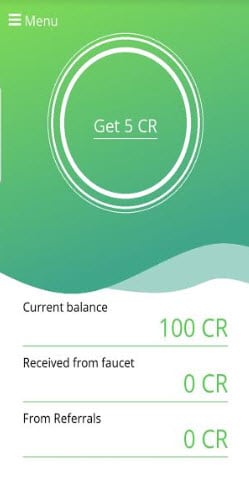 Coins can also be collected by playing mini-games and inviting friends through your referral code.
Once you have enough coins, you can redeem for PayPal, Payeer, AdvCash, and WebMoney.
There are two versions of Fiat Pay on the Playstore: The Fiat Pay USD and the Fiat Pay EUR.
The only difference is that the first one pays in US dollars whereas the second one pays in Euros.
Is Fiat Pay a Legit app?
---
I noticed there are mixed feelings about this app on Google Playstore.
Some people are claiming that Fiat Pay is a scam because they could not cash out.
One person said that when she was close to the minimum payout threshold, the app simply stopped working.


On the other hand, you will also find positive reviews and people showing payment proofs on YouTube.
It's impossible to know what is really going on behind the scenes.
Is the company trying to solve payment issues? We will never know…
I believe that Fiat Pay is legitimate, but there is no guarantee that you will get paid.
Pros and Cons
---
Pros
It's probably the easiest way to earn money online.
There are several payment methods.
Cons
The pay is extremely low!
No registration needed.
Some people experience connection errors.
The minimum payout threshold for PayPal is too high.
How Does Fiat Pay App Work?
---
Installation and Registration
Ideally, you should install the Fiat Pay EUR if you live in Europe, and the Fiat Pay USD is you live in the U.S.
If you live outside Europe and the U.S, you can install any version as the money will be converted to your currency anyway.
After the installation, you can choose to skip the registration or sign up with your email address.
During the signup, you can enter a referral code to earn a bonus of 100 CR.
Keep in mind that the registration is mandatory only if you want to participate in the referral program.
Otherwise, you can skip the registration without any problem.
Your starting balance will be 100 CR, but if you insert a referral code, you will start with double.

Coins Vs Rewards
Fiat Pay will give you coins known as CR. The exchange rate between CR and dollar or euros is indicated in the Account page.
Keep in mind that the exchange rate depends on the payment method and it may change in the future.
PayPal: 1 CR = $0.0000292396
AdvCash: 1 CR = $0.0000472706
WebMoney WMZ: 1 CR = $0.0000467833
Payeer: 1 CR = $0.0000443467
Fiat Pay Faucet
With the Faucet, you can earn 5 CR every 13 minutes by clicking on the circle.
Next, you must solve the captcha and wait for a few seconds on the advertising page.

This reward platform is going viral! Cash out via PayPal, Visa, Gift Cards, and in-game currencies - Click here to find out how to generate an extra $10+ per day! 
Note the button on the side which says, "Speed up the timer for 40 minutes".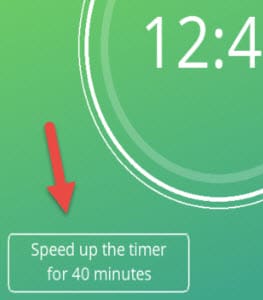 After clicking on this button, you will watch a quick video, and then, the timer will speed up by 3 minutes and 25 seconds.
You can only speed up the timer again after 40 minutes.
That's it!
Now, you can rinse and repeat during the day to collect more coins.
From my calculations, if you spend all day using Fiat Pay faucet, you can earn more than 300 CR.
Converting to fiat, that's only 0.01 USD per day!
Unlike other reward apps, there is no limit to the number of CR that you can earn.
However, even if you use Fiat Pay non-stop, the pay rate is extremely low.
Games
Another way to collect coins with the Fiat Pay app is by playing games that can be found on the menu.
There are currently 5 mini-games: Pyramid, Roulette, Tetris, Flappy Coin, and Jumping Fan.
For example, with the Pyramid game, you can try your luck and earn coins if you discover in which block is the prize.
The closer you get from the base, the more difficult it is to win the prize.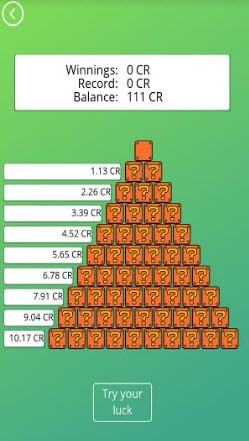 Referral Program
You can also earn a referral bonus by inviting other people using your referral code.
If people use your code, they will get 100 CR and you will earn a 10% share on all their faucet earnings.
How Much Money Can You Earn With Fiat Pay?
The amount of money you can make depends on how active you are.
It's impossible to estimate, but one thing is certain, you will earn very little money because the exchange rate is abysmal.
I'd say earning 0.50 USD per month with Fiat Pay is already a big challenge!
How Do You Get Paid?
---
To request a payment, the first step is to open your account enter the address of your wallet.
Go back to the menu and click on "Payout".
Then, select the payment method and enter the amount to be paid in CR.

The minimum payout threshold for each payment processor is the following:
PayPal: 51400 CR
AdvCash: 24000 CR
WebMoney WMZ: 10800 CR
Payeer: 1000 CR
As you can see, the fastest way to cash out is through Payeer, but AdvCash offers the best exchange rate.
Unfortunately, PayPal has the worst exchange rate and the highest requirement to cash out.
In my opinion, it's worth using PayPal to withdraw your money.
Fiat Pay will automatically convert CR into dollars or euros depending on the version of your app.
You can expect to receive the payment within 3 business days.
Conclusion
---
The Fiat Pay App offers an easy way to make money, but the earning potential is incredibly low.
I think most people who are using this app for a long time are not aware of how bad it is!
The coin system can make people believe that they are making good progress.
No, not at all!
5 CR is $0.0002, so you have to use the faucet 50 times to accumulate 0.01 USD.
In my opinion, Fiat Pay is not worth it even if you live in a developing country.
Verdict: Legit / Not Recommended
I understand that you may be looking for an easy way to make money.
But why not put in a little more effort and focus on online tasks that pay much more!
The internet is full of GPT (get paid to) and Micro job sites where you can complete very simple tasks and reach $100+ per month.
In my opinion, Prizerebel is one of the best GPT sites out there!
As for micro jobs, you can try the popular Amazon Mechanical Turk (Mturk), Appen, and Remotasks.
Keep in mind that the pay rate is still incredibly low. So, you will likely earn less than the minimum wage if you live in a wealthy country.
How to Make a Full-Time Income From Home
---
There are many ways to work remotely and make a full-time income online.
In my opinion, the best way to create your own online business that will offer you unlimited income potential.
Me, personally, I decided to create an affiliate site that is now covering all my expenses while I am traveling to South East Asia.

In short, I create helpful content and promoting other people's products in exchange for great commissions.
I was a complete newbie, but this step-by-step training showed me exactly how to grow a significant online audience required to make sales.
It takes time and consistent work, but if you stick to their clear plan of action, you will be way ahead of the curve.
>> Learn more about my story and recommended program here. 
Final Words
Thanks for taking the time to read my Fiat Pay app review. I hope it was helpful!
If you have any questions, feel free to leave a message in the comment section below.
Stay safe and peace out!