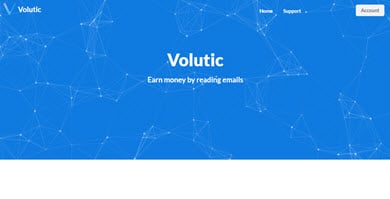 Welcome to my Volutic review!
I was browsing an internet forum when I stumbled upon a new platform called Volutic.
This website claims you can make money simply by opening emails on your PC, phone, or tablet.
You are reading this post because you are afraid that Volutic might be a scam designed to flood your inbox with spam.
In this review, I am going to cover everything you need to know about this site and give you my honest opinion.
While you are still here, don't forget to check out my #1 recommendation. This is the same program that helped me reach $1,600/mo and quit my job in 2019. No special skills required!
Volutic Review
---
Name: Volutic
Website: volutic.com
Payment method:  FaucetPay or Payeer
Minimum Payout: $0.2
Membership Eligibility: Worldwide
Price: Free
Similar sites: Clickgenie
Overall Rating: 2.5/5
What is Volutic?
---
Volutic is a free platform where you can get paid just for "reading" emails from your phone, tablet, or PC.
You can also make money by inviting friends to Volutic. I will explain more about the referral program later.
As of writing this review, Volutic has 43,787 members who got paid a total of $767.
This figure will certainly grow as the website becomes more popular during the following months.
Is Volutic Legit?
---
After thorough research, I could not identify anything suspicious about Volutic.
So, yes. I believe Volutic is a legit site, at least for now!
I have seen many people showing screenshots of payments on the Beermoney forum.
Besides, the website is very transparent as they have a list of the recent payouts.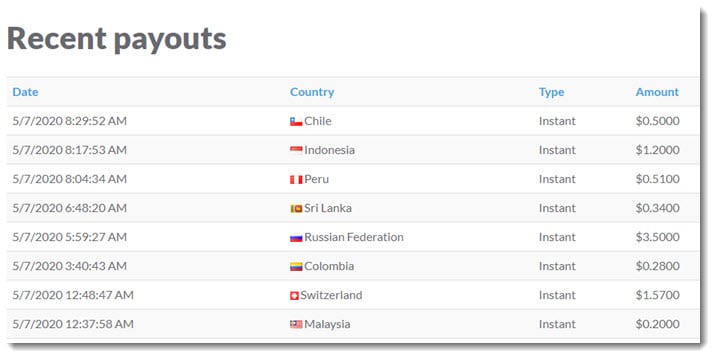 Every time someone gets paid, Volutic will display the payment's details such as the date, time, cash amount, and country.
Only the name of the person will not be available due to privacy.
Pros and cons
---
Pros
There are many referral levels.
Easy way to make money.
The minimum payout threshold is only $0.20.
Get paid instantly.
Cons
The earning potential is extremely low.
Users are only getting 1 or 2 emails per day.
At the moment, you can only withdraw the money via FaucetPay or Payeer.
You need to verify your phone number before you can cash out.
How Does Volutic Work?
---
Registration
The registration is very quick and simple.
Fill up the form and tick the boxes to accept the terms and conditions and privacy policy.
After that, you will receive an email from Volutic, which as a verification link.

If you don't get this email in your inbox, check your spam folder.
Then, click on that link to activate your account.
Next, you will have to create a filter so that all Volutic emails will be sent to your primary inbox instead of the spam folder.
After registration, you will find a step by step video instruction on how to do that according to your email provider (Gmail, Yahoo, or Hotmail).
How to Earn Money With Volutic
Once you create your account, you just have to wait for emails.FFF
Each email has a link that will direct you to a website.
All you have to do is open the email, click on the link, and stay on the website for a few seconds.
You will earn anywhere between $0.0016 to $0.01 per email, which is reasonable.
The main problem is that emails are scarce depending on your country.
Some users report that they are getting just 1 or 2 emails per day. Others have not received an email for more than 2 days!
At this current rate, you should expect to earn 1 or 2 cents per week if you are lucky!
Keep in mind that Volutic is not a GPT (get paid to) site, so there is no other way to make money apart from referrals.
If you want to complete easy tasks to maximize your online earnings, don't forget to check out Prizerebel.

Referral Program
Another way to make money with Volutic is through referrals.
Simply copy the referral link that you will see right on the top of your dashboard and share it with your friends on social media.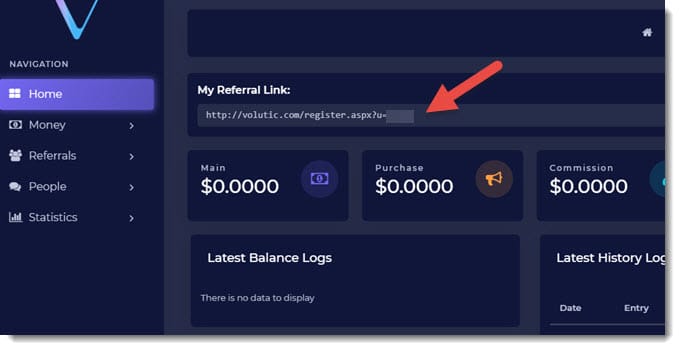 You can earn $1 for every friend that joining Volutic through your link and earns $1.
In addition, you will earn a commission based on your referral earnings up to 6 levels. Here is the commission rate for each level:

This reward platform is going viral! Cash out via PayPal, Visa, Gift Cards, and in-game currencies - Click here to find out how to generate an extra $10+ per day! 
100%
90%
80%
70%
60%
50%
That means you will earn $1 for every $1 that your referral earns.
Not only that but if your referral has another referral (level 2), you will earn $0.90 for every $1 that this person earns.

This continues up to level 6.
Despite the high commission rate, you can still struggle to earn a decent income with Volutic because of the low earning potential that this platform provides.
If you want to earn a decent income through referrals, there are much better affiliate programs that can pay you over $20 per sale.
But first, you need to learn how to build a large audience first.  This excellent step by step program will show you the way.
How Do You Get Paid?
Right now, you can withdraw your cash balance via using Payeer or Faucetpay.
But before you get paid, you will be required to verify your phone number.
The minimum payout is $0.20 and there is a transaction fee of 1.5%.
Volutic will process your payment instantly after converting your cash balance to your digital wallet.
Conclusion
---
I am confident that Volutic is a legitimate website that pays!
At least for now, the company seems to be dealing with payments in an efficient manner.
In my opinion, it's a pretty decent website for those who want to make money just for opening emails.
It's something that you can do in just a few seconds, so I don't see any harm in that!
Just be aware that you may have to wait for months only to make $1.
Verdict: Legit
How to Earn a Full-Time Income From Home
---
There are many sites like Volutic that will pay you for very simple tasks.
Unfortunately, the easier the task, the less money you will earn!
Why not put in the effort into building your own online business that can earn you $1,000s and even $10,000s per month?
For most people, the best strategy is to create an affiliate site where you can promote other people's products.
An affiliate site supplemented my income for 4 years when I was finally able to quit my job in 2019.
Since them, I have the freedom to work for myself whenever and wherever I want.
It takes time and consistent effort, but if you stick to a clear plan of action, you will succeed!
If you want to see how this business model works, check out my #1 recommendation.

Final Words
Thanks for taking the time to read my Volutic review. I hope it was helpful! 😉
If you have any questions, feel free to leave me a comment below.
Stay safe and peace out!