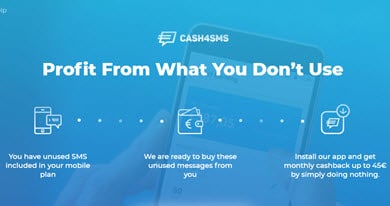 Welcome to my Cash4SMS app review!
Do you have free or cheap international SMS on your mobile phone plan?
If so, I bet you never use them all. Am I right?
With the Cash4SMS app, you can make passive income by turning your unused SMS into real money.
The company promises to pay you €0.03 from each international SMS sent from your number.
According to the homepage, you can save up to 70% of their mobile bill, depending on your plan.
As you may, know there are lots of apps that promise easy money for doing little or no work.
If you want to work remotely and earn a full-time income from home, check out my #1 recommendation. This program helped me reach $1,600/mo in online revenue and quit my job in 2019. No special skills required!
Cash4SMS App Review
---
Name: Cash4SMS
Website: https://cash4sms.today/
Company: Telenumbers Holdings LTD
Type: Sell unused SMS
Membership Eligibility: Worldwide
Similar app: Birdchain
LEGITIMATE
Overall Rating:

 4/5

Recommended?

Yes
What is Cash4SMS?
---
Cash4SMS is a cashback app that allows you to sell unused international SMS and earn passive income.
According to the website, you can earn €0.03 for each message regardless of your country.
In this beginning, I thought Cash4SMS was like Money SMS or SMS Profit.
Well, it turns out the business model is completely different!
Instead of getting paid to receive messages, you get paid to send them.
Cash4SMS works in most countries, but the service may not be available from your mobile networks.
Pros and Cons
---
Pros
Earn passive income.
Easy to use.
You decide the number of messages you want to sell.
Receive direct payments in Euros via PayPal.
It's available in most countries.
There are detailed stats showing your earnings
Cons
Cash4SMS may not work with your mobile carrier.
Depending on your country, it can be difficult to find a decent mobile plan to send international text for less than €0.03.
Why Does Cash4SMS Need Your Unused SMS?
---
Some people may be skeptical as the company doesn't explain why they need your SMS.
I suspect Cash4SMS are selling your text messages to other companies as A2P SMS (application-to-person messaging).
If that is the case, then companies are using your phone to send authentication and marketing messages to their clients at an affordable price.
That's exactly how the Birdchain app works!
How to Get Started
---
Check Your Mobile plan
Before downloading the app, make sure your mobile plan includes international SMS to any European country.
Also, the SMS rate must be less than €0.03 per text message. Otherwise, you will lose money!

Download the App and Sign Up
Download Cash4SMS on Google Play here.
After that, you must sign up with your name, surname, date of birth, and phone number.
Make sure your name and surname are the same as in your PayPal account.
Access Test
Upon creating your account, Cash4SMS will check if their service is available for your mobile network.
If so, the next step is to provide your PayPal address to receive the payment.
Set the Number of SMS
What I like about Cash4SMS is that you can choose the number of SMS messages you wish to sell every month.
However, there is a limit of 1500 SMS per month per phone number.
If you don't send messages abroad, you can sell all of your SMS allowance to make the most out of your phone plan.
Click Start!
Once you click "start", Cash4SMS will run in the background and send SMS whenever they need.

How Much Money Can You Earn with Cash4SMS?
---
As you know, you will earn €0.03 per SMS.
So, the amount of money you can make depends on the number of SMS that you have selected.
As the limit is 1500 SMS per month, you can make as much as €45 per month.
How do You Get Paid?
---
The only payment option available is PayPal.
Once you reach 5 euros, Cash4SMS will transfer the money to your PayPal account during the first week of the following month.

This reward platform is going viral! Cash out via PayPal, Visa, Gift Cards, and in-game currencies - Click here to find out how to generate an extra $10+ per day! 
You can also request a payment at any time once you have 5 Euros.
In that case, you will receive the money within 1 or 2 business days.

If you don't live in Europe, you can easily convert euro to your currency via and transfer the money to your bank account.
Conclusion
---
Cash4SMS is a great app for those who want to make some extra cash on the side.
Think of Cash4SMS as an opportunity to reduce the cost of an expensive mobile plan.
What I like about this app is the fact that it pays a fixed rate via PayPal.
Also, it's very
The downside is that it can be difficult to find a mobile plan that is charging less than €0.03 for international SMS.
Depending on your country, you will not find a deal to make Cash4SMS worthwhile.
Verdict: Legit / Recommended
Is There a Better Alternative to Cash4SMS?
---
I believe the only alternative to Cash4SMS is a blockchain-based app called Birdchain.
The main difference is that Birdchain rewards users with Bird Tokens, which you can't exchange for real money straightway.
Another downside is that this app only works in Indonesia, Nigeria, Lithuania, and the UK.
In my opinion, Cash4SMS is a better alternative because it pays directly via PayPal.
Besides, it works in many countries and offers a higher income potential!
How To Make a Full-Time Income From Home
---
You are reading this Cash4SMS review because you love the idea of making passive income.
Who doesn't!
However, there is a much better strategy with the potential to generate $1 k and even $10 k per month.
The business model that I am talking about is called affiliate marketing.
Lots of people are running profitable affiliate sites and making a substantial amount of money from home.
It's not complicated, but if you stick to a clear plan of action and put in the work, there is a good chance of success.
I was a complete newbie when I decided to build my website back in 2015.
But thanks to this excellent step-by-step program, I learned the ropes and achieved remarkable results.
So, in 2019, I finally quit my job and achieved my goal to work whenever and wherever I want.

If you want to see how this business model works, check out my #1 recommendation.
This is the same program that gave me the knowledge, skills, and tools to create my own online business.
Final Words
Thanks for taking the time to read my Cash4SMS app review! I hope it was helpful!
If you have any questions, feel free to leave a message in the comment section below.
Stay safe and until next time!