Receipt Hog Review – Is It Worth It?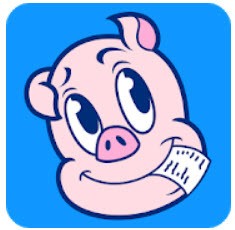 Receipt Hog claims to be an easy way to turn your receipts from everyday shopping into cash rewards. But does it really work? Is it worth your time?
In this review, I am going to show you all you need to know about Receipt Hog and give you my honest opinion about it.
By the way, if you want to learn the proven method that earns me over $1,000/mo from my laptop, check out my #1 recommendation!
Receipt Hog Review
---
Name: Receipt Hog
Website: https://www.receipthog.com/
Price: Free to join
Company: ScoutIt Inc.
Where is it Available? The United States, Canada, and the United Kingdom.
Overall Rating: 3.4/5
[yasr_overall_rating size="medium"]
What is Receipt Hog?
---
Different from cashback platforms like iBotta, Top CashBack, and Quidco, Receipt Hog doesn't want you to buy products through its platform.
Instead, Receipt Hog is a mobile app that rewards users for uploading pictures of their shopping receipts.
They also reward users for taking online surveys from time to time.
You will earn points for shopping at different types of stores such as supermarkets, pharmacies, toy stores, off-licenses, pet shops, and more.
Some examples in the UK include Asda, Lidl, Tesco, Boots, Waitrose, Superdrug, Holland & Barret, and Pet at Home.
There are lots of offers available every week in different categories such as Snacks, sweets, home, health, beverages and more.
Is Receipt Hog a Scam?
---
No, it isn't. Receipt Hog is a legit app operated by ScoutIt Inc., a company headquartered in San Francisco and trusted by big brands such as P&G, Unilever, McDonald's, and more!
There are many apps out there that use atrocious business practices to avoid payments. Well, that's not the case with Receipt Hop.
What Are They Doing With Your Receipts?
---
Receipt Hog is collecting receipts for the sole purpose of performing market research.
It's important to mention that all the research data you provide through surveys and receipts are made anonymous.
They use the information to get statistic reports that will help companies identify essential trends. Here is one example:
"Families in the Phoenix area are 20% more likely than the rest of the United States to shop for laundry detergent at a supercenter than a traditional grocery store."
How Does it Work?
---
Installation
Receipt Hog app is available for Android and iOS devices, so you can download and install it via Google Play or Apple Store.
Once the app is installed, you can register for free using your Facebook account.
Submitting Your Receipt
It's very straightforward. All you have to do is tap the camera icon, take the pic and tap "submit receipt."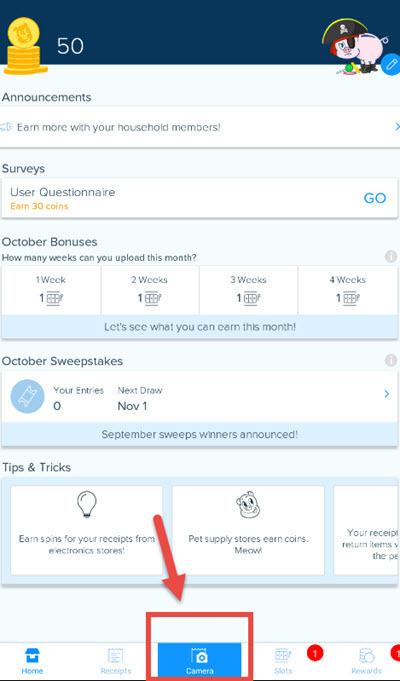 Your receipt must contain the store name, the list of items with prices, the total amount and the date of transactions.
Besides, it must be clear, unaltered and not older than 14 days.
How Much Can You Earn Per Receipt?
It depends on the retailer and the amount you've spent.
First, it's important to know there are different types of rewards for each category of retailer.
To make things easier, they have classified your receipts in 4 types:
Coin receipt – Earn coins that you can exchange for PayPal, Mastercard/Visa gift cards or Amazon gift cards.
Retailers include supermarkets, health, pharmacy, pet supply, convenience stores, toy stores, beauty supply, and more.
Spin receipt – Earn spins for the Hog Slots for a chance to win prizes
Retailers include Apparel, department, electronics, arts & crafts, sports & outdoor, office supply, home improvement and more.
Sweepstakes-only receipt – Get entries into their monthly Sweepstakes drawing.
Retailers include gas/petrol, restaurants, bakeries and cafes.
Receipts that do not qualify – utility, entertainment, government. Receipts that are older than 14 days, or not printed from a cash register are not accepted.
For the complete list, visit this page.
How many coins you will earn depend on the amount you have spent per receipt. Here is the price table: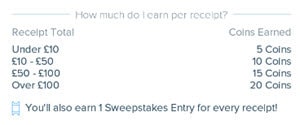 You also need to know that 1000 coins equal $5 (US and Canada) or £3 (UK).
Redeeming Your Coins
---
To redeem your coins, you should first verify your phone number and email address.
You can only redeem once you reach the minimum payout requirement.
In the US and Canada, the minimum is $5 (1000 points) for Amazon, Visa, and PayPal redemptions.
In the UK, the minimum is £3 (1000 points) for Amazon and £5 (1500 coins) for PayPal and Mastercard redemptions.
Complaints
---
Most people complain about the fact that earning 1000 coins (£3) takes a long time.
Indeed, you will probably have to submit 100 receipts of £10-£50 each to collect 1000 coins. That's £3 for every £1000!
Although it takes minimum effort to submit a picture of each receipt, you need to be very patient. It must become a habit.
Another common complaint is about receipts not being rewarded.
Conclusion – Is Receipt Hog Worth it? 
---
Receipt Hog is a legitimate app that is not using shady tactics to avoid payments.
The overall rating of this app on Google Play is excellent, so most people enjoy it and don't experience any issues.
However, the system is not free of errors, so you may have to contact the support if your receipt is rejected unfairly. Besides, it takes forever to build up enough coins to cash out.
So, is Receipt Hog worth it? Well, some people think it is, while others think it's a waste of time.
Personally, I would use this app if the payout was a bit higher.
Verdict: Legit
My #1 Strategy to Make Money Online
---
Have you ever thought about the possibility of earning a job-replacing income working from home?
Instead of spending a considerable amount of time trying to save money on shopping, you could build an internet business that works for you 24/7.
Yes, it takes time and hard work, but you can get started with no previous experience and with very little capital.
You can work at your own pace and grow an online asset that will eventually pay you month after month.
I used to live paycheck after paycheck since I started working in minimum wage jobs.
Then, in 2015, I discovered a step by step program that showed me how to build a site, attract visitors and earn affiliate commissions.
I simply write helpful content that ranks on Google and promote products as an affiliate.
You can join for free and watch the first 10 lessons to learn about the overall business strategy.
For more information on this program, click the link below and read my full review.
Check Out My #1 Recommendation Review HERE
Thank you so much for reading my Receipt Hog review. If you have any questions about this app or about the method that I use to make money online, please let me know in the comment section below.
I wish you all the best.