Welcome to my Receipt Hog App review!
Receipt Hog claims to offer an easy way to turn your shopping receipts into cash rewards.
As a member, you can shop anywhere and earn coins that you can redeem for cash via PayPal or a variety of gift cards.
There are many receipt scanning apps for Android and iOS devices, and it can be difficult to find a company you can really trust.
So, does Receipt Hog really work? Is it's indeed legit, how much money can you make?
In this review, I will uncover all the facts about Receipt Hog and give you my honest opinion about it.
By the way, if you want to learn the proven method that earns me over $1,600 per month from my laptop, check out my #1 recommendation!
Receipt Hog Review
---
Name: Receipt Hog
Website: www.receipthog.com
Company: ScoutIt Inc.
Price: Free to join
Where is it Available? The United States, Canada, and the United Kingdom.
LEGITIMATE
Overall Rating:

4

/5
What is Receipt Hog?
---
Receipt Hog is a popular application that pays you for uploading pictures of shopping receipts for marketing research.
Different from cashback platforms like iBotta, Top CashBack, and Quidco, Receipt Hog doesn't want you to buy products through the app.
Instead, it will give you coins for snapping and uploading pictures of receipts from any store. In addition, Receipt Hog rewards users for taking part in occasional marketing research studies.
You will earn points for shopping at different stores, supermarkets, pharmacies, off-licenses, pet shops, etc. It also accepts receipts from any restaurant and coffee shop!
Some examples in the UK include Asda, Lidl, Tesco, Boots, Waitrose, Superdrug, Holland & Barret, and Pet at Home.
Over the years, the company has given away over $2.5 million dollars to the rapidly growing Receipt Hog community.
The app has been installed more than 1 million times on Google Play, and there are so many people that spaces are now limited.
Is Receipt Hog Legit? Does it Pay?
Receipt Hog is a legit app operated by ScoutIt Inc., a company headquartered in San Francisco and trusted by big brands such as P&G, Unilever, McDonald's, and more!
There are many apps out there that use atrocious business practices to avoid payments. Well, that's not the case with Receipt Hog.
Despite the excellent reputation, I have seen lots of complaints too. For example, some people say they don't give the reward properly, so you always have to check if you are receiving the right amount. I will cover more about complaints later.
Why Do They Need Your Receipts?

Receipt Hog is collecting receipts for the sole purpose of performing market research.
It's important to mention that all the research data you provide through surveys and receipts are made anonymous.
They use the information to get statistic reports that will help companies identify essential trends. Here is one example:
"Families in the Phoenix area are 20% more likely than the rest of the United States to shop for laundry detergent at a supercenter than a traditional grocery store."
Pros and Cons
Pros 
Uploading receipts take just a few seconds.
It accepts receipts from any retailer.
Earn 1 sweepstakes entry for each and every receipt.
Redeem Coins for PayPal, Visa, and Amazon vouchers.
Cons
Lower cash incentives compared to other scanning apps.
Coins add up very slowly and it takes a long time to cash out.
It's only available in the UK, the US, and Canada.
You cannot upload e-receipts.
It only gives you coins for purchases of food, health, and beauty items.
How Does it Work?
Installation and Registration
Receipt Hog app is available for Android and iOS devices so you can download and install it via Google Play or Apple Store.
The opportunity is available for residents in the U.K, the U.S., and Canada who are at least 13 years old.
Once you open the app, the first step is to enable location tracking so that Receipt Hog can match receipts to stores and reward you.
Next, you can register for free using your Facebook or email address.
How Much is 1 Coin Worth? 
You can exchange 1000 coins for $5 via PayPal, Visa Prepaid Card, and Amazon gift card. Therefore, 1 point is equivalent to $0.005.
How to Upload Your Receipts?
Snap pictures of all your household receipts to earn coins, sweepstakes entries, and Hog slot spins.
All you have to do is tap the camera icon, take a photo of your receipt, and tap "submit receipt."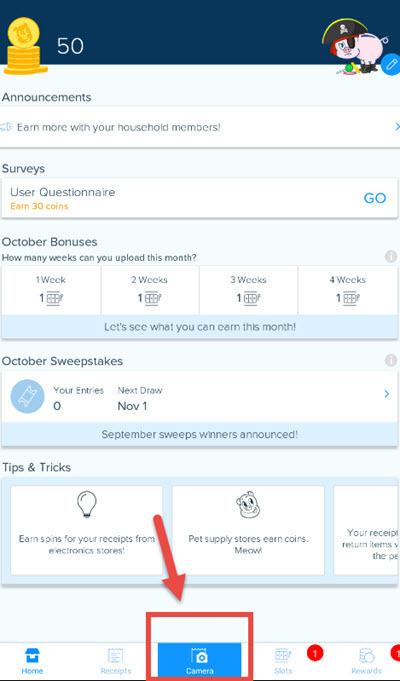 Keep in mind that you can only submit receipts from purchases made by you or someone from your household.
Your receipt must display the store name, the list of items with prices, the total amount spent, and the date of the transaction. Besides, the receipt must be clear, unaltered, and not older than 14 days.
Coins
You can earn Coins by submitting receipts from stores (big or small) that primarily sell food, beauty, and health items. This includes:
Supermarkets.
Corner shops & Convenience stores
Off Licence stores.
Pharmacy
Cash & Carry
Health and Pharmacy
Bargain stores
Beauty shops
Pet shops
Toy Stores
Note that you can upload a maximum of 20 qualifying coin receipts per week.

This reward platform is going viral! Cash out via PayPal, Visa, Gift Cards, and in-game currencies - Click here to find out how to generate an extra $10+ per day! 
The number of coins you will earn per receipt depends only on the total amount spent:
Under $10 – Earn 5 Coins
$10 – 50 – Earn 10 Coins
$50 – $100 – Earn 15 Coins
Over $100 – Earn 20 Coins
In my opinion, the cash incentive is very unattractive as you will probably need over 60 receipts to cash out $5. However, scaping receipts is super simple and quick, so you just have to be patient.

Hog Slot Spins
Every single day, a lucky Receipt Hogger spins the Hog Slots for a chance to have their last shopping trip paid by the company. You can also earn $100, 2000, 400, 40, 15 10, 5, and 2 Coins.
To earn free spins, you can upload receipts from different types of stores such as electronics, clothing, sporting goods, furniture, apparel, books, arts, and any other non-coin stores.
Just pull the handle and cross the finger!
Sweepstakes
Eligible receipts will also earn you 1 entry into the monthly sweepstakes. Every month Receipt Hog will give away the following prizes:
5,000 Coins to 5 users.
200 Coins to 500 users.
20 Coins to 5,000 users.
Receipts from petrol stations, restaurants, bakeries, bars, and cafes can only earn you entries into the monthly sweepstakes. So, do not throw them away.
Receipts that do not qualify
Unfortunately, not every receipt is eligible for coins, spins, or sweepstakes entries. That is the case with utility bills, service invoices, entertainment (cinema, concerts, etc.), and government taxes.
The company also rejects receipts that are older than 14 days as well as those that not printed from a cash register.
Check the complete list of ineligible receipts here.
Are e-Receipts Accepted?
Unlike this UK-based scanning app, Receipt Hog doesn't accept individual receipts from online purchases.
However, they have the Email Connect and the Amazon Connect programs, which allow you to link your account with Receipt Hog.
By participating in the Email connect programs, Receipt Hog will identify and access only emails from major retailers.
In exchange for your valuable data, you will get bonus coins, 5 sweepstakes entries per month, and more opportunities to complete surveys.
Complete Surveys
You also earn coins by taking part in online surveys, which you can find in the reward section of the app.
Some surveys are only available via Desktop, so if you want to find more opportunities, you must log in via the website receipthog.com and click on "Online Surveys".
The frequency of marketing research studies depends on your demographics (age, country, gender, etc.) as well as your shopping habits.
According to Receipt Hog, the more receipts you upload, the more your chances of receiving surveys invitations.
Keep in mind that you must qualify for surveys by answering a few screening questions. If you get disqualified they you a small bonus.
It's also important to note that surveys expire, so it's recommended that you complete them as soon as possible.

How to Redeem Your Coins?
To redeem your coins, you should first verify your phone number and email address. You must also answer a short questionnaire worth 30 Coins.
The current payment options available are PayPal, Visa Prepaid Cards, and Amazon eGift cards.
You can only redeem your Coins once you reach the minimum payout requirement. In the US and Canada, the minimum is $5 (1000 points) for Amazon, Visa, and PayPal redemptions.
In the UK, the minimum cashout is £3 (1000 points) via Amazon gift card and £5 (1500 coins) via PayPal and Mastercard redemptions.
User Complaints
Most people complain about the fact that earning 1000 coins (£3) takes a long time.
Indeed, you will probably have to submit 100 receipts of £10-£50 each to collect 1000 coins. That's £3 for every £1000!
Although it takes minimum effort to submit a picture of each receipt, you need to be very patient. Snapping receipts must become a habit!
People also complain about receipts not being rewarded properly (missing Coins) and technical issues trying to upload them.
One user said lots of receipts get rejected for being blurred or old, when in fact, they are not!
Conclusion – Is Receipt Hog Worth it? 
Receipt Hog is a legitimate app that is not using shady tactics to avoid payments.
The overall rating of this app on both Google Play and the App Store is excellent. Most people enjoy it and don't experience any issues, which means the app hasn't gone downhill yet.
That being said, some people think the Receipt Hog app is worth it while others think it's a complete waste of time.
I would use this app if the cash incentives were a bit higher. But honestly, I don't have the patience to scan hundreds of receipts only to make a few dollars.
Verdict: Legit
Earn a Full-Time Income Online
Have you ever thought about the possibility of earning a job-replacing income working from home?
Instead of spending a considerable amount of time trying to save money on shopping, you could build an internet business that works for you 24/7.
Yes, it takes time and hard work, but you can get started with no previous experience and with very little capital.
You can work at your own pace and grow an online asset that will eventually pay you month after month.

I used to live paycheck after paycheck since I started working in minimum wage jobs.
Then, in 2015, I discovered a step by step program that showed me how to build a site, attract visitors, and earn affiliate commissions.
I simply write helpful content that ranks on Google and promote products as an affiliate.
You can join for free and watch the first 10 lessons to learn about the overall business strategy.
For more information on this program, click the link below, and read my full review.
>> Check Out My #1 Recommendation Review HERE.
Final Words
Thank you so much for reading my Receipt Hog review!
If you have questions about this app or about the method that I use to make money online, please let me know in the comment section below.
Stay safe and peace out!