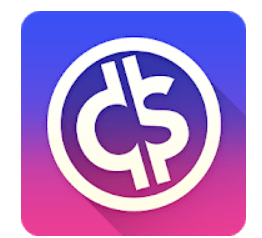 In this review, I would like to explain and give you my honest opinion about an app called Cash Show. Can you really make money with trivia games? Is it a scam or legit?
Let's find out!
By the way, if you want to learn step by step the method that earns me $1,000/mo from my laptop, check out my #1 recommendation!
Cash Show Review
---
Name: Cash Show
Price: Free
Type: Trivia Game
Overall Rating: 

3.2/5
What is Cash Show?
---
I discovered Cash Show after searching for apps that allow people to make money online.
Cash Show is basically an app that runs daily trivia show games with cash prizes. That means you will need to answer trivia questions and earn money for answering them correctly.
The app was developed by ZenJoy, a Chinese company specialized in mobile applications and social gaming. It's very similar to HQ, which was probably the first trivia app to give away cash prizes.
In fact, many people think that Cash Show is a rip-off of HQ because of its similarities in the gameplay structure and production.
Pros and Cons
---
Pros
It's a relatively easy and fun way to make money online.
You can earn good money if you are both smart and lucky at the same time.
Get paid in cash via PayPal.
There are trivia games three times a day.
Make money from questions 6-12, even if you don't make it to the end.
Cons
Many people complain that the app freezes constantly.
Low-income potential.
You need to reach $10 before you can cash out.
The live chat below the questions can be annoying and distractive.
How Does it Work?
---
Cash show is free to download from Google Play or the App Store.
The trivia shows take place three times a day, and you should enable the push button notifications on your phone, so you don't miss it.
The game consists of 12 multiple-choice questions on different topics such as entertainment, science, sports, and more. The questions are not so difficult, but some are tricky especially when you approach the last ones.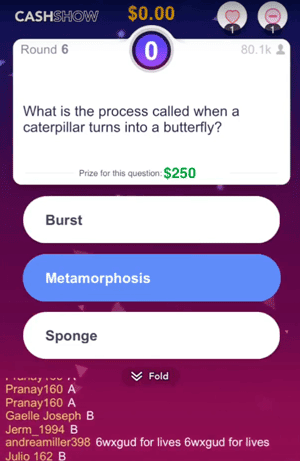 You have only 10 seconds to answer each question, which will prevent you from getting help from Google most of the times.
Besides, you are out of the game if you get one question wrong.
How Much Money Can You Make?
---
You will earn $0 unless you make past question number 6. After that, each question is assigned a total amount of cash that will be divided into all participants who get it right. It's good to know you will keep the money you have earned from all the questions you got right.
The more you go up the ladder, the higher the cash reward split between the winners. So, if question 12 gives $1000 and there are 10 winners, each one of them will earn $100.
The problem is, as the game gains popularity, more and more people will have to share the highest prices.
I noticed people usually earn less than $3 per game, which is not enough to request payment as the minimum cash out threshold is $10. Therefore, you will have to keep playing until you reach that requirement.
Will You Get Paid?
---
I have read lots of user reviews, and many people claimed that they received their payment without any issue.
After you reach $10 in your balance account, you will be able to cash out via PayPal. It should take a while for them to send you the money. Probably more than a week or two…

How Does Cash Show Pay Winners?
---
I am not 100% sure, but I guess they use the same business model as HQ. In the beginning, they are not focused on profitability, but as the app grows, they will eventually sell advertising space for big brands.
At that point, they should recover all the initial investment and start making profits.
Conclusion – Is Cash Show a Scam?
---
No, I believe cash show is a legit opportunity, but in my opinion, you should not go for it with high expectations.
In order to earn good money, you must answer all questions correctly and hope you don't share the prize with too many people. It's difficult!
Nevertheless, it can be fun and an honest way to earn some extra cash.
Verdict: Legit
How About Earning a Living Online?
---
You can't expect to earn a substantial and consistent income online with the Cash Show app. But I you probably already knew that.
The point that I am trying to make is that if you have bigger dreams in life, you will have to ignore all the distractions such as reward sites and apps.
Instead of chasing high prizes that may never come, focus on proven methods that will help you start small and grow over time.
It's possible to earn a living online if you know the right strategy, and take massive action!
In my opinion, building affiliate website is one of the best ways to make money online. I personally make over $1000 per month in affiliate commissions, and I highly recommend this strategy to anyone, even if you have no experience in web design or marketing. If I made it, I'm sure anyone can do it!

If you want to follow the same step-by-step program that I used to build my site, check out my #1 recommendation review!
Click Here and Check Out My #1 Recommendation Review
It's a community-based platform that will take you by the hand and show you all you need to do to set up and succeed with your internet business. Also, it has all the tools you will need in just under the same roof!
That's it for now and thanks for checking out this Cash Show review, If you have any questions about this app or how to build a lucrative site, feel free to ask in the comment section below. I'd love to help you out!