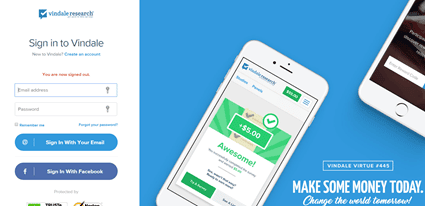 Today's review is all about a survey panel called Vindale Research. Is it a reliable website to take surveys and make money online? Or is it a complete scam?
Here you will find my honest opinion about it.
By the way, if you want to discover a proven method that earns me $1k+ per month from my laptop, check out my #1 recommendation.
Vindale Research Review
---
Name: Vindale Research
Website: www.vindale.com
Price: Free to join
Type: Online Surveys
LEGITIMATE
Overall Rating: 

2.6/5
What is Vindale?
---
Vindale Research is a survey website that rewards members for sharing feedback with big brands.
Vindale Media LLC has operated the site since 2004 and is open to residents in the US,  the UK, Canada and Australia.
In addition to the possibility of taking surveys, Vindale also allows you to invite other people to join and earn referral commissions.
Pros and Cons
---
Pros
It's free to join.
Earn $2 just for signing up.
It works on any device.
Cons
Low-income potential.
Many people take months to reach the minimum payment requirement of $50.
Some users complain about frequent disqualifications.
It's currently only available for residents in the UK, the US, Canada, and Australia.
 How Does Vindale Research Work?
---
The first step is to sign up by answering some basic questions about yourself such as name, address, gender, date of birth, etc.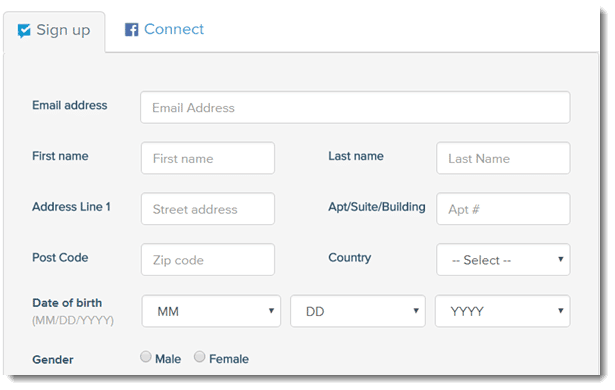 According to the website, your personal information is strictly confidential, and will just be used for membership purposes.
When you are logged in, you will have to answer further questions that will complete your profile.
The profiling questionnaire, which takes around 5 minutes to complete, contains questions about your income, occupation, education, among others.
Vindale Research will give you a $2 bonus after you complete your profile, after which you will be ready to take surveys.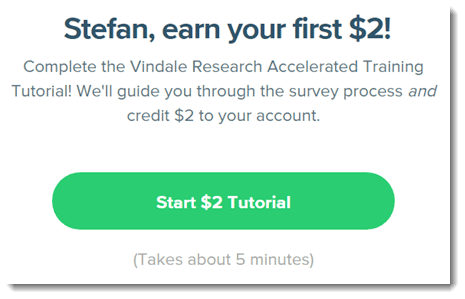 Taking Surveys
---
Vindale Research will send you survey invitations via email based on your profile. You can also find new opportunities by visiting the "Studies" section.
There are limited positions for each study, and because participants are accepted on a first come first serve basis, you should be fast when you receive new invitations.
As soon as I logged in, I saw two survey opportunities:
The Global Test Market Daily studies: It gives you the opportunity to participate up to 10 times a day and earn $1.25 for each survey.
Live Sample Daily Studies: You can participate Twice a day And earn $0.75 for each study.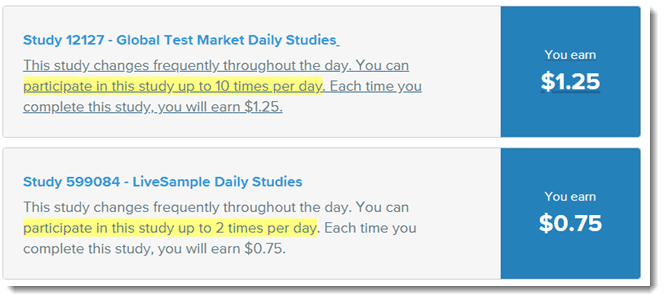 Note that Vindale Research not only provides its own surveys but also surveys from other marketing research partners. That increases your possibilities.
Before taking a paid service though, you will have to answer a few pre-screener questions that will further select the right candidates.
It's not unusual to get screened out, and whenever that happens, you will leave with empty hands.
How Much Money Can You Make?
---
Usually, you will earn between $0.50 and $3 per survey on average. However, it is possible to earn a bit more depending on the type and length of the questionnaire. Personally, I have never made more than $3.
When you are taking surveys, it's reasonable to include the time you are spending in the equation. When time is taken into account, don't be surprised to discover you are making less than the minimum wage.
Many people are okay with that because at least they are doing this from the comfort of their home and without reporting to a customer or a boss.
However, for those who dream about time, location and financial freedom, this can be considered a significant waste of time and opportunity.
Referral Program
---
Vindale's referral program is quite different from other reward sites.
Instead of earning a percentage of everything your referral earns with the platform, you will get $5 when your referral completes one study worth $1.
There is no limit to how many people you can refer. You just need to copy your affiliate link and share it via Facebook, Twitter, email, forums or any other platform that allows affiliate links.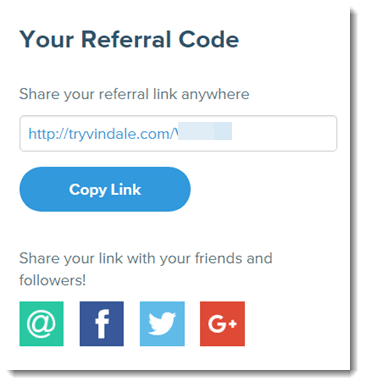 Just be careful with the terms and conditions of each platform or group that you use as some of them don't allow promotions.

Payments
---
You can only request payment when you have at least $50 in your balance account. That means you will have to answer lots and lots of surveys before you see the money.
$50 is a relatively high requirement compared to other survey panels like Prolific Academic (£5), Wondough ($3), Survey Spot ($10), Panel Opinion (£10), and many others.
Complaints
---
If you check the user reviews on Trustpilot.com, you will see that some people complain about frequent disqualifications.
One person claimed that he is stuck at $43 because he couldn't qualify for the past 200 surveys!!

This reward platform is going viral! Cash out via PayPal, Visa, Gift Cards, and in-game currencies - Click here to find out how to generate an extra $10+ per day!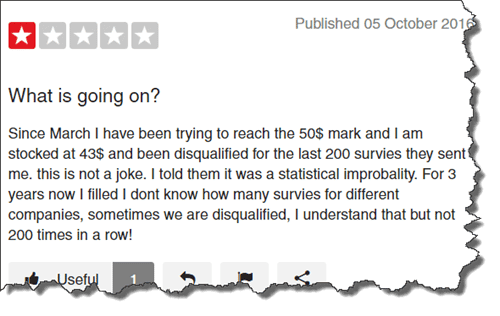 This type of complaint is not exclusive to Vindale Research. I have reviewed over 70 survey websites, and most of them get complaints about excessive disqualifications.
It's a fact that your time will be extremely undervalued when taking online surveys. So, you either accept that or try a more profitable method to make money online.

Conclusion – Is Vindale Research a Scam?
---
No, it isn't. Vindale Research is a legit survey panel operated by a reputable marketing research company.
The income potential is low just like in most survey platforms, but the difference is that the minimum cash out requirement is too high.
Another drawback is the difficulty qualifying, depending on your profile.
All in all, I think Vindale research is a decent opportunity for people who want some pocket money to help with the bills.
Verdict: Legit
How I Prefer To Make Money Online?
---
You can earn a substantial income from your laptop by building your own Internet business.
Different from what most people believe, it's not that complicated to become an online entrepreneur.
There are many ways you can go about setting up your online business. You can create a digital product, sell your services, create the drop shipping store, and many other ways!
Personally, I prefer to build affiliate websites that promote other people's products.
I simply focus on writing informative articles/reviews on my website and help people find the best solutions.
What I love about it is the possibility of making passive income while I am traveling. I just made over $1000 last month while I was on holiday in Brazil, which basically covered all my expenses and even allowed me to save!
You too can achieve amazing results with affiliate marketing! Anyone can with a strong motivation and work ethic.
If you want to learn how to build a lucrative site the right way, I highly encourage you to check out my #1 recommendation.
It's a platform that has not only an excellent step-by-step program but also a helpful community and all the tools you need.
That's it for now and thanks for checking out my Vindale Research review. If you have any questions, feel free to ask in the comment section below. I'd charge love to help!