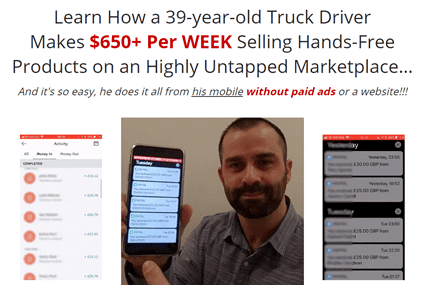 The authors of Easy Peasy Ecom, Jeremy and Kal, are claiming there is an untapped marketplace that will give you the opportunity to earn hundreds of dollars per week. Is Easy Peasy Ecom a scam or legit?
I decided to buy this product and give you my honest opinion about it. Keep in mind that I'm not affiliated with Easy Peasy Ecom, and the primary goal here is to present an unbiased review.
By the way, if you want to learn step by step the strategy that earns me $1k+ per month from my laptop, check out my #1 recommendation.
Easy Peasy Ecom Review
---
Name: Easy Peasy Ecom
Website: https://jkennedy.clickfunnels.com/easypeasyecom
Price: $8+   Upsells
Strategy: E-commerce
Creators: Jeremy Kennedy and Kal Bartal
Overall RAting: 2.4/5
The Sales Page
---
The sales page of Easy Peasy Ecom tells us about Kal, a 39-year-old truck driver who supposedly makes $650 per week selling products online.
He does that through an untapped marketplace from his mobile and without paid advertising or a website.
Also, they say it's very easy, and you can start selling today with zero investments!

What caught my attention was the "untapped" part and the possibility that there are lots of low hanging fruits.
I know it's hard to believe, right? That's why you probably think this is just another scam.
I was also very skeptical when I first saw this product. But because the course is cheap and because I know e-commerce can be very lucrative, I decided to give it a go.
What is Easy Peasy Ecom?
---
Easy Peasy Ecom is a training that will teach you how to use an untapped marketplace to promote and dropship products to buyers.
Dropshipping is a way to sell products online without the products ever being in your hands.
You just have to market the products on the Internet, buy a product from an online retail platform such as AliExpress, and ship the item directly to the customer.
How Does It Work?
---
Most people who do dropshipping have an online store (website) that lists all the products they are for sale.
Also, they usually use paid advertising such as Facebook ads to promote their listings to a targeted group of people.
So, when people visit their sites, they can add the item(s) to the kart and make the purchase using PayPal or credit card. Next, you place the order with the retailer which and ship the item to the customer's address.
As you are buying wholesale for cheap and selling for a higher price, you can make a profit. It's that simple!
The challenge with this method is to cover all your advertising costs. It's not unusual in the beginning to spend a lot of money in an attempt to find profitable items while improving your ads. So, it can be quite risky!
Now, with Easy Peasy Ecom, you will discover a marketplace that will list your items for free. The platform will also target people based on their browsing history.
The good thing is that you don't need a website as you can use the platform itself to connect with your potential customer and arrange the payment.

The Training
---
Easy Peasy Ecom has 2 welcome videos, with the actual training comprised of 12 videos.
Here is a screenshot that I took from the member's area: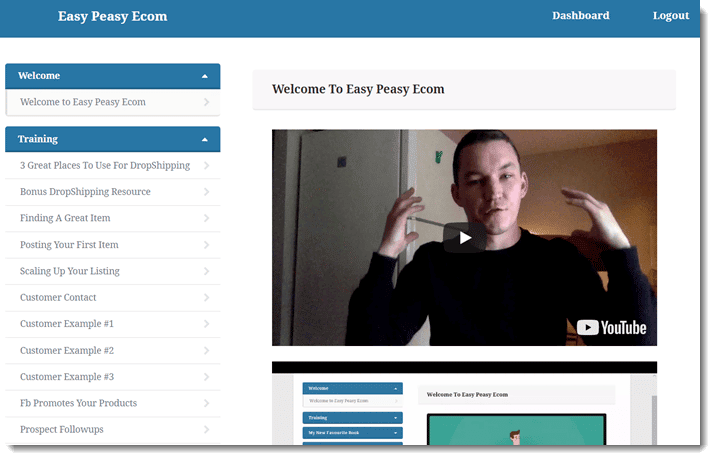 The course will show you 3 great online retail services to drop ship your items. It will also show you how to:
Find a great item.
Post your first item.
Scale your listing.
Communicate with customers.
Receive payment.
Renew your posts.
I went through all the videos and didn't like much the way the course is structured. It's not really step-by-step as advertised on the sales page.
Although there are many videos, they are short and not in-depth.
Can You Succeed With Easy Peasy Ecom?
---
The main problem with this method is there is no way to set up automated payments.
As you won't have an online store and the platform has no inbuilt payment feature, it's down to you to arrange the payment.
That means customers will have to contact you to request the details, e.g., your Paypal link.
In my opinion, the strategy works best at a local level, when buyers and sellers meet up in person. But without any guarantees, I think very few people will trust their money to an individual.
For this reason, I believe it won't be so easy to make hundreds of dollars per week with what Easy Peasy Ecom will teach you.
That is not to say you won't succeed, but there are certainly more promising strategies out there.

Conclusion – Is Easy Peasy Ecom a Scam?
---
In spite of the hype, I can't say Easy Peasy Ecom is a scam because it will give you the training to apply the method.
Personally, I didn't like it…
If you have the patience and determination to make sales, you will! However, don't expect to start making money within 24 hours and turn this into your full-time income in a short time.
I emphasize that achieving results with this or any other method is NEVER easy peasy!
Verdict: Legit

This reward platform is going viral! Cash out via PayPal, Visa, Gift Cards, and in-game currencies - Click here to find out how to generate an extra $10+ per day! 
 How I Prefer to Make Money Online
---
Personally, I like to have an automated system in place that allows me to make money whether I am actively working on it or just enjoying the beach.
For example, I work for months on my business, but when I go on holidays, I don't have to create new ads or deal with customer issues. I don't even touch it!

So, how does this automated business actually work, you may ask?
Well, it's basically content marketing combined with affiliate marketing. I simply focus on writing informative articles/reviews on my website and promote products that I trust.
If you want to learn how to build a profitable affiliate site, check out my recommended platform. It gives you not only excellent step-by-step training but also a helpful community and all the tools you need to succeed.
Thanks for checking out my Easy Peasy Ecom review. If you have any questions, feel free to ask in the comment section below. It's always a pleasure to help!