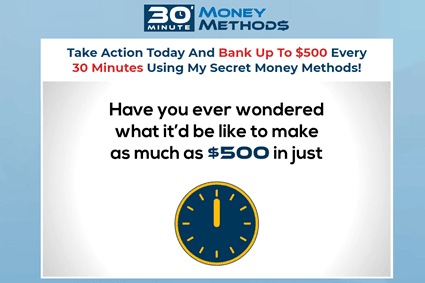 Shelly wants to share with you the secrets to making hundreds of dollars per day from your laptop. Are these methods really profitable? Is 30 minute Money methods I scam or legit?
Let's find out!
By the way, if you want to discover a proven method that earns me $1,000+ per month from my laptop, check out my #1 recommendation.
30 Minute Money Methods Review
---
Name: 30 Minute Money Methods
Website: www.30minutemoneymethods.com
Price: $37
Overall Rating:

2/5
Hype And Fake Testimonials
---
The video presentation of 30 Minute Money Methods is full of hype and unrealistic claims. It starts out by suggesting you could make as much as $500 in just 30 minutes.
It also claims you could be making up to $50,000 per month from your home easily.
No startup capital, no fancy equipment and no college education needed!
Yeah? But where is the proof?
Well, Shelly shows a screenshot with the total income that a guy earned in October 2017. And guess what? He just worked no more than an hour each day!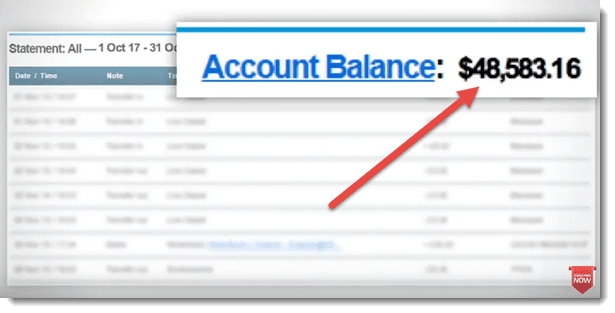 How can we trust this income proof after discovering the sales page uses fake testimonials?
I some of the individuals selling their acting services on Fiverr.com, so all of his earning claims are fictitious.
Yes, all testimonials are fake!
What is 30 Minute Money Methods?
---
30 Minute Money Methods is a PDF training that will show you different strategies to make money online.
All of those methods are legit and widely used. The problem is that none of them have the potential to earn you hundreds of dollars with just 30 minutes of work as advertised. That's very misleading!
In fact, when you visit the disclaimer, you will discover that your level of success depends on the time you devote to the system, knowledge and various skills.
The truth is that most honest people who earn a decent income online work very, VERY hard! So, if you want to succeed, you will need to keep up with them or outwork them. Still, don't expect to make lots of money in a short time.
How Does It Work?
---
After you insert your name and email address, you will be directed to the checkout page where you will have to pay $37.
Inside the member's area, you will see 4 PDFs that will teach you how to make money online with the following methods:
Voice over
Stock photography
Playing games
Freelancing
Affiliate marketing
They will also encourage you to buy a "free commission" website, which in my opinion is completely useless if you don't know how to properly get visitors and monetize it.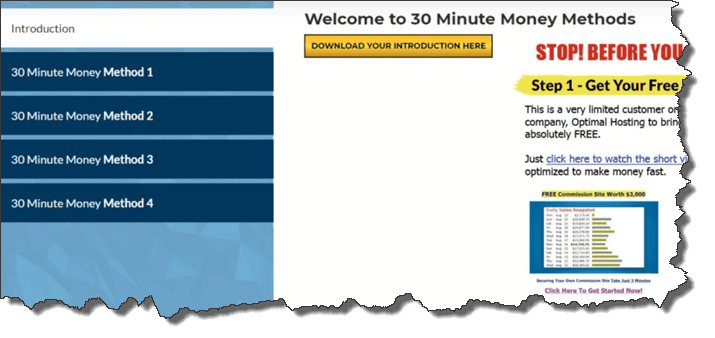 The Training
---
For this price, you would expect to get in-depth training and video tutorials that guide you properly.

No. Instead, what you have here is a fluff text that just explains each method, which is something you can easily find for free on the internet.
It's not a product that will train you to achieve the level of success they claim. So, you will need to search for more information on the Internet.
Conclusion – Is 30 Minute Money Methods a Scam?
---
I don't think 30 Minute Money Methods is a scam, but it certainly doesn't live up to the hype.
The way this product was advertised this misleading as it gives people the false expectation of making money with little effort.
It also uses fake testimonials, which is an indication they have no real proof of success.
In my opinion, 30 Minute Money Methods offers a superficial training that is not worth the $37.
Verdict: Not Recommended
My #1 Strategy to Make Money Online
---
It's possible to earn a substantial income from your laptop by building your own online business.
There are many ways you can go about doing that. You can create your own product, sell your services, create your online store, and many other ways!
Personally, I prefer to create profitable affiliate sites that get visitors from Google and social media.
I basically write informative articles/reviews and make money by promoting only the products that I trust.
What I love about it is the possibility of making passive income while I am traveling. I also like the fact that I don't need to do customer service or bother with delivering orders.

Once I finish researching and writing my article, it has the potential of bringing more potential customers to my site and growing my income.
If you want to learn how to build a lucrative website the right way, I highly encourage you to check out my #1 recommendation.
It's a platform that has not only an excellent step-by-step program but also a helpful community and all the tools you need to scale your business.
That's it for now and thanks for checking out this 30 Minute Money Methods review, If you have questions, feel free to ask in the comment section below. I'd love to help!