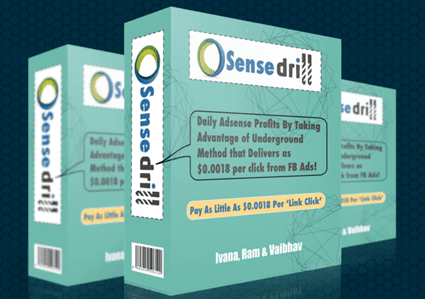 The authors of SenseDrill are trying to convince you that it's possible to earn a lot of money with AdSense within a short period. Is SenseDrill a scam or a legit course that you can trust?
I decided to take a look at this new product and give you my honest opinion about it.
By the way, if you want to learn step by step the strategy that earns me $1,000+ per month from my laptop, check out my #1 recommendation.
SenseDrill Review
---
Name: SenseDrill
Website: www.sensedrill.com
Price: $9.99 + Upsells
Strategy: Adsense
Overall

 2.3/5
The Hype
---
Like most WarriorPlus products, the sales page of SenseDrill does a very good job in making people believe in easy and fast results.
In my opinion, it's full of hype and unrealistic claims.
A college dropout and the co-author, claims that he stumbled across a cheap traffic source that costs 0.0018 per click!
So, for every dollar he spent, he was making two dollars in AdSense revenue.
One thing that shocked me was the bold claim that the course teaches people how to make $9000+/mo in within just 24 hours.

According to them, such a life-changing income can be achieved without technical experience, nor long working hours.
Really?
What is SenseDrill?
---
SenseDrill is a step-by-step training that will show you how to set up a WordPress site, get cheap traffic from Facebook ads, and earning revenue with Google AdSense.
The course is based on the same strategy presented by other marketers as in Adsense Machine, and Madsense Reborn. So, this is not something unique.
How Does It Work?
---
It's not complicated. The first thing you have to do is set up a website and create articles with titles that grab people's attention.
The next step is to sign up for Google AdSense, which is a service that allows advertisers to place ads on your website. They will pay Google to advertise on your site, and in return, Google will pay you every time someone clicks on these ads.
So, the idea is to attract as many people as possible to your site, so they click on your ads. But how do you do that?
Well, there are both free and paid traffic methods.
Many online marketers use paid methods because it's an instant way to get visitors (traffic). However, it can be costly depending on the advertising platform you are using and your target audience.
For example, traffic from the USA is way more expensive than traffic from India. That's because Americans are richer as a nation, with more purchasing power. Therefore, they spend more money on products and services online.
Sensedrill will show you how to use Facebook ads to target specific countries and pay very little.
They are claiming you will be able to pay around $ 0.0018 per click and earn much more than that with AdSense.

The Training
---
SenseDrill is divided into 3 parts:
Create Your Site and Adsense Set up.
Getting traffic to your site: You will learn how to perform marketing research, create viral posts, run your FB ads, and more.
Case Study.
The course is well-structured and very easy to follow. The problem with SenseDrill is with the method itself, as I believe it's not as effective as they claim to be.
Can You Really Succeed With SenseDrill?
---
Although targeting specific countries can be very cheap indeed, I don't think it's going to be easy to make a profit.
Think about it. If Facebook is charging peanuts to advertise in India, why would Google pay you more for the same traffic?
So, chances are, you will not earn enough to cover your Facebook advertising costs. Even with a ridiculously cheap cost per click, it won't be easy.
I am not saying it's impossible to make this strategy work. But it will certainly take a lot of time, effort and money to do the testing.
Conclusion – Is SenseDrill a Scam?
---
In spite of the hype, I can't say SenseDrill is a scam because you are actually learning something that can help you make money online.
However, I don't think using Facebook ads in combination Adsense will generate significant results.
It's possible that many people will waste their time, money and patience with this method. Therefore, I will not recommend it.
Verdict: Not Recommended

If you want to build passive income machines without risking your hard-earned money, I suggest you check out my #1 recommendation.
This is an excellent platform where you will learn how to get free and quality traffic from Google among relevant strategies to scale your online business.
Thanks for checking out my SenseDrill review. If you have questions, feel free to ask in the comment section below. It's always a pleasure to help!
Stay safe!