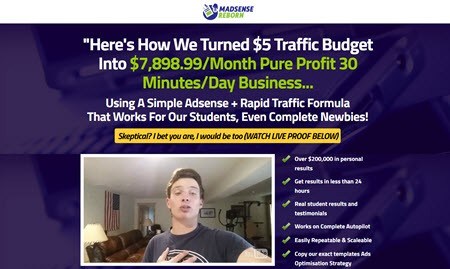 In this Madsense Reborn review, I am going to reveal Tom Yevsikov's method to profit from Google Adsense and give you my honest opinion about it.
Does it really work or is it a scam? Let's find out!
Madsense Reborn Review
---
Product Name: Madsense Reborn
Website: madsensereborn.com
Price: $27 + Upsells
Owner: Tom Yevsikov
Overall Rating:

 1/10
What is Madsense Reborn? 
---
Madsense Reborn is a training program that will show you how to achieve mind-blowing results combining Facebook ads and Google Adsense.
Many website owners struggle to make a decent income with Google Adsense because they need to attract a huge audience to their site. It requires writing quality content for months or years before seeing results!
The reason being that you need to rank high in Google's search results or write viral blog posts that people love and share like crazy on social media.
However, Tim claims his method will allow you to create massive and profitable sites without creating articles. It's hard to believe!
Pros and Cons
---
Pros
Step by step training
Easy to grasp
Cons
You can lose money with advertising
There is a risk of being banned from Google Adsense
Copy and paste can get you in trouble with copyright law
It seems to be that it won't help you build a long-lasting online business
How Does it Work? 
---
Madsense Reborn will teach you how to set up a website, apply for Google Adsense and use Facebook Ads to drive traffic (visitors) to your posts.
The idea is to invest $5 in Facebook advertising and hope that the number of visitors you get is enough to make a profit with Google Adsense.
The thing is, the average earnings per 1,000 ad impressions is around $1. So, you need 5000 visits on your article to make $5 and break even. 
So, What's the Trick?
---
Basically, Tim suggests identifying viral articles using a platform called and Buzzmo.
Then, according to some people who bought the course, you should literally copy all the content and publish on your site as if you were the author. We call this duplicate content!

By publishing content that already went viral, your site will be shared many times on Facebook. As a result, your traffic will go to the roof, and you will make more money with Adsense.
That explains how you'd be able to create profitable websites with a small budget and without worrying about SEO and content creation.

What an easy job!
However, the problem is that you will be infringing copyrights and it will be only a matter of time before Google catches you.

Google can cancel your Adsense account if it discovers you are using other people's content.
Final Thoughts
---
I don't recommend Madsense Reborn because I believe there is a high risk involved! 
I know it's tough to make decent money with Adsense. However, there is a more profitable strategy to implement on your site which is called Affiliate Marketing.
Affiliate Marketing allows you to promote other people's products and earn commissions that range from 5% to around 75%.
That's how I can make approximately $500/month with a site that attracts less than 800 people/day.
Adsense would probably require more than 15,000 visits per day!
Keep in mind that, one way or another, you still have to write helpful content. There are no shortcuts to building a lucrative online business.
The good news is that it works perfectly for those who are hard work and patient. You just need to do a bit of research on your topic and write conversationally.
Click Here for My #1 Affiliate Marketing Recommendation 
Thanks for reading. I hope this article helps you make an informed decision. If you have any questions, feel free to leave a message below.
Your friend
Stefan

PS.