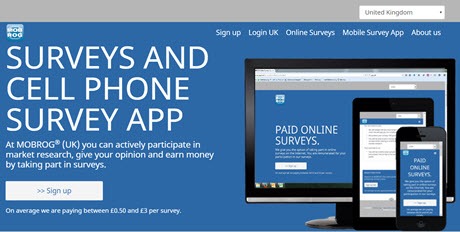 Welcome to my MOBROG app review!
MOBROG allows you to participate in marketing research studies and get paid for your honest opinions. 
The company allows you to complete online surveys anytime, anywhere you want, through your desktop or mobile device.
When I wrote this review almost three years ago, MOBROG used to get high user ratings. Unfortunately, their overall rating dropped from 4 to 3 stars, and complaints are a lot more frequent now.
In this review, I will show you everything you need to know about MOBROG and give you my honest opinion.
Has MOBROG turned scam, or is it still legit in 2020? Does it pay? And, if yes, how much money can you make?
By the way, if you want to learn step by step the method that earns me over $2,000/mo from my laptop, check out my #1 recommendation! Newbie-friendly and free to get started! 
MOBROG App Review
Platform: MOBROG
Website: https://www.mobrog.com
Company: SPLENDID RESEARCH GmbH
Price: Free
Strategy: Online Surveys
Similar apps: Zap Surveys, Myiyo, Curious Cat 
Overall Rating:

2.4/5
What is MOBROG? 
MOBROG is a survey panel operated by a German market research company called SPLENDID RESEARCH GmbH.
The platform is available in over 60 countries, including the US, the UK, Australia, Canada, most European countries, Turkey, Brazil, the Philippines, Indonesia, India, Vietnam, Japan, and Venezuela.
Companies invest heavily in marketing studies to improve their products and services, identify trends and increase sales. That's when you come in!
As a member, you can participate in surveys and get paid to share your opinions about products and different subjects. You can join MOBROG for free from your smartphone (Android/iOS) or desktop. 
Unlike GPT sites, MOBROG has no paid offers or micro tasks that would allow you to make more money.
However, you can earn a small commission for inviting your friends through your affiliate link. I will cover MOBROG's referral program in more detail later.
Is MOBROG Legit? Does it Pay? 
Launched in 2011, MOBROG has been downloaded by more than 1 million users worldwide. So, if MOBROG was a scam, then I am sure it would have been taken down by Google long ago.
However, the fact that MOBROG is still up and running doesn't mean you will have a great experience and get paid.
Many users complain about frequent survey disqualifications and missing payments. You can check them on Surveypolice and the review section of Google Play.
In this review on SurveyPolice.com, a woman said her survey was interrupted after answering questions for about 10 minutes. Not to mention that she had been trying to qualify for half an hour!

Many people reported that MOBROG disqualified them halfway or even at the end of the survey. One of the likely reasons is that the company had already gathered enough responses.
If this happens to you, contact MOBROG, and they will probably offer you an effort compensation. But don't expect too much!

I have seen other survey panels screening participants even though they passed the qualification phase.
It's very frustrating when survey companies don't reward you for your time. It feels like they are always trying to collect free information from us, which is not nice!
Most of them will let you down at some point, which is why I always recommend building your own internet business. 
Pros and Cons
Pros
It's available in 60 countries.
The app is extremely lightweight and user-friendly.
Decent rate of pay compared to other survey panels.
The minimum payout threshold is low ($4).
Get paid via PayPal and Skrill.
It's available on Android, iOS, and desktop.
Cons
There are a few survey invitations.
It's hard to qualify for surveys.
You can get screened out even while you are halfway through the survey.
How Does MOBROG Work? 
Registration
As I mentioned, MOBROG is available on Desktop, Android, and iOS devices. You can register via the website or the app, which is available on Google Play or App Store.
To sign up, provide your name, email, and other essential information. Next, open the email and click on the link to activate your account. Now, you can log in via the app or website.
Complete Your Profile
After creating your free account, I highly recommend that you complete your entire profile so that MOBROG can invite you to participate in surveys that match your demographics and interests.
The more information you provide to them, the better your chances of receiving survey invitations.
There are currently 15 profiling categories: occupation, household, travel, electronics, and automotive.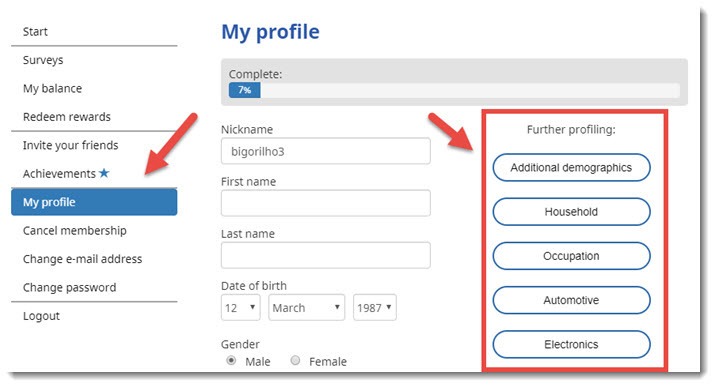 Unfortunately, you won't get paid for answering the profiling surveys, but it's important to fill up as much information as possible.
The reason is that marketing research companies almost always select panelists based on specific demographics (age, gender, education). Therefore, they use people's profiles to choose potential candidates according to their client's needs.

For example, gaming companies usually want opinions from people who play video games. So, they will probably invite you if your profile says you have an Xbox, a Playstation, etc.
Survey Invitations
MOBROG has partnered with different survey providers, such as Survey Sampling International, Speak Up, and Peanut Labs.
They will send you an invitation via email on behalf of these companies whenever a new survey matches your demographics.
You can also log in to your account to check the list of surveys awaiting your participation. The list shows the amount of money you will earn, the estimated time for completion, and the date.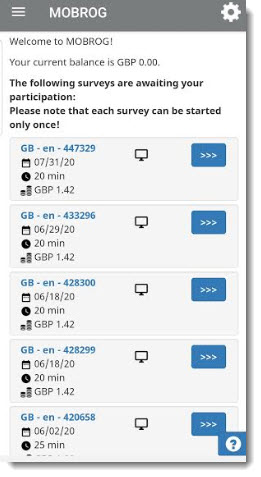 This reward platform is going viral! Cash out via PayPal, Visa, Gift Cards, and in-game currencies - Click here to find out how to generate an extra $10+ per day! 
Keep in mind that the project may be closed by the time you try to complete it. MOBROG will close it when the company has already recruited enough candidates for that study.
This is the message that you will receive:



The quota can be filled fast, so you should try to complete the survey as soon as possible.
Taking Surveys 
Although MOBROG has collected lots of profiling information from you, companies usually need to ask additional questions to ensure you are part of their target group.
Therefore, you will have to answer a few screening questions before completing every survey, which can take anywhere from 2 to 5 minutes.
As I mentioned, many people get disqualified and end up very frustrated.
What happens is you will waste a lot of time answering endless qualifying questions only to get a message along the lines of…
"Sorry, you don't qualify for this survey." Or "you are not a good match."
🙁
Yes, it can be tough to qualify, and that is because you do not match specific interests and demographics. Therefore, you can waste a significant amount of time so that you have the chance to earn less than $2.
After receiving that frustrating message, the system will immediately direct you to a new survey opportunity, if there is any.
The best approach when completing surveys is to read all the questions carefully and always answer them truthfully. The reason is that most survey panels, including MOBROG, run regular quality checks to see if panelists are not cheating.
Quality Checks – Be Careful! 
Marketing research agencies run regular quality checks to see if you don't contradict yourself. When panelists provide two different answers to the same question, there are probably two possibilities:
First, they are rushing and answering questions without reading.
They are not telling the truth.
MOBROG penalize users who don't pass these quality checks by not sending more invitations or even banning their accounts. So, it's important to play it safe!
How Do You Get Paid?
Once you've reached the minimum payout threshold of $4 or £4, you can cash out via Paypal or Skrill.
IMPORTANT: Your MOBROG and your PayPal/Skrill email addresses must be identical. Otherwise, you won't get paid!
If you signed up with a different email, click on "Change e-mail address" and add your PayPal or Skrill e-mail.
How Much Money Can You Make With MOBROG? 
MOBROG claims that most surveys pay between $0.50 to $3, depending on survey length. In the UK, I noticed you would earn approximately £0.60 per 10 minutes.
The good thing about MOBROG is that it is very transparent and honest regarding payouts.
Some companies give people the false expectation of making $5 or more per survey. That's not nice because panelists usually never find these high-paying surveys.
I have reviewed many panels, and I estimate you will make, on average, $2 or $3/hour with online surveys.

The problem is that you won't get many invitations, and you will disqualify many times.
In this review on Trustpilot, a user claims that despite wasting 20 minutes per day trying to qualify, they only made £10.24 in 3 years. I am shocked by the persistence level of this member!

Getting disqualified from surveys is standard on most sites. Still, if you are getting rejected constantly, maybe your profile is not attractive to most companies, and you should look for alternatives.
>> Click here to see my no—1 recommendation for making money online.
There are Not Many Surveys Opportunities
Unfortunately, there are few survey opportunities in the UK and many other countries.
I checked my email, and there were 78 survey invitations from MOBROG during the year. That's less than two surveys per month!
Considering you can disqualify for over half of them, you may earn less than £1 per month.
I highly recommend this excellent GPT (get paid to) site, where you can find an incredible number of reputable survey and offer providers. It's possible to earn over $100 per month with Prizerebel alone.
Invite a Friend and Earn $1
You will earn USD 1.00 or GBP 0.64 if you invite someone to join MOBROG through your referral link.
Remember that you will only receive the commission when the person completes their first three surveys.
You can get referrals by emailing your friends, sharing your link on social media, or any other convenient method.
I like that MOBROG has the option to send an email to your friends or family directly via the app.
Does MOBROG Respect Your Privacy?
According to MOBROG, the details you provide when registering and updating your profile are used to select participants for surveys.
Therefore, you will receive no advertising or any other unwanted messages from the company or its business partners.
Also, your survey responses cannot be traced back to you as an individual, which means your privacy is safe at all times.
Final Thoughts 
MOBROG is a legitimate survey platform, and the payout is not that bad compared to other survey companies.
So, should you join MOBROG?

I am not very impressed with it. There are not many survey opportunities, and it's usually very hard to qualify.
Some people have a positive experience with MOBROG, while others struggle to qualify and get paid.
Verdict: LEGIT
MOBROG Alternatives
I highly recommend signing up with other survey sites and apps if you want to get daily invitations.
If you are searching for an alternative survey app, 1Q, AttaPoll, and Appinio are some interesting options.
However, my top recommendation for completing surveys is this GPT site, where you can connect with different survey routers under the same roof.
Now, maybe you are sick and tired of making pennies online! If so, read the next section carefully as I will show you how I earn a full-time income from home and how you can do the same.
Yes, it takes time and dedication, but it's worth it!
Earn a Full-Time Income Online
I used to take surveys five years ago, but then I discovered a much more effective method to make money online.
Instead of making $2/hour taking surveys, I am now operating an internet business that is generating over $1,600/month.
This is a real business that I operate 100% remotely, so I have the freedom to work whenever and wherever I want.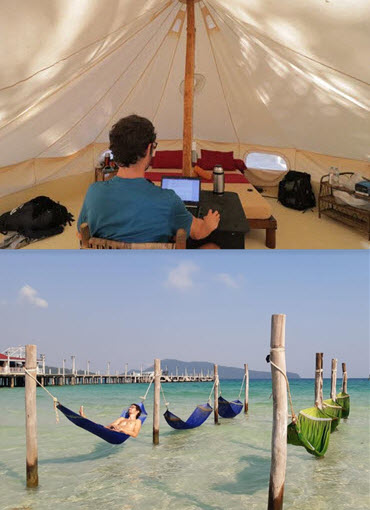 In short, I create articles and reviews on my website and promote other people's products as an affiliate.
There is no need to deal with customers, physical products, or suppliers.
My website is all about ways to make money online. But you can build a site about anything you want and earn affiliate commissions by promoting related products.
As an affiliate, you can earn anywhere from $1 to $1000+ per sale! 
You can start working at your own pace as a side hustle and eventually quit your job once you generate enough revenue. That's what I did!
I worked hard, and now I reap the rewards of my effort, and so can you!
If you are interested in building an affiliate site that will help you achieve time and location freedom, check out my #1 online business recommendation here.
It's 100% newbie-friendly and…
You can join today for free!

Final Words
Thanks for taking the time to check out my MOBROG review. I hope it was helpful!
So, have you tried MOBROG? How many surveys are you getting in your country? Feel free to share your experience with us in the comment section below!
I wish you all the best!
Your friend,
Stefan