Welcome to my Curious Cat app review!
I found Curious Cat while browsing for money-making apps on the Google Play Store and decided to give it a try.
What enticed me to download this app was the opportunity to earn 200 points (£2) by answering 3 -minute surveys.
If you are familiar with marketing research studies, you know this is an excellent rate of pay. Usually, most companies make you answer a 20-minute survey for a similar cash incentive. Not to mention the frequent disqualifications that infuriate even the most patient monk!
You are reading this post because you are trying to find a decent and reliable survey app. In this review, I will expose all you need to know about the Curious Cat app and give you my honest opinion about it. Is it legit? Will they pay you? Or is it a waste of time?
Let's find out!
If you want to work remotely and earn a full-time income from home, check out my #1 recommendation. This program helped me reach $1,600/mo in online revenue and quit my job in 2019. No special skills required!
Curious Cat Review
Name: Curious Cat
Company: Device Research Limited
Website: https://curiouscatapp.com/
Type: Online Surveys
Eligibility: Worldwide (16+)
Minimum payout: £1
Price: Free

LEGITIMATE

Overall Rating: 2/5
What is Curious Cat?
Curious Cat is a mobile application that rewards you for completing paid surveys on the go. All you have to do is share your thoughts and opinions that will contribute to marketing research and influence de decisions of big brands.

This reward platform is going viral! Cash out via PayPal, Visa, Gift Cards, and in-game currencies - Click here to find out how to generate an extra $10+ per day! 
As a member, you will receive survey invitations based on your profile and earn points for each survey you complete. Once you accumulate 100 points, you trade them for £1 paid directly to your PayPal account.
Founded in 2017, Curious Cat is operated by a UK-based company called Device Research Limited and is available in 92 countries.
Is Curious Cat Legit? Does it Pay? 
Curious Cat is a legit app that used to get lots of positive feedback during its first 3 years. However, the app appears to have gone downhill after a recent update on 9 April.
Hordes of people are complaining about missing points, broken surveys, bugs, and excessive disqualifications.
From what I can see, it's has become harder to cash out because of these issues. Here is what a user had to say about this new Curious Cat update: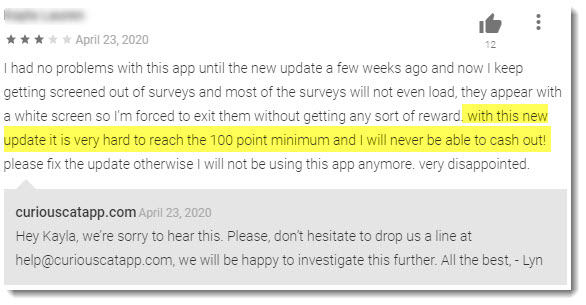 This person said Curious Cat used to be a great app, but now he is ejected after completing the survey for a long time.


The app description states that panellists get rewarded immediately after they complete the survey. However, they should also mention that they may not let you complete the survey.
The worst thing about completing surveys is that companies have the right to collect your information for free, simply because they can dispose of respondents whenever they want.
When you get screened out, you don't get paid for your time and information provided.
It's impossible the know the exact reason behind the decision to screen out participants. So, the only option is to accept the defeat and turn the page.
Sadly, many people end up spending hours answering repetitive questions with no money to show for it. 
The good news is that, unlike other reward apps, Curious Cat will process your payment with no issues.
Pros and Cons
Pros
There are many surveys available depending on your country.
The minimum payout threshold is only 100 points (£1).
Easy way to make money.
Cash out via PayPal.
It's available on Android and iOS.
Cons
Slow earnings.
It is very hard to qualify.
You can get screened out at any time while you are completing the survey.
there is no signup bonus.
How Does it Work?
Installation and Registration
Curious Cat is available on Android and iOS devices. After installing the app on either Google Play or App Store, they will ask your phone number to verify your account and prevent fraud.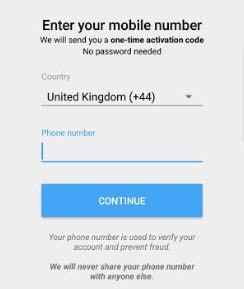 Curious Cat will send you a one-time activation code via SMS that you must enter to activate your account. Don't worry as they promise never to share it with third-parties.
Point System
In the UK, you can redeem 100 points for £1 via PayPal. Currently, the company doesn't offer any other payment option.

Profiling Survey
The first step is to complete the profiling survey so that Curious Cat can select more relevant studies for you. You can complete another 2 profiling surveys to get additional surveys. Each profiling survey is worth 5 points.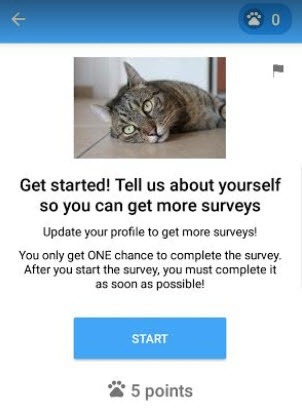 Taking Surveys
After completing your profile, the app will automatically unlock all the surveys that match your demographics. I immediately received 13 opportunities worth anywhere from 13 to 169 points.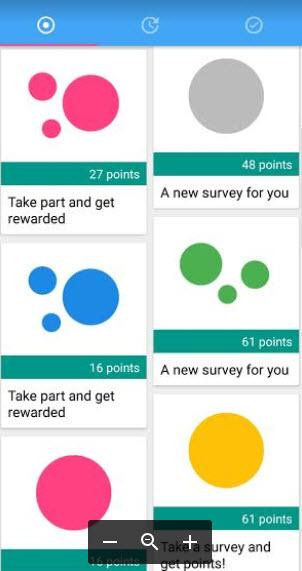 From what I can see, the average number of points per survey in the UK is approximately 50 points (£0,50). When you click on a survey tab, they will show you the average survey length.
Pay attention to the rate of pay (points vs time) to decide whether completing the survey is worth your time. For example, I found a 23-minute survey worth only 33 points, which is a very small incentive for my liking.
According to Curious Cat, the typical survey expires in 1 hour. However, they can close it much sooner if the quota is reached. So, don't leave it for later or it might be too late.
Location-Based Surveys
If you want to get more survey invitations, you can share your location data with the Curious Cat app. To do that, simply click on "Settings" and activate "Share location".
When you give Curious Cat permission to access your location, you may get an invitation to complete location-based surveys. For example, if you went to a specific fast-food chain, they may ask what menu you ordered and how was your customer service experience.

RECOMMENDED: Click here to see my no.1 recommendation for making money online
Tasks and Offers
Sometimes you may also find tasks or offers that give you more points or a gift card straight away. When I was browsing Curious Cat yesterday, I found one task that required me to download an app and get £10 Amazon Voucher.
It was tempting because it felt like free money. However, I gave up on this offer when I discovered I had to share my internet usage for marketing purposes.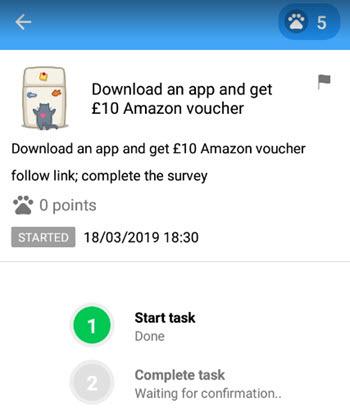 It's Difficult to Qualify!
The problem not only with Curious Cat but most survey panels is that you can get disqualified and waste a lot of time. Depending on your profile, disqualifications happen too frequently. That is because marketing research companies are almost always targeting respondents with specific demographics (age, genre, education) and interests.
Curious Cat has partnered with Samplicio.us, a survey panel that has a track record for disqualifying candidates. If you search for samplicio.us reviews on Google, you will find many complaints from people who waste a lot of time due to frequent disqualifications.
Here is another problem you need to be aware of. Curious Cat may screen you out halfway through the survey even if you are the ideal candidate. This can happen when the demographic quota is reached while you are taking the survey, but there are probably other reasons. 
In the past, Curious Cat used to reward 1 point for every survey disqualification or failed task. Now they are giving 1 point only for specific surveys.
How Much Money Can You Earn With Curious Cat? 
It depends on various factors such as your country, profile, and the availability of tasks. Some days are busy, and other days are very quiet.
Some people used to make $30+ per week before the infamous update, but now I doubt anyone can reach $30 in a month.
How Do You Get Paid? 
When you reach 100 points, you should go to the Cash Out screen and cash out £1 via PayPal. Simply add your PayPal email address and tap "confirm".
Typically, the money will be transferred immediately to your PayPal account once you request the payment, but it can take up to 24 hours.
As you already know, it's harder to earn points with Curious Cat nowadays, so despite the low minimum payout, you may struggle to withdraw the money.
Final Thoughts
Curious Cat used to be a great survey app, but users are experiencing lots of issues after a recent update. Now, it seems to be even harder to qualify for surveys. Many users are struggling to save even the low minimum payout of 100 points.
In my opinion, the company should try to fix all the technical issues and give preference to marketing research partners that respect panellists. Otherwise, more and more people will uninstall the app and spread the bad word of mouth.
Verdict: Legit

Is There a Better Alternative to Curious Cat? 
It's difficult to find an app that ticks all the boxes. For example, Google Opinion Rewards get excellent reviews, but participants can only spend their cash rewards on Google Playstore.
I really like The 1Q app because it doesn't screen out panellists and pays $0.25 per question directly via PayPal. Unfortunately, people don't get questions very often.
If you ask me where is the best place to take online surveys, I would say Prizerebel. As a member, you will have access to not only different survey panels but also offers and other easy tasks to make money. This is a website, not an app, but you can log in and complete surveys on your phone with no problem!
I have recently published a post about the top survey apps to make money via PayPal. Read that post to find other alternatives to the Curious Cat app.
Earn a Full-Time Income Online
I used to take surveys back in 2015, but in the same year, I discovered the possibility of earning $1,000s and even $10,000s per month with affiliate marketing.
I joined this excellent training program, which showed me how to build a website, attract an online audience, and earn affiliate commissions. It takes time and commitment to start making money with your own website, but in my opinion, it's well worth it.
For me, it's all about freedom! I love the possibility of working whenever and wherever I want. I love travelling, and in 2019 quit my job and purchased a one-way ticket to South East Asia. This wouldn't be possible without an online income.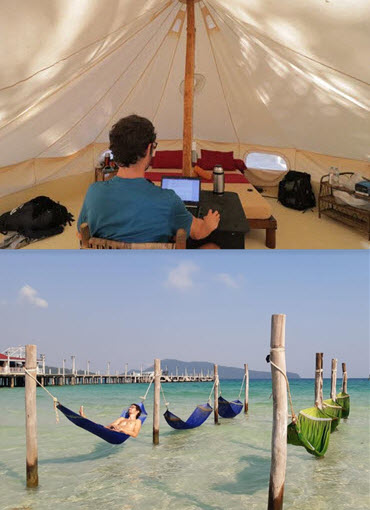 My website is all about reviewing money-making platforms and info products. However, you can build a site around a topic of your interest and earn affiliate commissions by promoting products that you trust.
If you are interested in learning about the strategy and training platform that I use, check out my #1 recommendation review here. 
Final Words
I hope my Curious Cat app review was helpful to you. If you have any questions, drop me a comment below, and I will be more than glad to help! 😉
Stay Safe and peace out!