Welcome to my AttaPoll app review!
Today I was browsing the Google Play store in search of another money-making application when I found AttaPoll.
At first glance, AttaPoll seems legit, but it's important to read lots of reviews to see if something is going on behind the curtains.
The reason is that many untrustworthy applications exploit your time and personal data giving nothing in return. In this review, I will explain how AttaPoll works and give you my honest opinion. Will they pay you? If so, how much can you expect to earn?
Let's find out!
You may also want to discover my #1 recommendation, which helped me build an internet business from scratch and earn a full-time income online. It's free to get started and 100% newbie-friendly!
AttaPoll App Review 
Name: AttaPoll
Website: https://www.attapoll.com/
Company: AttaPoll Ltd
Price: Free
Membership Eligibility: Worldwide
Similar apps: 1Q, Poll Pay, Curious Cat, Appinio
LEGITIMATE
Overall Rating:

2.3/5
What is AttaPoll?
AttaPoll is a mobile application that pays you for taking occasional online surveys from your phone. It's available for both iOS and Android devices.
The app connects you with different marketing research companies so you can share your opinions and get paid via PayPal or cryptocurrency.
You are helping businesses identify market trends and improve their products and services by taking surveys.
AttaPoll is available worldwide, but depending on your location, you will hardly ever get survey notifications.
However, if you live in a country where AttaPoll is quiet, you can find lots of surveys and offers with my top-rated GPT site here.
You won't make much money with AttaPoll or any other paid survey app. However, the app offers a decent opportunity if you want to make a little extra money in your spare time or while commuting to work.
When I first reviewed AttaPoll in 2019, the app had been downloaded 50,000+ times. So  I was shocked to see that the number of installs has grown to 500,000 in just one year!
AttaPoll has been rated 3.8 on Google Play and 4.5 on the App Store, which is good. Before I explain how AttaPoll works, let's examine the pros and cons.
Pros and Cons
Pros 
Take surveys on the go.
Low payout threshold.
Available for Android and iOS devices.
Cashout via PayPal.
You can decide on the length of surveys you want to complete.
Cons
Low pay.
There are not many surveys.
You may get disqualified frequently, depending on your profile.
Lots of people get screened out halfway through the survey.
How Does AttaPoll Work?
Installation and Registration
You can find AttaPoll available for download either on Google Play (Android) or the Apple store (iOS).
After installing the app, you first have to accept their Terms of Use and Privacy Policy. The next step is to register with your Google account. Unfortunately, there is no other registration option available at the moment.
RECOMMENDED: Click here to see my top recommendation for making money online.
Access to Your Location
AttaPoll will ask permission to access your device's location to match you with more survey opportunities. That is required because most studies target groups of people from specific locations. If they don't know where you live, you probably won't get as many notifications.

Credit System and Rewards 
Whenever you complete a survey, you will earn credits that you can redeem for PayPal, Bitcoin, and Ethereum. There is also an option for donations.
The exchange rate is one credit = GBP 0.01 or the equivalent in your currency.
Regardless of your country, here is the minimum threshold for each payment method:
Paypal – 300 credits
Bitcoin – 10000 credits
Ethereum – 1000 credits
Donation – 100 credits
The minimum payout is relatively low compared to iPoll and other panels. Nevertheless, depending on how many survey invitations you get, it may take you weeks to cash out!
To request a payout, tap on the blue "Check Balance" button and choose your payment method.
Usually, it takes just a few hours to receive a payment. However, if you don't get paid within 24 hours, contact the company at [email protected].
I have seen many user reviews, and no one complained about payments. So, I don't think you should stress about it. However, I recommend cashing out small amounts just to stay on the safe side.
Profile Surveys
When you log in for the first time, you will get a profile survey worth 3- 10 credits, depending on your country. Each study takes about 1 minute to complete.
You must complete these short questionnaires because they will match you with surveys you are more likely to qualify for.
The questions are about your education level, employment, and household income.
Taking Surveys
AttaPoll will notify you whenever a new study is available for you. You will also find all the surveys that fit your profile on your dashboard.

AttaPoll will tell you how many credits you will earn and the average survey length.
Once you get a notification, try to complete the survey as soon as possible. According to the company, the survey can expire in a few days or even 20 minutes later!
On the first day, I received only one invitation to complete a 10-minute survey worth 12 credits (£0.12). The next day, there was a 20-minute survey worth 60 credits (£0.60).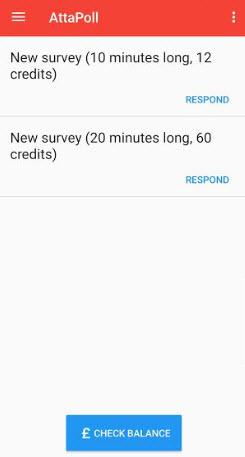 Most surveys pay less than £1 and take between 10-20 minutes to complete. However, before you complete the paid survey, you should first answer some qualification questions.

This reward platform is going viral! Cash out via PayPal, Visa, Gift Cards, and in-game currencies - Click here to find out how to generate an extra $10+ per day! 
Qualification Questions
The company that creates the survey usually seeks participants with specific demographics or interests.
They can only establish whether you are a good match after you answer some qualification questions.

You can get disqualified if you provide an incorrect answer to a control question at the end of the survey. The control question is used to ensure the candidate takes the study seriously.
Attapoll may also disqualify you halfway through the survey due to additional filters in the project. This is the worst thing that can happen, in my opinion.
I used to take surveys in the past, and I can relate to the frustration.
When answering questions, the best approach is always to tell the truth and provide honest opinions.
Unfortunately, many people get blocked because they give inconsistent answers. If AttaPoll thinks you are not providing truthful and thoughtful answers, they may stop sending notifications or even ban your account.
RECOMMENDED: Click here to see my no.1 recommendation for making money online.
How to Receive More Surveys
You can change some settings that might help you get more surveys.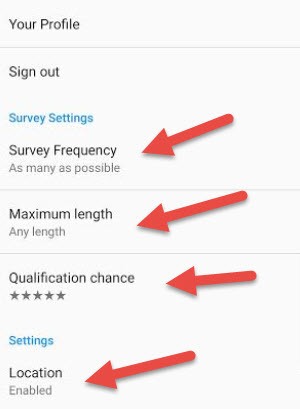 When you install AttaPoll, the "Survey Frequency" should be already set for "As many as possible. "If it isn't, then select this option. Unless you don't want surveys that take longer than 15 minutes, tap on "Maximum length" and select "Any length". 
Another important setting is the "Qualification chance," which range from 1 to 5 stars. To receive more opportunities, choose the "1-star qualification chance".
The Qualification chance is the likelihood that you will qualify for a survey. A 5-star qualification chance means that AttaPoll will only send notifications for surveys you are most likely to qualify for. If you select five stars, you will get fewer survey invitations.
On the other hand, you will get more survey opportunities by choosing the 1-star qualification chance. The drawback is that you may waste a lot of time because of more frequent disqualifications.
Check out this post to learn how to avoid survey disqualifications.
Referral Program
Another way to make money is by inviting your friends to join AttaPoll through your referral link.
Simply share your unique affiliate link and get 50 credits whenever the person installs AttaPoll and completes at least three surveys.
You can check the status of your referrals on the "Invite Friends" screen.
Does AttaPoll Respect Your Privacy?
Nowadays, many people care about their privacy on the internet, and companies are working hard to comply with strict regulations.
AttaPoll's privacy policy is very transparent regarding all the information they collect from you and the purpose of the collection. They will ask permission before collecting any personal data, and you are free to opt out.
They will also give you the right to access all the data they have from you and delete all of them if you wish. When you delete your account, all the personally identifiable information they hold from you will be deleted, and all your answers will become anonymized.
That being said, I am confident AttaPoll is going the extra mile to protect your privacy.

User Reviews – Complaints 
There are mixed feelings about AttaPoll on the internet. Here is the distribution of star ratings on Google Play.
Most people who rate it 4 – 5 stars said they cashed out with no issues and wished there were more surveys.
Those are the most common complaints from those who rated it 1 – 3 stars:
Frequent disqualifications.
Low-paying surveys.
Very few survey opportunities.
Unlike many cash apps and GPT sites, AttaPoll doesn't have the bad habit of blocking people's accounts. At least I didn't see anyone complaining about this.
In the Terms and Conditions, no clause gives them the right to delete people's accounts for no reason. So, unless you breach the rules, they won't suspend your account.
One of the most common complaints I have seen is survey disqualifications. Many candidates report that after answering questions for 10 – 30 minutes, the survey crashes or screens them out. Here are three people reporting the same issue: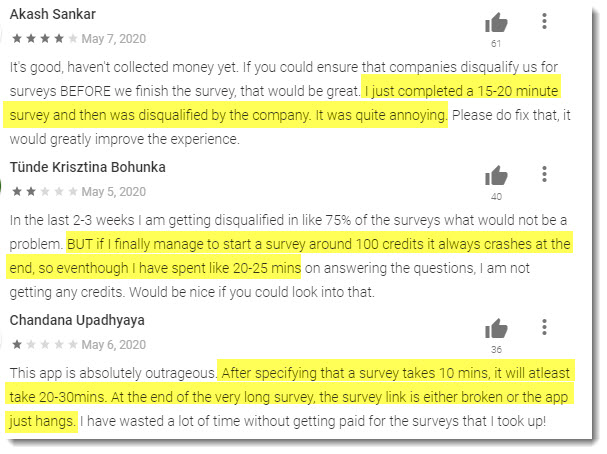 They may have been screened out because of the control questions, but we will never know the truth.
I gave up on surveys because I would tick boxes for hours with no money to show for it. Despite giving honest answers, marketing research companies would kick me out halfway through the survey. It was so frustrating!
Conclusion
AttaPoll is a legitimate survey app to earn a little extra money by completing surveys. They pay out, but many people get disqualified frequently and waste a lot of time. This is a common practice among most panels because companies need the ideal candidate for a particular study.
Whether they are acting in good faith or disqualifying people with the excuse of collecting free information, we will never know for sure.
Verdict: Legit
Is There A Better Alternative to AttaPoll App? 
An incredible number of survey apps are available on Android and iOS devices. One of the top-rated applications is Google Opinion Rewards. The main problem is that it only rewards you with Google Play credits, meaning you can't get cash in your pocket.
Another decent application that I reviewed recently is the 1Q app. They pay you $0.25 per question and will never disqualify you. Unfortunately, it's hard to make over $10 per month because there are very few questions.
In my opinion, the best platform to take surveys is Prizerebel, which connects users with many marketing research companies and pays you via PayPal.
The website is 100% mobile-friendly, so you can answer questions from your phone or tablet without a problem.
How I Make Money Online
In 2015, I earned my first dollar online after taking an online survey. I still remember the superb feeling of making money on my own terms, without having to report to a boss!
It was easy, and the best part is that I did it from the comfort of my home. The problem is that after a few days, I realized my earnings did not justify the significant time I had to put in.

Luckily, I discovered this step-by-step program that showed me how to build an affiliate site, get traffic, and earn recurring commissions.
I was dreaming day and night about working from home and quitting my job, so I took massive action to achieve my goals.
I even quit my Master's degree to have more time for this, and I don't regret it! Nowadays, I earn a living online thanks to this in-depth training and helpful community.
In short, I earn commissions when website visitors click on my links and buy what I am promoting. There is no customer service, product fulfillment, or direct selling. That's why I think this business model is one of the best ways to make money online!
You just need to focus on creating helpful content that helps solve people's problems on a topic of your interest. If you want to learn more about the platform, I joined back in 2015, check out my #1 recommendation review here! 
Final Words
Thanks for checking out my AttaPoll review. If you have any questions, feel free to leave a comment below, and I'll be more than happy to help. 😉
Stay safe and peace out!