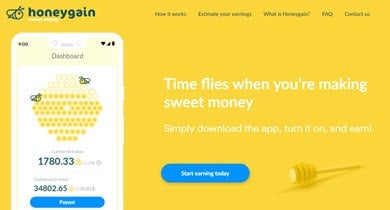 Welcome to my Honeygain app review!
Who doesn't like passive income?
The creators of the Honeygain are claiming you can earn sweet money just by downloading the application and connecting your device to the internet.
Many people are skeptical of Honeygain and wondering whether it's a scam or a legit app.
Not only it seems too good to be true, but the website is a bit vague regarding why they are using your device and internet connection.
What's worse, Google Play has banned Honeygain a few months ago. So, Android users can only install the APK version via the website.
In this review, I will explain how Honeygain works and address all the concerns. Is Honeygain a scam or a legit app?
Let's find out!
You may want also want to discover my #1 recommendation, which helped me build an internet business from scratch and earn a full-time income online. It's free to get started and 100% newbie-friendly!
Honeygain Review Summary
---
Name: Honeygain
Website: honeygain.com
Price: Free to join
Type: get paid for sharing your internet connection
Membership Eligibility: Worldwide
Similar platforms: Packity, FluidStack, PacketStream
Overall Rating: 2/5
What is Honeygain?
---
Honeygain is a platform that pays you to share your unused internet connection.
According to the website, Honeygain turns your device into a gateway, allowing clients to use your IP to perform SEO monitoring, brand protection campaigns, ad verification, travel fare aggregation, and market research.
The reason this app has become so popular is that it's 100% passive, meaning users don't need to complete any tasks to make money.
Participants just need to install the app and let it run in the background.
Honeygain works worldwide and is very similar to Packity, FluidStack, and PacketStream.
You may also want to check out other passive income apps such as PhonePaycheck, MobileExpression, and Money SMS.
Is Honeygain Legit?
---
It's natural that people are skeptical and afraid to install an app like Honeygain.
They want to know why Honeygain is using people's devices, and the risks involved.
Will they have access to all my internet browsing history and personal data?
What about sensitive information such as bank account details and email passwords?
Well, according to the developers, Honeygain is not collecting any data from your device during the process.
The company assures us they are only using our IP and internet traffic as a gateway.
It will be part of the IP pool used by data scientists to extract useful data from the internet, helping businesses perform market, business, and intelligence research.
Well, that's what they say.

What Are the Risks? 
I need to warn you about the serious risks of sharing your internet bandwidth with strangers.
When you join Honeygain, you will let their clients browse the internet and do all sorts of things with your IP addresses.
This puts you in a vulnerable situation because you don't even know who their clients are.
If any client uses your internet for illegal activity in your country, you will be in trouble! 
There is always a risk because you never know who are these people and what their true intentions are.
According to the Terms and Conditions:
While we put reasonable effort to prevent any detrimental consequences to our users, it is the user who is responsible for its ability to share internet traffic and his compliance with local laws, regulations, and agreements with third parties.
IMPORTANT UPDATE
Honeygain app has been banned from Google Play a few months ago, raising suspicion that the app is dangerous. 
According to some users in a Reddit thread, Google Play sent a warning message saying Honeygain is a fake app that is stealing data.
This is very serious!
In October 2019, the company said it was running maintenance and trying the solve the issue. But the app has never returned ever since.
One person reported a weird behavior on his computer after an update. Many websites logged him out without his permissions.
It seems that Google Play Protect has identified a malicious behavior on the app that could make users vulnerable to data theft.

I cannot make any claims here with no proof, but I wouldn't install an app banned from Google Play.
To me, it's not worth the risk!
RECOMMENDED: Click here to see my no.1 recommendation for making money online.
Pros and Cons
---
Pros
Earn passive income – no work required.
Earn a signup bonus of $5 if you use a referral code.
The pay rate is the same regardless of your country.
The company won't collect any personal information from your phone.
It works on Android, MacOS, and Windows PC.
You can use multiple devices.
It's available worldwide.
Get paid via PayPal.
Refer a friend and earn a 10% commission.
Easy to use.
Cons
There are many risks.
Very slow earner – data consumption is very slow, so it may take you months to reach the minimum payout threshold.
The minimum payout is too high!
It drains your battery by about 5 – 10% per day.
How Much Money Can You Earn? 
---
You will earn 0.01 USD (10 credits) for every 100 MB of internet data that you share.

This reward platform is going viral! Cash out via PayPal, Visa, Gift Cards, and in-game currencies - Click here to find out how to generate an extra $10+ per day! 
The problem is that the traffic is very slow and if you are using only one device, you won't make more than $0.25 per day.
According to the FAQ, Honeygain uses around 2 GB per day, but it can reach 15 GB per day depending on your internet speed.

For example, I left Honeygain working for 4 hours, and it only gathered 415MB – $0.04.
If I used the app for 30 days, I would have made $1.20, which is much lower than their estimation.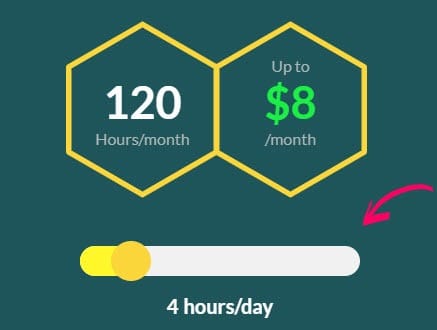 The company says your earnings depend on internet speed and demand for traffic in your region.
However, my earnings were very disappointing even with a fast internet connection (24 Mbps per second).
On top of that, I am in London, which considered a hotspot for marketing research and tech firms.
Using Multiple Devices – Can you earn more? 
It's possible to maximize your earnings by installing Honeygain in more devices, but each one must use a different network.
If you install multiple devices on the same network, the system will divide the traffic between all devices and you will end up earning the same.
How Does it Work?
---
It's straightforward.
Visit the official website, choose your operating system, and install Honeygain on your device.
If you want to use Honeygain on your computer, click on the Windows or macOS logo and download the software.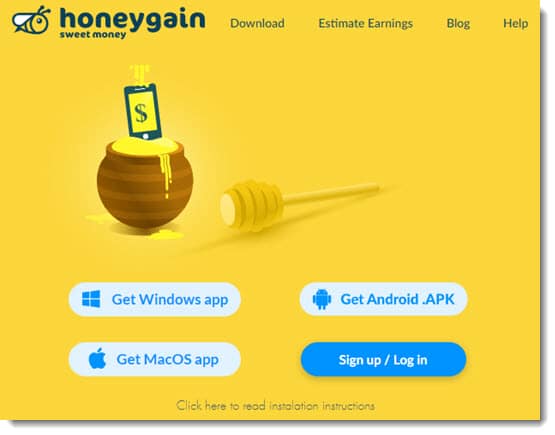 Now, if you are using it on an Android device, you must download the APK because the app is not available on Google Play anymore.
Then, sign up and click on the confirmation link in your email to activate your account.
There is nothing else you need to do after you log in. You can just set it and forget it!
The app will start transferring data and generating revenue for you on autopilot.
You can change the settings to allow Honeygain to use your mobile data too.
But be careful if you have a limited data plan!
You can leave the app running in the background as it won't interfere with your device's performance.
According to the FAQ, Honeygain uses around 2 GB per day, but it can reach 15 GB depending on your internet speed.
The app consumes 5 – 10% of battery per day, which can be a no-go for those who already struggle with short battery life.
That's why you may want to use an old phone or activate the app only while charging. You have this option in the Settings: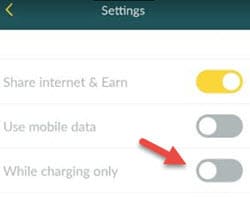 How Do You Get Paid?
The minimum payout is $20, and you can expect to receive your payment within 24 hours.
PayPal is the only payment method available, but more options are coming in the future.
Referral Program
---
You can also make money by sharing your referral code with your friends.
If your friend enters the code, they will earn a $5 bonus and you will get 10% of all their earnings.
This is another way to earn passive income with the Honeygain app.
However, even if you refer hundreds of people, you won't make a significant amount of money.
User Reviews – Complaints
---
After checking the review section on Google Play, I noticed a lot of negativity.
Most people were complaining about the slow rate of data consumption and the consequent low pay.
In the past, Honeygain claimed users could earn up to $47 per month.
So, they got frustrated about making only a few cents per day. 
One person said that despite using three devices for 24 hours, he was making less than $0.06 per day.
At this rate, he would have to use the app for one year to reach $20 and cash out.

This person claims that Honeygain used more than 10 GB and paid less than $1.

Here is another interesting comment:

Conclusion
---
At first glance, Honeygain seems like a legit application.
However, the fact that it was banned from Google Play is a big red flag for me now.
I am concerned about the risks of sharing network bandwidth with strangers.

As I said, you may be held responsible for any illegal activity committed using your IP address.
It's not worth the risk IMO.
The company claims that users can make a significant income by sharing lots of data.
But the truth is they will use only a tiny portion of your internet, limiting your earning potential.
Even if you have six devices running 24/7, I am very skeptical that you can reach $47 per month.
To sum up, I am not using Honeygain because of these 4 key reasons:
I don't want to rent my IP address to strangers.
I don't know if Honeygain is trying to steal critical data from my device.
There is no income guarantee.
It drains the battery.
How I Make Money Online
---
I don't rely on mobile applications to make money online.
In short, my job is to provide valuable content to the internet!
I write content for my own website, which attracts visitors and generates affiliate commissions and ad revenue.
As an affiliate marketer, I make money web visitors click on my links and buy what I am promoting.
Keep in mind that as I don't have to deal with customer service or product fulfillment.
I am just creating content and connecting people with the merchant's website.
This is one of the best ways to make money because it gives you:
Location freedom – Work from home or hotel room while traveling the world.
Time freedom – Set your own schedule and vacations.
Boss freedom – You are the boss, and you make your own rules.
I started from scratch without no clue about website design or marketing skills.
Yes. Anyone can reach great results with this business model. There are many affiliates making $1 k and even $10 k per month.
However, you must be patient and determined because this is not one of those get-rich-quick schemes.
Well, everything worth having in life takes time and commitment.
If you want to learn step by step how to create an affiliate site check out my top-rated training here. It's newbie-friendly and free to get started.
Final Words
Thanks for taking the time to read my Honeygain review.
If you have any questions, feel free to leave me a comment below. I am always happy to help! 😉
Stay safe!