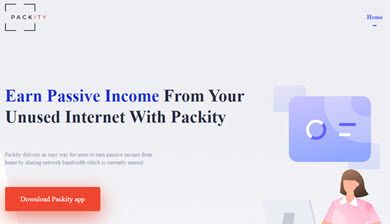 Welcome to my Packity review!
Packity has been advertised as the easiest way to earn passive income from home.
The company promises to compensate users for their unused internet bandwidth.
All you have to do is install the software on your computer and let it run in the background.
It seems the perfect way to earn money without doing any actual work, but is it safe? Is it a scam or a legit opportunity?
Read my review below to understand what is at stake.
You may want also want to discover the step-by-step program that helped me reach $1,300 from my laptop. It's free to get started and 100% newbie-friendly!
Packity Review Summary
---
Name: Packity
Website: https://www.packity.com/
Company:  Packity, LLC
Membership Eligibility: Worldwide
Price: Free
Similar platforms: Honeygain, FluidStack
Recommended?

No

Overall Rating:

1.8/5
What is Packity?
---
Packity is a proxy server that allows you to share your unused internet bandwidth and earn passive income.
In other words, your computer will become a gateway for internet traffic.
It's very similar to a popular distributed cloud platform that I reviewed a while ago called Fluidstack.
According to the company, your computer will be used exclusively by data scientists to conduct business research, SEO monitoring, data collection, and brand protection.
Depending on your network availability and the amount of data consumed, you can expect to earn between $0.05 or $0.10 per GB.
Also, there are bonuses for long term contributors.
Pros and Cons
---
Pros
Earn passive income.
Quick and easy installation.
Get paid via PayPal.
It will never use more than 15% of your bandwidth.
The CPU consumption is relatively small.
No minimum availability required.
It works worldwide. However, there must be demand for bandwidth in your location.
Cons
You have no control over what is passing through your bandwidth.
You take all the risks if clients use your network for illegal activities on your name.
Low pay.
Is Packity a Scam?
---
I believe only people who have access to their internal procedures can tell whether Packit is a scam.
According to the FAQ, Packit is operated by internet security professionals who will protect your network and privacy.
The company promises to verify their clients through a strict KYC (know your customer) procedure and prevent any abuse on the network.
But how can you trust them?
What Are The Risks? 
It's important to understand the risks of sharing network bandwidth with strangers.
You already know that the internet is used for all sorts of crimes and dodgy activities from data hacking to money laundering.
Who are these Packity professions and what institutions or organisations are using your bandwidth?

The reality is that you are sharing your network with unknown clients.
What's worse, you have no control over what is passing through your network.
Ideally, you should know precisely who is using your internet and have access to everything they are doing.
What if a client conducts illegal activities through your ISP (internet service provider)?
I believe Packity is operating legally, but the problem is that they won't be responsible in case their clients misuse your internet.
The Terms of Service clearly states that you should use the software at your own risk. 
Keep in mind that you are not allowed to use VPN to hide your IP address.
So, before installing the Packity application, you should seriously consider the risks involved.
How Does Packity Work?
---
If you are prepared to take these risks, the first step is to download the software for your operating system.
The software has two versions: one for Windows and the other for Mac users.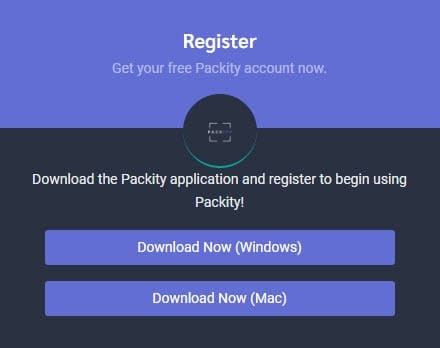 After you download and install the software, you can sign up and get access to your dashboard.
On the dashboard, you can see your node statistics and cash balance.

All you have to do is leave the application running in the background of your computer.
How Much Money Can You Earn?
---
Here are the two formulas that Packity uses to calculate your earnings:
Earnings = C x CR
C = ST x SR
Where:

This reward platform is going viral! Cash out via PayPal, Visa, Gift Cards, and in-game currencies - Click here to find out how to generate an extra $10+ per day! 
C= Multiplying Credits
CR = Conversion rate

ST = Shared traffic
SR = Sharing rate
In other words, your earnings depend on the amount of traffic you have provided and the availability percentage.
In a Beermoneyforum thread, the company has explained that if your device is available less than 59% of the time, you will earn $0.05/GB.
If your device is available more than 60% of the time, then you are guaranteed $0.10/GB.
Unfortunately, the company doesn't provide an estimate of how much money a user can expect to earn per month.
I believe that a user won't make more than $10 per month.
There are No Guarantees!
---
You should also not that Packity doesn't guarantee any results from using the software.
Here is a snippet from the "terms of service":
"WE CANNOT GUARANTEE AND DO NOT PROMISE ANY SPECIFIC RESULTS FROM THE USE OF OR INABILITY TO USE THE APPLICATION. WE DO NOT REPRESENT OR WARRANT THAT THE APPLICATION OR POSSIBLE TO ACHIEVE MONETIZATION RESULTS ARE ACCURATE, COMPLETE, RELIABLE, CURRENT OR ERROR-FREE."
So, despite sharing your bandwidth, you may not earn any money.
User Reviews
---
Packity was launched in August 2019, so there aren't many user reviews yet.
On a Reddit thread, one person said he/she used Packity during the entire month of September, but didn't make any money.
Maybe this person lives in a country where there is no or very little demand for bandwidth.
Payment
---
You can request your payment via PayPal once you reach $10.
Conclusion
---
I believe Packity is a legit platform, but you should be aware of the risks.
By using Packity, you will be responsible for anything that passes through your ISP.
For example, if you live in Germany and your internet is used to download music illegally, you will be in trouble for copyright infringement.
That's just one example to illustrate the danger of sharing bandwidth with strangers.
Packity may indeed have robust security measures to prevent these problems, but my point is…
How can you be 100% sure?
Yes, passive income is great, but you probably won't make more than $10 per month.

Is it worth the risk?
Me, personally, I wouldn't rent out my internet bandwidth under any circumstances.
How I Make $1,300 Per Month From Home
---
One of the best way to earn money online is to build websites that will generate commissions 24/7.
So, how does it work?
In short, I create helpful articles, and I promote the best platforms and products as an affiliate.
The articles rank on the top positions of Google and generate revenue through affiliate links and banner ads.
It takes time and hard work, especially in the beginning.
I had to work for more 3 years on my website before it covered all my living costs in London.
But…
All the hard work paid off, and I was finally able to quit my job.
If you are serious about building affiliate sites, I recommend learning from expert marketers who have walked the way.
This 10 free lessons created by Kyle and Carson will show you the way!
Final Words
Thanks for reading my Packity review. If you have any questions, feel free to leave me a comment below, and I'll be more than happy to help! 😉
All the best
Stefan