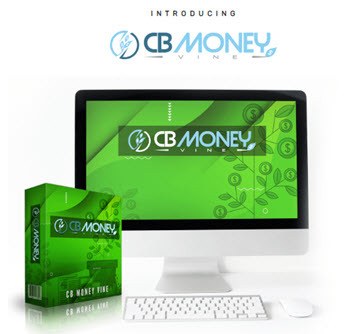 Welcome of CB Money Vine Review!
The creator of CB Money Vine is trying to convince you that he has a system that automates every affiliate sale.
He claims this system will automatically stuff your account with 40 – 50% commissions.
If you are struggling to make ends meet as an affiliate, you may be tempted to buy this product and shortcut your way to success.
But does CB Money Vine work as it should? Is it a scam or a legit product?
I've put up this review to explain how it works and give you my honest opinion.
You may also want to discover the step-by-step program that helped me reach $1,300/mo from my laptop. It's free to get started and 100% newbie-friendly!
CB Money Vine Review
---
Name: CB Money Vine
Website: https://www.cbmoneyvine.com/
Founder: Brian Winters
Price: $18.97
LEGIMITATE
Recommended?

No

Overall Rating:

2

/5
The Sales Page
---
I discovered CB Money Vine from a review made by a Youtuber and successful internet marketer called Jono Armstrong.
As I landed on the sales page and read the words "Autopilot", "Income Software" and "Easiest Money", it immediately raised a red flag.
Brian Winters claims that his unique system sends the buyers to YOU, automating every affiliate sale.

This reward platform is going viral! Cash out via PayPal, Visa, Gift Cards, and in-game currencies - Click here to find out how to generate an extra $10+ per day! 
This concept of automation is widespread in the internet marketing arena and used to sell the idea of fast and easy money online. 
I don't buy it!
What is CB Money Vine?
---
CB Money Vine is an ingenious system that incentivises people to keep buying Clickbank products through your affiliate links.
Therefore, it supposedly helps you make more money as an affiliate marketer.
According to Brian, it's like doing affiliate marketing in reverse.
When I heard this term, it reminded me of another product that I that reviewed last year called MoolaVine.
Then, it struck me that this could be the same product wrapped in a new package.
And I was right!
Brian is also the founder of MoolaVine, which works very similarly to CB Money Vine.

It's no coincidence that "Vine" appears in both product names.
If you are serious about making money online, check out my #1 online business recommendation.
Pros and Cons
---
Pros
High-income potential.
Quick set up.
30-day money-back guaranteed.
There are some basic training modules available.
Cons
You are "forced" to buy products that you don't need to keep your membership activated.
You will lose money if you don't make enough affiliate sales.
It's hard to get referrals that will purchase at least one Clickbank product per month.
It's not 100% automated as advertised.
How Does CB Money Vine Work?
---
CB Money Vine is touted as one of the most powerful income systems in the industry. But is it?
Keep reading as I am going to explain how it works and what you should expect from this business opportunity.
With conventional affiliate marketing, you usually make one commission at a time.
People click on your affiliate link, which directs them to the merchant's website where they can buy a product.
If they buy it, you make an on-off commission, and that's the end of the purchase cycle!
Now, with CB Money Vine, your referrals will be encouraged to keep buying products through your link month after month.
As a result, you will make a much higher residual income!
But how is it possible?
Well, when you buy CB Money Vine, you will get a "free" website with a referral link that you can use to promote CB Money Vine itself.

Additionally, over 4000 digital and physical Clickbank products in different categories will be hardcoded with your affiliate link.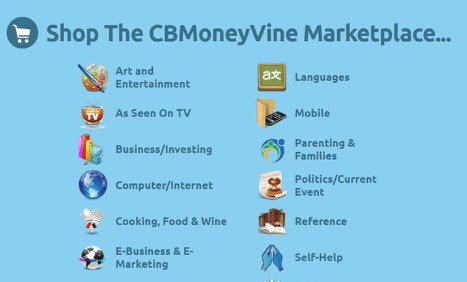 Instead of promoting each Clickbank product individually, you will promote CB Money Vine through your referral.
Then, whenever your referral purchases any Clickbank product through your CB Money Vine site (marketplace), you will earn a commission.
I know you are probably wondering:
Why will people buy Clickbank products every single month?
And…
Why would they buy from the CB Money Vine marketplace instead of the Clickbank's official website?
Because of the built-in incentivation program!
It's a Chain! 
You see, members have to buy at least one Clickbank product from the list to keep their CB Money Vine system working.
That's the critical aspect of this business.
If they stop buying, their affiliate links will become inactive, and they won't be able to make commissions from those recurring Clickbank purchases.

Keep in mind that you are part of the system, which means this applies to you as well.
CB Money Vine works like a chain or a vine, and you are part of it.
When you buy this system, you have to provide your Clickbank username.
You Still Need Traffic! 
Contrary to what they told you on the sales page, CB Money Vine doesn't automate the whole process. 
The reason is that you still need to promote your CB Money Vine link.
That is the hardest part!
You need people to click on your affiliate link and hope that they will buy the system.
You can never automate this process unless you already have worked hard to build a steady source of traffic.
Most marketers get traffic from a blog or a Youtube channel, which takes time to grow.
Real automation only happens after people become a CB Money Vine member through your link.
Only then you will start making 50% commissions per Clickbank sale.
In Jono's own words:
" The only problem that I see with this is you need to be able to understand how to get traffic to your link". 
CB Money Vine has some basic training to help you get traffic.
How Much Money Can You Make?
---
You can make a lot of money, but it won't be easy! 
Let's assume you refer 50 active members who purchase at least one Clickbank product per month.
Also, let's assume that, on average, each product earns you a $20 commission.
That's $1,000 in "passive income" per month!
The real challenge is to keep at least 50 referrals every month. Most people who click on your affiliate links will never take any action.
From those who buy CB Money Vine, most will probably quit after 1 or 2 months when they realise how difficult it is to succeed.
So, you have to get new referrals regularly to maintain the same income level.
The Risk
---
There is a risk you won't get enough referrals to cover all those products that you have to buy.

Therefore, you can lose a lot of money!
CB Money Vine is an ingenious system, but it only works if you are an experienced affiliate marketer.
CB Money Vine Upsells
---
CB Money Vine has a total of 5 upsells that will supposedly help you earn more money faster.
Here is a brief description of what you can expect from each upsell:
#1 – CBMV Commission Accelerator ($47)
This upsell allows you to earn commissions from your referral's traffic as well.
#2 – CBMV 10K List Mogul ($97)
This plugin allows you to capture all the email addresses of people who sign up to CB Money Vine using your affiliate link. In addition, you will get a package of done-for-you emails sequences.
This upsell is only recommended if you are interested in list building. Keep in mind that you must get an autoresponder so that you can send out emails and promote products to your leads.
#3 – CBMV 4 Figure Commission Club ($197)
This upsell allows you to add a high-ticket product in the backend, and generate $500 per sale.
#4 – CBMV 4 Autopilot Traffic Co-op ($197)
This upsells promises to add you to their traffic rotation, giving you hands-free traffic for the Life of CB Money Vine.
If CB Money Vibe was supposed to automate the whole process, then this service should be included as a frontend and not as an upsell.
I don't think this traffic co-op is from high-quality sources because it's unlimited. How can any business provide unlimited advertising for life for only $197?
In other words, you can purchase this traffic package and don't make any sale. There is no guarantee!
#5 – CBMV 6-figure Empire ($397) 
Get access to six fully upgraded selling income systems. These include IGMoneyTree, Siphon Reloaded and ShopMonopoly.
I don't recommend getting any of these expensive upsells unless you really know what you are doing.
Conclusion – Is CB Money Vine a Scam? 
---
CB Money Vine is a legit system, but in my opinion, the sales page gives people unrealistic expectations. 
It's not 100% automated because you need to get traffic to your referral link.
That takes a lot of time and effort!
The problem with CB Money Vine is that you are "forced" to buy products that you don't need so that you become a cog in the machine.

When you buy the product, you generate commissions for those who referred you.
However, there is no guarantee that you will get enough referrals to make commissions.
You can make more money, but you can also lose more money!
That's why I don't recommend CB Money Vine for beginners.
Verdict: Legit
What I Recommend
---
I am not a fan of shortcuts!
When it comes to internet marketing, the only people who benefit from shortcuts are those who are selling them.
That's why I highly recommend people to get proper training and build an internet business from the ground up.
Yes, it's time-consuming, but at least you know you are taking steps in the right direction.
During the last four years, I've grown a successful affiliate site that is now generating over $1,300 per month.
Now, I am my own boss, and I don't need to rely on any job to pay my bills.
That was only possible because I put in the time and effort to achieve my goals.
So, how do you know if you are in the right direction?
This online business program will show you a solid strategy that has been working for over two decades!
If you are prepared to do whatever it takes to make money online and achieve time and location freedom, check out my #1 recommendation.
After following this training, many people, including me, were able to earn a full-time income from home.
You can achieve remarkable results too if you take action and pursue your dreams!
Final Words
Thanks for taking the time to read my CB Money Vine review! I hope you find it helpful! 😉
If you have any questions, let me know in the comment section below, and I will be more than glad to help!
I wish you all the best.
Your friend,
Stefan