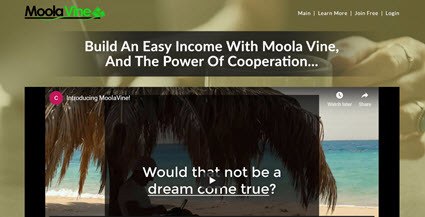 The owner of MoolaVine claims his affiliate system allows anyone to make easy money online, regardless of an individual's experience level.
After you watch his video presentation, you may think MoolaVine is indeed a great opportunity, a shortcut that you can use to achieve the laptop lifestyle.
So, can you really trust MoolaVile? Is it a scam or legit?
Read this review carefully before you purchase any product as you need to understand why it's a risky business.
By the way, if you want to learn the proven method that earns me over $1,000/mo from my laptop, check out my #1 recommendation! 
MoolaVine Review
---
Name: MoolaVine
Website: https://www.moolavine.com
Founder: Bryan Winters
Price: Free to join, but you will need to purchase products ($1/day).
Overall Rating:

1.6

/5
What is MoolaVine?
---
MoolaVine is being advertised as the first income co-op where all members benefit from buying products and referring others to the platform.
According to the owner, it works as a "reverse affiliate marketing" system where buyers come to you rather than you going after buyers.
Let me explain how this system works in more detail.
How Does it Work?
---
After the free registration, you will get a MoolaVine invite link.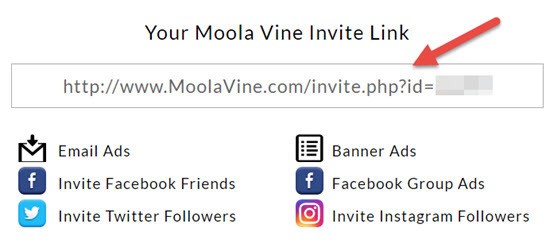 All the people who join MoolaVine through that link will become part of your Vine (referrals).
As a result, you will earn an affiliate commission whenever someone from your vine makes a purchase request and buys the product from either the JVZoo or Clickbank marketplace.
Both marketplaces are great for affiliates because merchants usually pay 50% commissions.
Now, you are probably wondering why people would visit MoolaVine to buy JVZoo or Clickbank products instead of buying directly via the merchant's website.
Well, that's because the only way they can reply to purchase requests is by maintaining their status as green. And to do that, they have to either purchase products regularly or get the Unlimited Green Day Plan.
MoolaVine Works Like a Chain
As you can see, MoolaVine works like a chain.
To earn commissions, you have to make purchase requests and refer other people.
You make purchase requests to maintain your green status, which in turn keeps your account monetized.
Next, your referrals will have to do the same to benefit from the system.
They will make purchase requests to you and refer others, who will make purchase requests and refer others, and so on.

Purchase Requests
---
As you have learned, as soon as you join MoonaVine, you are encouraged to make purchase requests to keep your MoolaVine account monetized.
Everyone is encouraged to spend money, and that's how the system survives.
The first step is to visit JVzoo or Clickbank and decide which product you want to buy. It can be any product!
Next, you must fill up the Purchase Request form that has only 2 entries: The Product Marketplace Title and the full link to product sales page.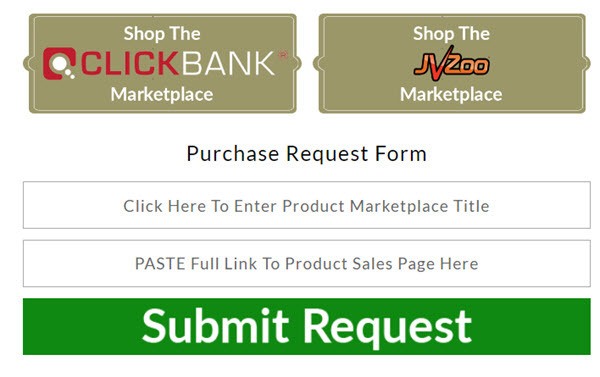 Your mentor, which is the person who referred you, will receive the request and then send his/her affiliate link.
The affiliate link directs you to the merchant's site from where you should buy the product.
It's important to understand that the product doesn't cost more if you buy through that link.
The price is the same, but the difference is your mentor will receive a commission because of your purchase.
Keep in mind you should only buy the product after clicking on that link. Otherwise, your mentor won't receive the commission, and thus, you won't get green days.
Green Days
---
Every dollar you spend on products is converted to 1 green day.
For example, if you spend $50, you will get 50 green days. After 50 days, you will have to buy more products to maintain a green status.
As you can see in the screenshot below, I have 0 green days because I didn't buy any product.


It doesn't matter the number of referrals you have. If you run out of green days, you won't receive purchase requests, and therefore, you won't earn commissions.
Another option is to buy the Unlimited Green Day Plan which costs $20/mo. With this option, you don't need to purchase any product for as long as you keep this plan.
Another advantage of the Green Plan is that you will earn $10/mo commissions for each referral who gets the same plan.
Becoming a Mentor – Growing Your Vine
---
The video presentation make it seem very easy to grow your vine, or in other words, to refer people through your MoovaVine affiliate link.

This reward platform is going viral! Cash out via PayPal, Visa, Gift Cards, and in-game currencies - Click here to find out how to generate an extra $10+ per day! 
The owner says Bob (YOU), could very quickly have 100s or even 1000s of people on his vine, resulting in dozens of purchase requests sent to him every day or week.
Can you imagine how awesome would that be?

Thousands of referrals could probably result in hundreds of dollars per day!
The problem is that if you don't have a constant stream of traffic (visitors) that click on your link, you are highly likely to fail.
My blog, with has over 400 articles, gets around 1000 of visitors per day. From that number, only a portion clicks on my affiliate links, and an even smaller percentage ends up buying the products that I am promoting.
So, from personal experience, it's not an easy task!
The Solution? Buy MoolaVine Traffic Co-op!
There are free and paid methods to get traffic to your links, but MoolaVine doesn't explain the free ones.
The reason for that is simple. The owner is making profits by selling done-for-you traffic shares.
So, why would he encourage users to pursue free methods when the purpose of MoolaVine is to generate revenue for the business owner?
According to his video presentation, if you don't have much time, their autopilot Vine building solution, called MoolaVine Traffic Co-op is the perfect solution.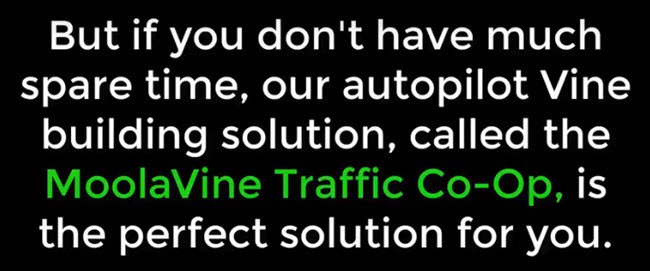 It's specially designed for newbies who don't know how to get free traffic. Besides, free traffic takes a lot of time and effort.
With this solution, they will automatically add your affiliate link into their traffic rotator. That means they will advertise your link and send you all the traffic on autopilot.
All you have to do is reply to purchase requests.
Each traffic share costs $40, with $8 being spent on administration fees. But is it worth it?
There are No Guarantees!
---
They tell you that there is no way of guaranteeing how many Vine members you will get for each traffic share.
What that means is there is a severe risk of losing money!
Heck, they don't even mention the size of the audience they are supposed to reach.
So, all you can do is trust their traffic source and hope there is no cheating behind the scenes.
If the traffic is indeed real and good quality, you can get referrals and generate profits without any effort.
The question is, will you make enough commissions to cover the advertising costs?
I am very skeptical of that.
My Honest Opinion About MoolaVine
---
MoolaVine is indeed an ingenious system, and whoever invented this system, has created for himself a golden goose.
Note the platform is not offering any value to the user, except the traffic co-op, whose effectiveness is questionable.

The owner tries to convince members that the MoolaVine system is fantastic, so they are encouraged to buy products in hopes they will refer lots of people and make commissions.
The problem is that after purchasing a product, members eventually realize it's tough to get referrals via free traffic methods.
It takes months to build a significant source of free traffic. Internet marketers make blogs and Youtube channels for that purpose.
As a result, people are enticed to take a shortcut and purchase traffic shares.
By investing in traffic shares, you are generating revenue for the business owner, as well as helping him promote his system.
You are taking all the risks! That's why I don't think it's worth joining MoolaVine.
Conclusion – Is MoolaVine a Scam?
---
MoolaVine is not offering any tangible product, only advertising packages that promote the system itself.
It's a smart system that works best for the owner and those experienced internet marketers who have free traffic sources.
If you are a newbie who doesn't know how to attract an audience for free, I highly advise you to avoid MoolaVine.
That's because you will have to purchase products and invest in expensive traffic shares just to perpetuate the system. And that is too risky, folks!
In my opinion, growing your Vine is not as easy as they make it seem. Besides, I don't think the done-for-you traffic shares can generate consistent profits.
The question of whether MoolaVine is a scam or not is debatable.
I prefer to limit myself to the reasons why I don't recommend it.
Verdict: Not Recommended
 My #1 Strategy to Make Money Online
---
You don't need a system like MoolaVine to succeed because if you can get free traffic, you can promote products directly to your audience, without MoolaVine's interference.
The key to attracting an audience for free and generating tons of affiliate commissions is to provide value and build trust.
When you focus on helping people on the internet, you can attract a large audience that will click on your affiliate links and purchase the products that you recommend.
In 2015, I discovered an in-depth step by step program that helped me built a $1,000/mo internet business.
I started as a complete newbie, but thanks to that training created by Kyle and Carson, I learned the ropes.
It will show you how to build niche sites that you can use to generate passive income online. It takes time, but the traffic is 100% free!
You can join for free and watch the first 10 lessons to learn about how this business works. They will even give you 2 websites for free, so you can start your business.
For more information on this program, check out my full review below.
Check Out My #1 Recommendation Review HERE

Thanks for reading my MoolaVine review. If you have any questions, please let me know in the comment section below.
I wish you all the best.