Welcome to my Poll Pay app review!
Poll Pay claims you can earn a second salary by answering quick opinion polls and lengthier surveys from your smartphone.
As a member, you can share your opinions and earn extra cash from home or anywhere as long as you have internet access.
Many people are trying to find a decent survey app they can rely on. But unfortunately, it's nearly impossible to find one that treats at least 90% of panelists fairly.
You found my blog because you don't want to join a survey company that doesn't deserve your time.
In this review, I will expose everything you need to know about Poll Pay and give you my honest opinion about it.
Is it legit? Will they pay you or make your life hard? Let's find out!
You can't expect to earn much money with this app, so if you want to discover the same method that makes me $2,000+ per month from my laptop, skip to my #1 recommendation.
Poll Pay App Review
Name: Poll Pay
Website: https://bitburst.net/
Company: Bitburst GmbH
Referral code: Use my referral code HQKCFVTF2S and earn $0.25 as a starting bonus!
Strategy: Online Surveys
Similar apps: Curious Cat, Attapoll, Appinio
Overall Rating:

2/5
What is Poll Pay?

This reward platform is going viral! Cash out via PayPal, Visa, Gift Cards, and in-game currencies - Click here to find out how to generate an extra $10+ per day! 
Poll Pay is a survey app operated by BitBurst GmbH, a German company specialised in mobile publisher solutions.
According to the company's homepage, BitBurst focuses on connecting mobile users with marketing research studies.
To achieve this purpose, Poll Pay has partnered with third-party survey platforms such as Pollfish, SaySo Rewards, Peanut Labs, and Toluna.
With Poll Pay, you can participate in marketing research studies and earn money that you can withdraw through PayPal, Amazon vouchers, and more!
As of writing, the company claims to have paid out over $1,000,000 in gift cards to over 1 million users.
It seems like a splendid opportunity! But as you will see, some users are expressing frustration towards the Poll Pay app.
Pros and Cons
Pros
Cash out via PayPal or gift cards.
Earn $0.01 every time you disqualify.
Poll Pay respects your privacy.
Cons
You will spend a lot of time for very little money.
It takes ages to cash out despite the low payout threshold.
There are few surveys depending on your country.
There is a transaction fee of $0.50 when you cash out. Most survey panels don't charge you any money!
Many people experience technical problems.
How Does Poll Pay Works? 
Installation and Registration
Poll Pay is available on Android and iOS devices for residents in the UK, the US, Canada, and many other countries.

After installing Poll Pay on Google Play or App Store, confirm that you are over 16 years of age and agree to the Privacy Policy and Terms of Use. Next, you must register using your Facebook, Google, or Twitter account.
If you have an invitation code, scroll down the page and enter your code to earn $0.25 as a startup bonus. You can use mine if you want: HQKCFVTF2S. 😉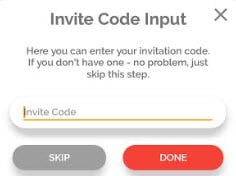 Profiling Survey
Next, they will invite you to answer a quick profiling survey worth $0.35. Just answer a few questions about your age, gender, employment, education, income, etc. The company will use your profile to match you with paid surveys.
Keep in mind that false information can block your account and cash balance.
Some people suggest creating a fake profile to get more invitations. Well, I do not recommend this "trick," but if you follow that route, play smart, or you can quickly get banned.
The reason is that when you are taking surveys, they will always ask control questions to see if you are telling the truth. So, it is essential to be consistent with your answers.
Complete Surveys
Once you complete the profiling survey, Poll Pay will show you a survey list of third-party partners that matches your demographics.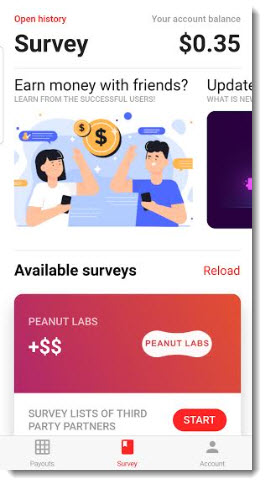 Pay attention to the cash incentive and the average time to complete the survey. Sometimes the pay rate is too low and not worth your time.
Most surveys take 10 – 30 minutes and will pay you between $0.50 to $2. On the first day, they invited me to fill up an 18-minute survey worth $0.55. That's not too bad!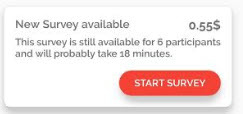 However, some surveys may take significantly longer than the estimate, which can be very frustrating.
Before getting access to the survey correctly, you must answer qualification questions to see if you are an ideal candidate. The bad news is that you may get rejected frequently depending on your answers.
For example, a cell phone company is only accepting parents who are full-time workers and use a specific brand of smartphones. In that case, only a few participants will fit all the criteria.
The problem with Poll Pay is that their survey partners are screening out panelists halfway through or even at the end of the survey.
Everyone familiar with online surveys knows this is a common practice in the industry.
This user claims that his success rate is only 1 in 10!

Poll Pay may give you 1 cent as a consolation prize and redirect you to another survey. You can spend over one hour trying to qualify with no luck.
Unfortunately, there is nothing you can do apart from signing out and never look back! That's what I did back in 2015. I gave up on online surveys because I was not earning the amount of money that I deserved. Discover how I make money online here!

How Much Money Can You Earn With Poll Pay? 
It depends on the availability of marketing studies that match your profile and the number of surveys you qualify for.
Depending on your country and profile, you may get very few invitations. One person said it had been one month since he got his last survey.
Even if you get 10 invitations daily, you can still struggle to make $5 per month due to frequent disqualifications. Many people refuse to answer more screening questions after spending 30 – 60 minutes with no money to show for it.
Invite a Friend 
You can earn cash passively by encouraging your friends to install Poll Pay and insert your invitation code. You will receive 15% of all your friends' earnings, and your friend will get $0.25 as a bonus. So, for every $10 your referral earns, you will get $1.5 passively.
You can find your invitation code by tapping "invite" under the surveys.
Simply share your code with all your friends on social media and explain that they will earn a bonus. That's the easiest way to get referrals and earn passive income online.
However, if you are serious about making a lot more money through referrals, my top recommendation will show you step-by-step how to create a website with the potential to earn you a job replacing income.
User Reviews
When I first reviewed Poll Pay over one year ago, there were not as many complaints as there are now. In fact, many people were fortunate to complete surveys and receive fast payouts. Unfortunately, negative reviews on Google Play keep piling up at a staggering rate!
One user loved Poll Pay because he could cash out $5 once or even twice a week. After a recent update, he was disqualified 20 times consecutively within 24 hours!
What's worse, he reported completing five surveys only to get screened out at the end.
Lots of people waste a significant amount of time as they get kicked out in the middle or end of surveys. They complain about frequent errors and survey disqualifications.
Some people complain about this third-party provider called Pollfish as it screens out respondents at the end of surveys. This person said he answered 3 30-minute surveys and didn't get paid.

After reading so many negative reviews, I can't help but ask myself: Is Poll Pay still selling all the information to marketing research companies without rewarding participants?
Data Protection 
Poll Pay claims that your privacy is very important and taken very seriously. What I like about Poll Pay is that they give easy access to your data rights, which means they are taking the necessary steps to comply with strict regulations in Europe.
By clicking on the cog icon at the top, you can easily request data they hold about you, delete data and revoke consent (log out).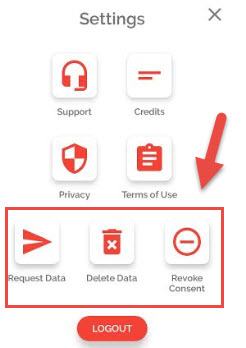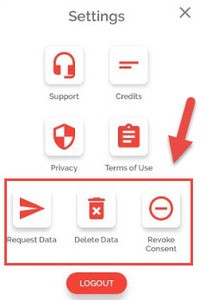 Payments
You can cash out through PayPal once you have reached $5.50. Other payment options such as Amazon, Walmart, and Google Play gift cards, may be available in your country.
Poll Pay aims to process your payment within 48 hours, but you can experience delays. If you don't get paid in one week, I think it's a good idea to contact the company at [email protected]
The downside is that you have to pay a transaction fee of $0.50, which is a bummer! Other reward apps and websites like Prizerebel do not charge any fees.
Is There a Better Alternative to Poll Pay?
Yes. I suggest signing up with Prizerebel, and Prolific. These are some of the best places to complete paid surveys without a doubt.
If you are looking for a decent survey app, I would say 1Q is your best choice. They will pay you $0.25 per question guaranteed! The problem is the lack of surveys, but I promise you will not waste your time.
Final Thoughts 
Poll Pay was an excellent mobile application for earning pocket money during 2018 and 2019. The app was trusted, easier to qualify, and most participants received payments with no issues.
Unfortunately, most reviews that I see now are from discouraged users who get screened out halfway through and earn 1 cent as a consolation prize.
I feel sorry for people who spend hours ticking survey boxes and don't earn even half the minimum wage. I was in the same boat and wasted so much time back in 2015. We are all treated like numbers and potential cheaters.
If you are sick and tired of completing surveys and working for somebody else, keep reading.
Verdict: Legit 
How I Prefer to Make Money Online
I used to take surveys a few years ago, so I know how it feels to get rejected and waste long hours in return for pennies. Back then, I had no information about more profitable ways to make money online.
Eventually, I found affiliate marketing and discovered that anyone without tech skills could create a website and earn excellent commissions by recommending other people's products.
It takes time and commitment, but I worked consistently and reached $700 – $1,000 per month after two years.
The great thing about having an income-generating website is that it allows you to live on your own terms. You decide when and where you work. You can choose when and for how long you go on holiday.
I plan a 1-year trip to South East Asia with my wife this year, but this would never be possible without a steady income from my website.
If you want to learn step-by-step how to create a website, attract a significant audience, and make GOOD money from your laptop, check out my top recommended program here.
Final Words
Thanks for checking out my Poll Pay review. If you have any questions, just let me know in the comment section below.

Cheers