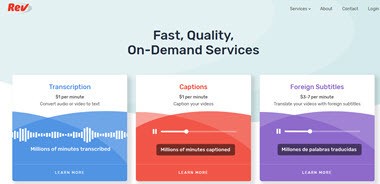 Rev offers incredible opportunities for those who want to work remotely in the field of transcription, captioning, and translation.
If you want my honest opinion about the opportunities available, how much money you can earn and the application process, you have come to the right place!
You may also want to discover the training platform that helped me build a $1,000+/mo internet business and pursue my dream of making a living from my laptop.
Rev Review
---
Name: Rev
Website: https://rev.com/
Overall Rating:

4.4/5
What is Rev? 
---
Rev is essentially a translation and transcription agency that allows you to work remotely as a transcriptionist, subtitler, captioner and translator.
Indeed, its mission is to give more people the freedom to work from home.
By joining their team of freelancers, you will have full flexibility to choose your own projects, set your own hours, and work wherever you want. They will never force you to work specific hours or more hours than you want.
Rev is undoubtedly a great opportunity to supplement your income or even replace your current 9-5 job, depending on your position and finances.
Who is Rev For?
---
If you have an excellent command of the language, you can apply to work as a transcriptionist, subtitler or captioner.
You don't need any prior experience or qualifications for these positions, but you have better chances if you have them.
As for the translation jobs, Rev expects an extensive experience as a professional translator.
According to the company, only 10% of applicants get the job, and the typical Rev translator has over 5 years of experience.  So, they are very selective!
Pros and Cons
---
Pros
You can work remotely.
Flexibility.
There are training tutorials available.
No experience required for captioners and transcribers.
You will have the freedom to choose your projects, whenever you want.
Cons
If you are a slow typer, you will get paid a very low hourly wage.
Very selective when hiring translators and subtitlers.
No guaranteed amount of work/pay.
Reduced work benefits (you are an independent contractor).
You are trading time for money.
Transcriptionist 
---
The job consists of listening to recordings and converting the English audio to text. If you have the necessary experience , you can also be assigned to transcribe court and medical recordings.
Before you accept the job, you have the chance to see the audio content, its pay rate and deadline.
As a transcriptionist, you will get paid $0.36 – $0.65 per audio minute. The average earning per month is $245 per month, but there are workers who make over $1,000 per month.
Application 
The first step is to read the applicant style guide so you understand all the transcription rules. Next, you will take a grammar quiz and a short transcription test.
If you are approved, you will have to go through a free training that will improve your transcription skill and help you familiarize with the editor.
After that, you are free to choose the files and start working.
By the way, another great site to work as a general transcriptionist is Transcribe Me.
Captioner 
---
The captioners job is to watch a video and transform every sound into words, which are displayed at the bottom of the screen. It's especially useful for the deaf, hard of hearing or even language students.

A Rev captioner earns $0.45 – $0.75 per video minute, and similar to transcriptionists, the average earning is $240, with the possibility of making over $1,000 per month.
Application 
The application process for captioners is similar to that of a transcriptionist.
You will have to pass a grammar test, follow a short training and then pass 3 caption tests. It usually takes 1 hour.
Subtitler
---
The subtitler's job is to translate caption from English to another language. For this reason, subtitlers earn more than captioners.
First, the video will be sent to captioners to transcribe the English audio, and only then the text will be sent to subtitlers for translation.
You will earn $1.50 – $3.00 per video minute, depending on the language requested.
There are currently 12 languages available for translation: Spanish, Chinese, French, German, Arabic, Dutch,  Italian, Japanese, Korean, Portuguese, Russian and Turkish.
Application
The application is simple. All you need to do is fill up a form with the language you want to translate, write at least 50 words about your hometown and submit your CV.
The bad news for many people is that Rev is searching for professional translators with years of experience.
Translator
---
Translate documents in English to another language at a professional level. Rev currently translates documents in 35 different languages!

You will earn $0.05 – $0.07 per word, which a pretty decent pay rate!
Application
The application is straightforward for a translator, but as I mentioned earlier, they are very picky!
To apply, fill up a short form, tell them the language you can translate, provide a summary of your translation experience, and submit your CV.
Payments
---
All payments will be processed weekly via PayPal, and there is no minimum payout threshold.

This reward platform is going viral! Cash out via PayPal, Visa, Gift Cards, and in-game currencies - Click here to find out how to generate an extra $10+ per day! 
What Do Freelancers Think About Rev? 
---
I was searching on different sites like Glassdoor to know what workers think about Rev. Well, most people regard Rev as a great place to work and therefore, would recommend it to a friend.

Indeed, the company gets lots of positive feedback from employees, which is a good sign!
Conclusion – My Honest Opinion About Rev
---
Rev is one of those few companies that understand the importance of having happy employees, which usually translates to satisfied customers.
Of course, there are pros and cons of working for any company, and so working for Rev wouldn't be different.
From my research though, it's clear that most people enjoy the support and flexibility.
It's important to mention that although can work flexible hours, there are deadlines you must follow.
Also, if you cancel the project after 1 hour, you can get a penalty, which is understandable.
How I Prefer to Make Money Online
---
Working from home has many advantages. In my opinion, the best thing is the freedom to work anytime, anywhere you want. Not to mention you won't have a boss spying on you all the time!
There are many jobs and business activities you can pursue to make money online, and you should choose one that matches your experience, style and goals in life.
Personally, I decided to create a website, provide helpful content and make money as an affiliate marketer.
Why? You may ask…
Well, because a website gives a whole new level of freedom because my income is not tied to how many hours I work.
In other words, I am not trading time for money!
I can go on holidays, and my site will keep working hard for me 24/7, which is something remarkable, to say the least.
The truth is that it's not easy, but it's something achievable for anyone with strong motivation and commitment.
If you want to learn step by step how to create a website, attract a significant audience and earn commissions, check out my top recommended platform. It's the same one I learned from when I was a complete newbie.
It has a free starter membership to test the waters!
Thanks for checking out my Rev review, guys. If you have any questions about it, just let me know in the comment section below.
Stay safe and peace out!