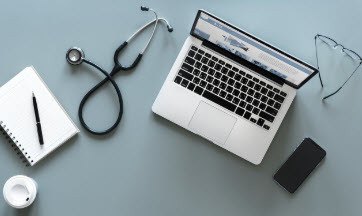 You have probably heard about the possibility of working as a medical transcriptionist and now you want to know which companies are hiring. You are in the right place!
In this post, I would like to share with you 10 companies in the U.S. that allow you to work completely from home doing medical transcriptions.
If you fell into this post with no clue of this type of job, it is essential to know that medical transcriptionist jobs are much more demanding than general transcription jobs.
Not only you will need to have excellent English and typing skills, but also specific knowledge of medical terminologies, medical record procedures, among other things. For that reason, jobs usually require a level 1 Registered Medical Transcriptionist (RMT) or a Level 2 Certified Medical Transcriptionist (CMT).
Also, most jobs require years of experience, which can be challenging for those starting out. Therefore, an alternative route to get some work experience as a medical transcriptionist is to start your career as a Scribe/ Medical Assistant.
IMPORTANT
Before applying, I highly recommend you read employee reviews about each company on Glassdoor and other forums on the internet.
So, without further ado, here are the websites you can
1. Fast Chart
Fast Chart is a well-established company that focuses on providing medical transcription services with over 98% accuracy rate.
Due to the high level of accuracy expected from clients, the company only hires individuals with at least two years of full-time experience as a medical transcriptionist in a hospital or clinic.
You will also need to take a terminology and typing test.
To apply, review the qualifications and requirements at this page, complete a qualification form and submit a Résumé.
2. Ascend Healthcare Systems 
Ascend Healthcare Systems is a leader in healthcare system solutions for almost 20 years. They have two different positions for medical transcriptionists, named Medical Language Specialist and Medical Language Editor.
The company requires a minimum of 3 years of experience for all positions. Applicants should send an email with their CV, address, contact details and all the relevant information to  [email protected].
3. Absolute Transcription 
Headquartered in Oklahoma, Absolute Transcription has been providing medical transcription services in different medicine branches since 1999.
To apply, you should have at least 3 of work experience, in-depth knowledge of medical terminologies, and experience with FTP and Express Scribe software.
Also, you must provide up-to-date references and pass a test.
To apply, visit their employment page and send a résumé to [email protected].
4. Eight Crossings 
Eight Crossing is based in Sacramento and is continuously opening home-based positions for transcriptionists who have two years of experience.
The great thing about this company is that it also gives opportunities for non-experienced individuals who graduated from approved medical transcription programs.

To apply, you should contact the company at [email protected].
5. M Modal
You can apply to work for M Modal if you have at least one year of recent work experience or you are a graduate of an AHDI certified transcription program. They will consider applicants who have experience in one of the following areas:
Acute care.
Multi-specialty Clinic or ER.
Oncology.
Radiology
6. Nuance Transcription
Founded in 1999, Nuance is another reputable U.S based company that provides medical transcription services.
To become part of their team, you should have at least one year experience in histories & physicals, consults and discharge summaries, operative notes as well as other report types. You should also have experience in different specialities such as radiology, clinic, etc.
7. Perfect Transcription
Your job with Perfect Transcription involves transcribing physician notes, medical correspondence and consultations.
It's another excellent option for those with at least three years of medical transcription and college diploma.
There is no online application or email you can directly send your CV, so I recommend inquiring about a possible position through their contact page.
8. Precision Transcription
Precision is another medical transcription company that provides services to hospitals, practices and physicians throughout the United States.
For new positions, visit the Job Opportunities link in the "Contact Us" page and send both your résumé and cover letter to the email provided.
They usually require three years of acute care experience, but if you are a new grad, there are internships programs available.

9. Precision Transcription
Precision Transcription is always looking for medical transcriptionists with at least two years of experience and excellent command of the English language.
Applicants should commit to a minimum of 20 hours per week and complete the job in a pre-determined timeframe.
To apply, read the complete job description here before sending your CV.
10. Softscript
Softscript seeks professional medical transcriptionists who can prove 3 years of work experience or the completion of a Medical Transcription program.

This reward platform is going viral! Cash out via PayPal, Visa, Gift Cards, and in-game currencies - Click here to find out how to generate an extra $10+ per day! 
Applicants should also have knowledge of medical terminology, knowledge of the AAMT guidelines, excellent listening skills, excellent command of English grammar, ]among other requirements.
If you want to apply, fill up the online application here.

BONUS – MTStars
MTStars is a popular community of US Medical Transcriptionists where you can find the latest job positions as well as upload your résumé to be seen by employers. They are many opportunities, and they also include general and transcription job opportunities.
Final Thoughts
These are all reliable companies you can apply to work as a medical transcriptionist. I am going to update this post as I discover other sites in the future. So, stay tuned!
Medical transcription jobs are rare in freelance sites such as Upwork and Mechanical Turk. However, I found many positions on Indeed.com.
That's it for now! I hope this post was helpful to you and I wish you great success at finding a fulfilling and flexible job. 🙂
P.S. If you are open for new ways to make an alternative income online, check out my No.1 Recommendation.