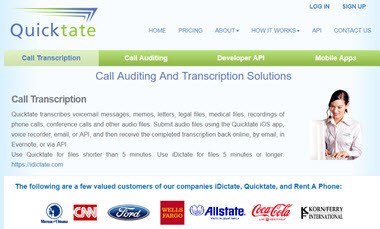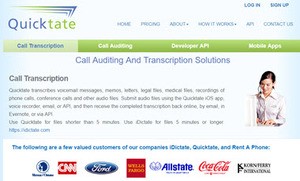 Quicktate seems like a legit opportunity to work remotely and earn an extra income. But you are probably wondering if you can really trust this site.
In this review, you will find everything you need to know about working as a transcriptionist for Quicktate.
If you want to learn the method that earns me over $1,000/mo from my laptop, don't forget to check my #1 recommendation!
Quicktate Review
---
Name: Quicktate
Website: http://typists.quicktate.com/transcribers/login
Overall Rating: 2.2/5
LEGITIMATE
What is Quicktate?
---
Quicktate is a platform that provides speech transcription and call auditing services to hundreds of clients around the world.
If you apply to work for Quicktate, you will be in charge of transcribing different types of audio such as interviews, conference calls, phone meetings, general reports, medical reports, legal notes, and more.
Quicktate works as another trademark called iDictate, so as a transcriptionist, you will provide services for clients of both platforms.
Pros and Cons
---
Pros
Relatively easy job if you are a native English speaker.
You can work whenever you want.
Timely pay.
Quicktate is open for residents of any country.
Cons
Strick selection process.
Some experience is required.
There is a background check that costs $20.
You must provide references.
Low pay rate for people who live in developed countries.
How Does it Work? 
---
The Selection Process
Quicktate has a relatively strict selection process in which you should meet requirements, pass language and transcription tests and pay for a background check.
According to the website, they are looking for experienced or professional transcriptionists. That means you should be able to type in exactly what you hear and accurately make use of punctuation and spelling.
You must provide the contact details of 3 non-family references and pay $20 for the background check.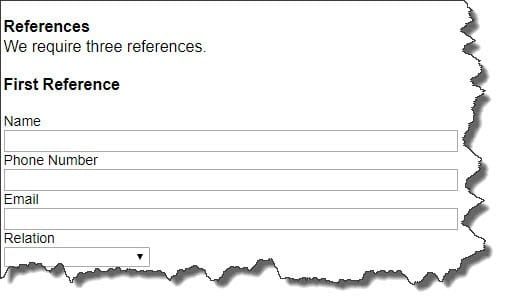 They won't accept anyone who has been convicted in the past.
I have never seen a transcription platform charging for a background check, and I think that puts many people off.
Tests
I haven't been through the tests myself, so I won't be able to offer detailed information about them.
However, you should expect to pass English language tests and typing assignments. Those tests will identify if you are an experienced typist or someone who is just starting out.
If you don't have any experience as a transcriptionist, check out some alternatives below.
Agreements
Before you can requirest the Quicktate assignment, you should read and agree to all the company policies, agreements and other essential information provided.
Working as a Transcriptionist
You will be continuously monitored for the quality of your transcription work. Therefore, you must keep a high level of accuracy at all times.

If you have some experience and you are a native English speaker, the job can be relatively easy.
Audio files usually last for 2-10 minutes, but it's possible to get longer files of 1 hour too.
Payments
Quicktate pays weekly via PayPal.
How Much Money Can You Make? 
---
Different from Scribie and other transcription platforms that pay per audio hour, Quicktate pay per word.
The official site doesn't mention the exact pay rates. However, I found out in another blog review that the current rate is at $0.0025 per word for general transcriptions.
If that is true, you will earn $1 for every 400 words. As for medical transcriptions, they say the pay rate is $0.0050.
I was searching for reviews at Glassdoor and noticed most independent contractors complain about the low pay rate. Someone mentioned the possibility of making $1 per hour.
So, even though you are fast, you can still struggle to earn a decent income.
Alternatives to Quicktate
---
There are many other options to work as a transcriptionist. These excellent alternatives don't require experience and won't charge you for background checks.
Conclusion 
---
I believe Quicktate is a legit platform, but there are some drawbacks.

The possibility of earning $1 per hour may be inconceivable to someone living in the U.S, Canada, Australia or another developed country.
Now, if you live in a country where the dollar has a strong purchase power, transcription work may help you a lot depending on your living costs and life circumstances.
For example, $1 per hour working from home can be an excellent opportunity for someone who earns the minimum wage in many countries of South East Asia, Africa, and South America.
Verdict: Legit
How I Prefer to Make Money Online
---
Regardless of where you live, it's possible to make a full-time income working from your computer.

This reward platform is going viral! Cash out via PayPal, Visa, Gift Cards, and in-game currencies - Click here to find out how to generate an extra $10+ per day! 
There are many strategies, and you should search for one that best suits you.
For me personally, I decided to create a website to provide helpful content and promote other people's products as an affiliate.

I started three and a half years ago, and now I am making over $1,000 per month. That was the result of hard work and perseverance.
Another important factor was that I joined an in-depth training program that gave me all the knowledge and support from the beginning.
Honestly, I doubt I would have achieved my goals without these guys!
Thanks for checking out my Quicktate review. If you have any questions, just let me know in the comment section below.
Stay safe and peace out!