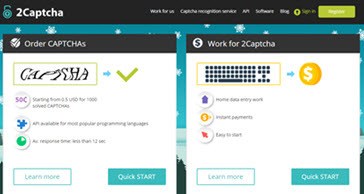 I've known 2Captcha for a long time, and today I decided to write a review and give you my honest opinion about it.
Many people think this site is a scam because the job revolves around solving Captchas, a repetitive task that doesn't require any knowledge or experience.
Is 2Captcha a scam? If not, how much money can you earn? Is it worth your time and effort?
Let's find out!
If you want to discover the same method that earns me $1,000+ per month from my laptop, skip to my #1 recommendation.
2Captcha Review
---
Name: 2Captcha
Website: https://2captcha.com/
Overall Rating:

0.6/5
What is 2Captcha?
---
2Captcha is a company that provides Captcha recognition services for individuals that need to automate the process of solving lots of Captcha codes.
A Captcha is a program that protects sites against automated form submission by bots, computer programs designed to spam and exploit websites. One practical example would be bots that purchase tickets in bulk.
You probably see this all the time in different sites: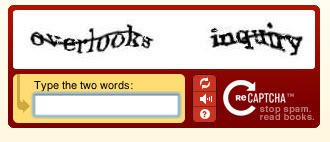 It requires users to type in the letters or numbers they see on the image, which is a task that computers are still very not good at.

This reward platform is going viral! Cash out via PayPal, Visa, Gift Cards, and in-game currencies - Click here to find out how to generate an extra $10+ per day! 
In doing so, the website can allow only humans to log in or send any information that is being requested.
There are new versions of Captchas comprised thumbnails, which requires the user to identify traffic lights, storefronts, etc.
As a Captcha solver, your only job is to solve as many Captchas as you can in the shortest time possible.
Is Working for 2Captcha Illegal? 
---
Many people think that selling automation services or solving Captchas is an illegal activity.
This is a serious concern, but the law in most countries is still unclear whether or not this should be considered a crime.
Although 2Captcha claim that their service should only be used for research purposes, the company seems to have no control over their client's activities.
There is a likelihood that the service is used by clients who bypass Captcha and violate websites' terms of services.
Is 2Captcha a Scam?
---
This question is asked mainly by people who are afraid of working for 2Captcha and don't get paid.

From my research, I discovered people do receive payments, but many of them complain that the pay rate is too low.
So, as far as payment goes, I don't think 2Captcha is a scam.
Pros and Cons
---
Pros
No skills required.
Low minimum withdrawal.
Cons
Extremely low pay rate.
It's not easy to keep a high level of accuracy. People usually make lots of mistakes and end up wasting time or getting banned altogether.
They can ban your account without reason.
There is a change you are completing captchas for individuals who are spamming or exploiting websites.
It's a repetitive and unfulfilling job.
You can't withdraw via PayPal.
You will have to complete an unpaid training.
How Does it Work? 
---
To work for 2Captcha, you should first create an account by clicking on "Quick Start".
Before you start to work, complete a training by solving 42 Captchas and tests. Here is one example: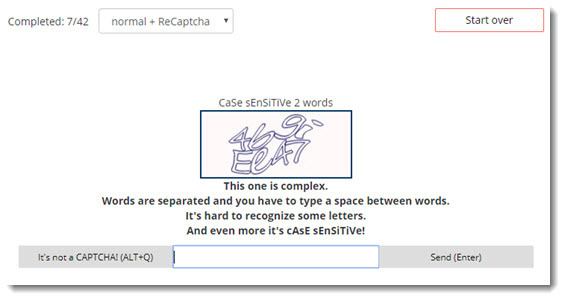 I tried to pass the test and realised it's not as easy as I expected, and most of the times I was committing errors. That is because some characters are quite difficult to identify such as this one: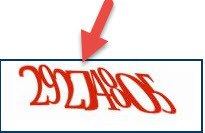 That character is actually a 7 but looks like a J. You can easily mistake a "6" for a "b", or a 0 (zero) for an "O" (capital letter).
After you pass the training, you can start working for cash.
How Much Money Can You Make?
---
According to the FAQ, you will earn between $0.25 – $0.60 per 1000 per normal Captcha, and $1 per 1000 per reCaptcha.
However, if you look at the pay rates on the homepage, you will see that the average is $0.17 per 1000 normal captcha.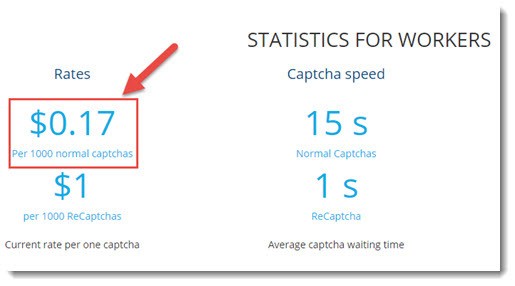 If you want to earn $1 per 1000, you must download the latest version of a software called RuCaptcha Bot X, which is available on their website, and follow the instructions.
Many many people complain about the low pay rate, which is terrible even in countries where the dollar is strong, like India.
If you are fast, you can solve 1000 Captchas in maybe 2 hours. Otherwise, you can stay working for 3 or 4 hours easily.
In other words, you can earn less than $0.10 per hour!  
Payments 
---
You can request the payment once you've reached a minimum withdrawal amount, which depends on the payment processor.
Here is the list:
Webmoney – $0.50
Payza – $1
AdvCash – $1.3
PerfectMoney – $1.2
Uphold – $0.50
Coinbase – $0.50
Bitcoin – $1
Risks
---
According to the FAQ page, if you make lots of mistakes, 2Captcha can temporarily or permanently suspend your account.
In their homepage, you can see the total number of workers that were banned so far, which is pretty high! I would certainly be part of this list had I decided to work for 2Captcha.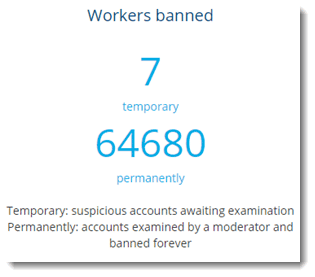 Another important thing to keep in mind is that 2Captcha can close your account at any time, with or without a cause. You can find this information in the Terms and Conditions page:
"You or 2Captcha may terminate this Agreement at any time and for any reason by giving Notice to the other party. We may suspend our Service to you at any time, with or without cause."
As you can see, there are no guarantees with this type of job.
Conclusion
---
2Captcha is not a scam in a sense that they will steal your money or avoid payments, although they can terminate your account for no reason. In that case, I am not sure if they will pay what they own or not.
If you decide to work for 2Captcha, you may not be infringing any law. However, if you are not 100% sure you can do this type of work in your country, I advise you to avoid it.
Another issue is the extremely low pay rate. In my opinion, $0.17 per 1000 captchas is an absurd considering they are charging $0.77 per 1000 from clients. That is almost 5 times more of what you earn wasting your life away doing monkey job.
How I Prefer to Make Money Online
---
There are many options to make good money online, but affiliate marketing worked very well for me.
Creating a website, providing content and promoting other people's products is an excellent option for those who dream big and want to achieve time and location freedom, eventually. 
It takes time and commitment, but the good news is that you can start now with very little money and grow at your own page in your free time.
You are building a business that you control, so you don't need to report to any boss or client. Therefore, the amount of freedom you can achieve when you have a profitable website is unparalleled!
I didn't have any knowledge or skills to build a site, but thanks to this step-by-step program, I learned the ropes.
For more information, read the full review of my No.1 Recommendation here.
Thanks for checking out my 2Captcha review. If you have any questions, just let me know in the comment section below.
Stay safe and peace out!