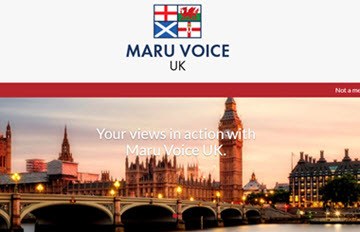 In this Maru Voice UK review, I would like to give you my honest opinion about this brand new survey site open for people in the United Kingdom.
If you want to earn free vouchers, then Maru Voice UK is a great opportunity, and it's 100% legit!
You may also want to discover the same method that makes me $1,000+ per month from my laptop. Click here for my #1 recommendation.
Maru Voice UK Review
---
Platform: Maru Voice UK
Website: https://www.maruvoiceuk.co.uk/
Price: Free
Strategy: Online Surveys
LEGITIMATE
Overall Rating: 

3.5/5
What is Maru Voice UK?
---
Maru Voice UK is a legit survey panel that allows you to get paid to share your opinion on products, services and government policies. Their clients include both public and private organisations.
The site is owned and operated by Maru/Blue, a company that also works in Canada as Maru Voice Canada, and in the United States as Springboard America.
In July 2018, the company decided to extend the business to the United Kingdom, where it's trading as Maru Voice UK.
Pros and Cons
---
Pros
Trustworthy panel.
Pay rate is OK compared to other survey sites.
Redeem points via PayPal, physical and virtual Visa and eGift cards.
Cons
There are not many surveys.
Registration is not always open.
It takes a long time to reach £10 and cash out.
Depending on your answers you may not even be allowed to register.
How Does Maru Voice UK Work? 
---
Registration
The registration is free, and you are required to fill up a profiling questionnaire, which is used to match you with relevant surveys.
You have to answer a few questions about yourself such as country of residence, gender, and date of birth, marital status, employment, household income and a few more.
They also ask you the following question:
If you could go back in time, what advice would you give to yourself? 
In this question, you are asked to be as descriptive as possible.
Depending on your profile, you may not be accepted, which is exactly what happened to me. After I finished answering, I received this message: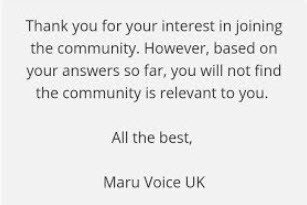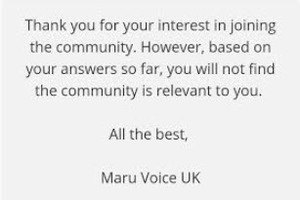 I suspect that the rejection was because my answer to that question was very brief, but I am not entirely sure about that.
I also noticed that Maru Voice is not always open for new registrations. When you try to sign up, you can receive a message that they are not accepting new members due to overwhelming interest.
Unfortunately, they don't send an email to notify when there are accepting new participants. Therefore, you should keep checking the website regularly.
Online Surveys
If you succeed registering, you will receive survey invitations through email. Check the spam folder because some email invitations may end up there.
After you qualify and complete a survey, you will earn points or entries into the £1,000 monthly draw.
Maru Voice UK claims that most surveys award between 50 – 500 points, which is worth £0.50 – £5. Sometimes you will get entries for prizes instead of points, but don't worry as you will know beforehand if that is the case.

The pay rate depends on survey length and complexity, but it's usually less than £2 per survey.
The drawback of taking surveys is that you won't qualify for all of them. Thus you should expect to waste a lot of time.
Not all is lost though because even if you don't qualify, you will be entered into the current contest draw. However, you need to be very lucky to win the monthly prize.
Termination
Maru Voice UK reserve the right to terminate your account if you don't take at least 1 survey during 3 consecutive months.
There are other reasons why they may terminate your account. For example, if you provide false information and do anything against their terms of service.
However, they can also cancel your account and all your accumulated points for any reason whatsoever!
Most Survey Panels, GPT sites and reward apps have this clause in the terms and conditions.
I searched on different forums online and couldn't find anyone who had his account blocked. There is always a risk that you will lose your points unfairly, but I think you should be very unlucky.
Payments 
Once you've earned 1000 points, you can withdraw £10 via PayPal, physical and virtual Visa and many e-gift cards.
I think £10 is quite high considering that most surveys pay less than £1. If you don't receive or don't qualify for surveys regularly it can take a long time to cash out.
Will Maru Voice UK Respect Your Privacy?
---
Recently, a new privacy regulation came into effect in Europe, forcing companies who handle personal data to protect and respect user's privacy.

I had a look at Maru Voice's privacy policy and noticed they are taking measures to comply with GDPR.
They are transparent regarding how they use your personal information and give you many rights including the right to delete your data.
Therefore, I believe and hope that Maru Voice respects your privacy according to current regulation.
Final Thoughts
---
Maru Voice UK is another legitimate survey Panel that UK residents have at their disposal.
However, I was a bit disappointed because they rejected me without giving the exact reason.

This reward platform is going viral! Cash out via PayPal, Visa, Gift Cards, and in-game currencies - Click here to find out how to generate an extra $10+ per day! 
It was the first time a survey panel has denied my registration because of my profile. Maybe you are luckier than me!
Another downside is there are not many surveys opportunities. So, it may take months before you reach the minimum of £10 to cash out.

If you want to get daily survey invitations and maximise your earnings, I highly recommend a GPT platform called Prizerebel. You may also want to check out my recent post about the top 10 survey sites in the UK.
Verdict: Legitimate
How I Prefer to Make Money Online
---
I used to take lots of surveys and wasted long hours in exchange for pennies.
In July 2015, I discovered how to create a website, attract an audience and make money promoting other people's products.
Most importantly, I discovered that this method had the potential to earn me a full-time income online and help me reach time and location freedom.
So, I worked consistently and finally reached a point where I can pay all my bills with my site.
This year I am planning a 1-year trip to South East Asia, but this would never have been possible if I didn't have an internet business.
After so much work, I can finally say goodbye to my 9-5 job and live on my own terms. It was worth it!
If you want to learn how to create a website, attract a significant audience and make life-changing commissions from your laptop, check out my top recommended platform.
The owners, Kyle and Carson, will help you build a solid foundation for your internet business so you can reach your financial goals too.
Thanks for checking out my Maru Voice UK review. If you have any questions, just let me know in the comment section below.
Peace out!