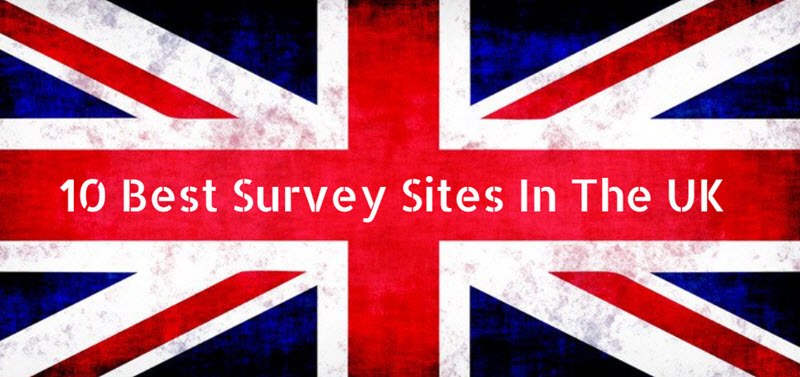 The UK is probably one of the best places on earth for people to complete online surveys and make some extra cash online.
The number of marketing research companies that operate here is insane!
So, we can find plenty of survey panels and reward platforms (get paid to sites) that offer us daily opportunities.
Just here on this blog, I have reviewed over 100 sites, most of them are open to UK residents.
With so many options to choose from, you can spend all your free time taking surveys if you want.
However, to make the most of your time, you must focus on platforms that pay relatively well, and treat panelists with respect.
By respect, I mean, they usually don't mess up with payment and don't ban accounts for no reason.
In this article, I am going to show you the 10 best survey sites in the UK, so you avoid wasting your time and maximize your earnings.
Only The BEST, and Nothing Else!
Here, you will only find sites with a strong reputation and excellent user ratings.
I won't recommend poorly rated sites just to earn referral commissions like many blogs out there do.
In fact, I am only affiliated with Prizerebel, and Rewarding Ways, which I truly believe are the best ones.
This list includes not only survey panels but also GPT (get paid to) sites that partnered with many marketing research companies to give you as many opportunities as possible.
So, let's get started!
1. Prizerebel
Prizerebel is GPT (get paid to) site that allows you to get paid for taking online surveys, completing offers, and many other tasks.
It's a great site not only for UK residents but also for people in many other countries.
With over 7 million users, Prizerebel deserves to be on the top of the list! That is because there is no shortage of surveys as they have partnered with lots of marketing research companies such as Toluna, Tap Research, Survey Sampling International, among many others.
You can choose to complete surveys from different providers, but I suggest you give preference to Tap Research. Their surveys are short, and the pay rate is pretty good compared to those of other companies.
In my opinion, there are 2 main advantages of using a GPT like Prizerebel over individual survey panels:
With just one sign up, you get access to lots of survey panels, each one offering many daily opportunities.
Because you have many survey opportunities and other ways to make money, you can reach the minimum withdrawal requirement much quicker.
Prizerebel has a large selection of payment options to choose from, including gift cards from Amazon, Tesco, Pizza Express, Starbucks as well as PayPal.
Another great thing about Prizerebel is its generous referral program.

If you invite other people to join through your link, you will get 20% or even 30% of all their earnings for life. To give you some perspective, most reward sites pay 10%.
2. Rewarding Ways
Rewarding Ways doesn't have a modern layout, and it's still not mobile friendly.
However, just like Prizerebel, it provides an incredible number of daily surveys, offers, and other tasks to make money.
What sets Rewarding Ways apart from most sites is the minimum payout threshold of just $1.
As a result, people can cash out fast, perhaps right after completing their first survey.
The payment is usually processed within just 2-8 hours via PayPal, Skrill, Payza, and Bitcoin. It's so efficient!
One of the main reasons why I've selected Rewarding Ways as one the best is its excellent user rating. On Trustpilot, 182 reviewers have rated it 9.1 out of 10, which is way above the average compared to other reward sites.
The referral program is also one of the best out there. You will earn 25% of all your referral earnings for life, so it can be very profitable, especially if you have a blog and can recommend Rewarding Ways to your audience!
3. PanelBase
Founded in 2005 by a leading marketing research company called Dipsticks Research Ltd, PanelBase is one of the top-rated panels here in the UK.
Indeed, if you visit Trustpilot and search for Panelbase, you will see that over 96% of users have rated it either excellent or great. That's impressive!

Panelbase gives you the opportunity to take different types of surveys such as internet surveys, telephone/SMS surveys, focus groups, and product testing.
You will earn £3 just for signing up, which is a generous incentive! As for survey payouts, you can expect to make between $0.25 and £3 depending on survey length and complexity.
In order to qualify for more surveys, I recommended you take your time to fill up all the profile questionnaires.
Once they have an opportunity that matches your profile, they will send you email invitations.
I signed up this morning, and 5 hours later, I already had 8 survey invitations in my inbox! Most of them pay over £1 and take between 10-20 min.
As soon as you reach £10, you can withdraw by BACS or gift cards.

This reward platform is going viral! Cash out via PayPal, Visa, Gift Cards, and in-game currencies - Click here to find out how to generate an extra $10+ per day! 
I believe Panelbase is one of the highest paying survey sites here in the UK. So, it's a no-brainer!

4. Branded Survey
Formerly Mintvine, Branded Surveys works for residents in the UK, the USA, and Canada. It allows members to earn cash rewards for sharing their opinions and completing offers.
There are some mixed opinions about Branded Survey on the internet. However, most people have rated it excellent, and after using it for a few days, I am confident it's indeed a great survey website.
I noticed Branded Surveys provides many survey opportunities. But it's important to accept them as quickly as possible because the quota is limited and can be filled within just a few minutes.
You can find out about new surveys by visiting the dashboard or by checking your email inbox.
Most surveys pay between 20 to 80 points (less than £1) and take 5-20 min.
As soon as you reach 1,000 approved points, you will be able to redeem via PayPal or gift cards.
Unfortunately, the payment is not as fast as other platforms as it takes 3 to 5 business days to receive the approval.
5. InstaGC
InstaGC is another excellent GPT platform that provides daily survey opportunities in the UK.
You can also make money by watching videos, using apps, shopping (cash back), completing offers and simple tasks.
InstaGC has partnered with lots of third-party providers like Opinion Surveys, YourSurveys, Adwall, Persona.ly, Figure Eight, TrialPay, Peanut Labs and more. So, there is always a ton of opportunities!
Like most reward sites, InstaGC will give you points (160 points is £1) that you can redeem via Paypal, Prepaid MasterCard, and gift cards.
The minimum payout requirement is just £1, which is awesome!
However, you can only access PayPal once you have redeemed over $50 in other cash rewards or gift cards.
Most surveys on IntaGC pay less than 85 points (£0.53), which is quite low but not much different from most survey sites.
6. Swagbucks
I can say without a shadow of doubt Swagbucks is the most popular GPT site on the planet.
Headquartered in San Francisco, it's been around since 2008 and has paid over $£166,732,286 in cash and gift cards.
At Swagbucks, you will earn points called SB for answering surveys, completing offers, shopping at your favorite stores, watching videos, and more!
100 SB is approximately £0.62.
You can download their handy browser extension (SwagButton) to make sure you don't miss any opportunity.
The extension will automatically notify you if the store you are visiting offers cash back or coupons.

It also notifies you of any survey opportunity and allows you to perform searches and watch videos.
Swagbucks provides a good number of survey opportunities, but much less than Prizerebel and Rewarding Ways.
Like InstaGC, most surveys on Swagbucks pay less than £0.50.
As for the referral program, they will pay you 10% of all your referral earnings.
The minimum payout threshold is £5, which you can redeem via PayPal and various gift cards.
7. InboxPounds
InboxPounds is the UK version of InboxDollars, which available to US residents.
Just like the other GPT sites, it allows you to earn cash rewards for taking surveys, completing trial offers and doing other simple tasks.
What I like about InboxPounds is that instead of assigning points to the surveys and tasks, they show you the exact amount in cash that you will earn.
The interesting fact about this platform is that they will give you a chance to win various cash prizes every time you get disqualified.
YUP! Whenever you get screened out, you will get a spin on Spin and Win for a chance to earn £0.01, £0.10, £1, £3 and more!
The problem is that the chances are not made equal, so you will probably earn £0.01 most of the time.
InboxPounds doesn't offer many survey opportunities compared to Prizerebel and Rewarding Ways. It's more focused on offers, but it's still a great platform!
You can request your payment once you reach a minimum of £20. Payments options include a variety of gift cards and cheque.
8. OneOpinion
Created in 2011, OneOpinion also has a good number of positive review on the internet.
If you live in the UK, you can get paid for sharing your opinions and influence how companies improve their products and services.
The surveys aren't long, and the pay rate is similar to other survey sites. Therefore, you should expect to earn less than £1 per survey.
The first survey offered me 400 points ((£0.40), and it was supposed to take 15 minutes to complete.
What's great about OneOpinion is that you will get 50 points (£0.05) even if you don't qualify.
The drawbacks are that they still don't pay via PayPal, and the minimum payout threshold is quite high.
9. PaidViewPoint

PaidViewPoint is one of the top-rated survey sites on the internet, but it's on the last position of this list because it doesn't provide many survey opportunities.
Since I joined this website 3 years ago, all the surveys I was invited to were traitscores and personality surveys. The problem is that these type of surveys only pay $0.03.
Traitscore surveys are designed to access the condor and consistency of your answers.
I like the fact that most surveys are short (5-10 minutes), but the payout is discouraging. So, because you need at least $15 to cash out, I suppose you won't reach that in less than 1 year.
10. MOBROG
Operated by the German company SPLENDID RESEARCH GmbH, MOBROG is another top-rated survey panel that works not only in the UK but also in over 70 countries.
I am very impressed that based on 12,316 reviews on Trustpilot, MOBROG has an overall rating of  5 stars out of 5.
It's possible to complete surveys on the go by installing the MOBROG app available on Google Play or the App Store.
You should expect to earn between £0.50 and £3 per survey, and once you reach £4, you will be able to cash out either via PayPal or Skrill.
The great thing about MOBROG is the fast payment. They say your money should be in your PayPal account in just 90 minutes after the request.
MOBROG doesn't provide many surveys, but it's a reliable platform that you can use in combination with other sites.
You can also recommend MOBROG to your friends via email and earn £0.64 per active referral.
Just insert their emails, click send and wait from them to join. If they complete any survey, you will get paid the commission.
Wrapping Up
Those are, in my opinion, the 10 best survey sites in the UK!
By signing up with all or most of them, you will certainly receive lots of survey opportunities daily.
Give preference to surveys that pay the most for your time. The best studies pay over £1 and take 10-15 minutes to complete. But these are rare to find!
I have reviewed lots of other survey sites here at My Room is My Office, but most of them have received too many complaints. That's why I left them out of this list.
My #1 Strategy to Make Money Online
Even if you stick with the best sites, taking online surveys can be very frustrating.
It's usually hard to qualify because marketing research firms are always looking for a targeted audience. That means you will waste a lot of time.
Yes, you are making money from your couch and without a boss, but the thing is, you are still trading time for less than the minimum wage.
If you have to pay the rent and all the other living costs, it's impossible to survive with money from surveys.
In other words, it's very far from giving you true FREEDOM!

That's why I decided to stop taking surveys and built my own passive income website 3 years ago.
I worked hard to build it while still working as a dishwasher at a local coffee shop.
I had no marketing and no web design skills, but I was hungry to succeed!
Failing for me was not an option, and once I discovered I could make a living online, I wanted it as bad as I wanted to breathe!
Why?
Because I wanted freedom from working 6 days a week in that kitchen!
I wanted to work comfortably from home, help people achieve their dreams, go on holidays more frequently and travel the world without a return ticket.
If you want to learn step by step how to create a website, attract visitors and earn passive income, check out my #1 recommendation.
It's the exact same training program that I used 3 years ago to build my site from scratch, which is now generating a full-time income each and every month.
Thanks for checking out the 10 Best Survey Sites in the UK. If you think another website deserves to be on this list, or you just want to share your experience, leave us a comment below!