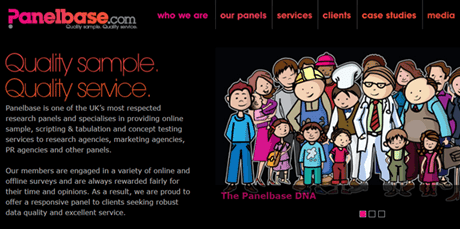 In this article, I am going to cover the most important aspects of Panelbase and give you my honest opinion it. Is Panelbase a scam o legit? Is it worth your time and effort? Let's find out!
Taking online surveys is an easy and quick way to make money online, but it won't make a huge impact in your life. If you want to learn the strategy that earns me $700+/mo from my laptop, then check out my #1 recommendation. 
Panelbase Review
---
Platform: Panelbase
Website: panelbase.net
Price: Free to Join
Strategy: Online Surveys
Score:

8.8/10
What is Panelbase? 
---
Panelbase is a survey panel which rewards members for participating in market research surveys and for trying products.
The platform has been running since 2005 by Dipsticks Research Ltd, a reputable marketing research firm based in the United Kingdom.
As a Panelbase member, you will have the opportunity to share your opinions on a range of subjects and earn cash rewards for each survey you complete.
Different from many UK survey panels, Panelbase will offer you various types of research studies such as:
Internet surveys
Telephone surveys
SMS surveys
Focus groups
Postal surveys
Product testing
Is Panelbase a Scam?
---
Panelbase is definitely not a scam.
It's owned by a well-established marketing research company that has been conducting research projects for big brands such as BBC, Marks & Spencer, Virgin Radio, ITV and many others.
One thing you will quickly notice on the main page is they are proud of the large number of positive reviews on Trustpilot.
The overall score of 9.4/10 is a good reason to be proud of!

Usually, survey panels get a poor feedback because of the difficulty in qualifying, missed rewards, unfair account cancellation, and bad customer service.
People complain about having to complete pre-qualification questions and getting screened out. However, people should understand that survey company always need to target specific demographics, which is accomplished by asking additional questions. 
Still, from 1,575 reviews on Trustpilot, 96.7% of people rated the website with at least 4 stars! So, chances are Panelbase will provide an excellent survey experience for you as well.
Important: Some people complain that their accounts have been canceled for no reason. But the reality is that they tried to create multiple accounts, which is something strictly forbidden!
Pros & Cons
---
Pros
Lots of surveys!
Excellent reward compared to other survey sites.
It doesn't take too long to reach the minimum payout threshold of £10.
The payment is fast.
Many people think the surveys are interesting and fun.
The website is easy-to-use.
There are many types of surveys available, including focus groups.
Trustworthy.
Cons
Paypal is currently not accepted.
Only available for UK residents.
How Does it Work?
---
Registration
The registration process is free and pretty much straightforward.
After providing basic information such as name, date of birth, and address, you will have to click on the validation link that Panelbase will send to your email.
Next, you need to sign in and complete a quick profile questionnaire. These questions are necessary as they will be used to help match you with surveys that are targeted to your demographics.
You will get £3 after completing your profile, which is a generous sign-up bonus!


After that, Panelbase will send you survey invitations by email or text message as soon as they have projects that match your profile.
More Profile Questionnaires
Once you log in, you will realize there are much more profile questionnaires waiting for you. They are not compulsory, but the more questions you answer, the more survey invitation you will get.
Also, they recommend that you update your profile every 6 months.
There are different types of surveys you can opt in and out at any time. I would like to cover briefly each research type below.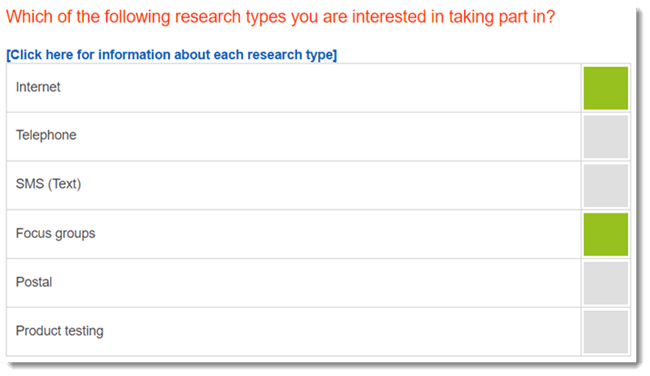 Internet Surveys
This is the most common type of survey. You can complete them from your internet browser through a series of web pages that are easy to navigate.
You can expect to answer questions about products, television programs, sports events, politics and many other topics.
Panelbase claims that you will be rewarded between £0.50 and £3 per survey. Today I received a 15-minute survey invitation for a £2 reward.

Before you start the survey, sometimes you have to go through a pre-qualification process, which will screen you out every once in a while.
It's very annoying, I know. But many people say they are still able to reach the minimum threshold of £10 relatively fast.
Furthermore, even if you don't qualify, at least you will be rewarded with an entry into the monthly prize draw.

Telephone surveys
The same thing can be said about telephone surveys. The topics are similar except they are conducted over the phone.
These surveys can take anywhere from 1 to 10 minutes, and the reward also ranges from £0.50 to £3.
SMS Surveys
This type of survey is conducted via SMS messages. SMS surveys are usually shorter than telephone and internet surveys, but the payout is similar (£0.50- £3).
It's important to note that all the questions you receive and all the answer you provide cost you nothing.

This reward platform is going viral! Cash out via PayPal, Visa, Gift Cards, and in-game currencies - Click here to find out how to generate an extra $10+ per day! 
Focus groups
Focus groups is a research method where people are invited to participate in group discussions about different topics. Usually, the interviews involve products, services, politics, traveling experiences, etc.
Panelbase conducts focus groups all over the UK during the early evenings, and they usually don't last more than 90 minutes.

I've never been involved with them, but I know some people consider it as a fun and relaxing experience.
Also, it's much more profitable compared to any other types of survey. You can expect to get paid from £30 to £50!
Postal surveys
It surprises me in this day and age Panelbase still offers printed surveys via the postal service. These surveys are similar to the internet and telephone surveys, and therefore, the payment also ranges from £0.50 to £3.
All you have to do is answer the questions whenever you want and return the survey in a pre-paid envelope. It doesn't take long for it to be validated and to get paid.
Product Testing
Panelbase also gives you the opportunity to try out goods and get paid £2 – £20 for your valuable feedback. The personal interview is conducted at your local venue and usually lasts for 15-60 minutes.
Payment
---
Once you reach £10, you can withdraw your cash rewards via BACS (bank account) or vouchers from Love2shop and Compliments.
If you decide to get paid via BACS, you can expect the money to reach your bank account within seven days.
It's also possible to donate your rewards to World Wildlife Fund, Oxfam, and British Red Cross.
Final Thoughts
---
Panelbase is 100% legitimate!
I am very impressed with the number of positive reviews that Panelbase gets on a daily basis. To be honest, I haven't seen such a high overall rating for a survey panel before!
In my opinion, Panelbase is one of the best survey panels around, but it's a shame it only works for UK residents.
Another top survey website that works not only in the UK but also Worldwide is PrizeRebel. So, you might want to check that out!
* My #1 Strategy to Make Money Online *
---
I am not a huge fan of online surveys. That is because I prefer to pursue passive income that allows me to earn money continuously without having to trade my time for it.
There are many strategies that you can use to build your own online business and earn passive income online.
Well, I decided to become a blogger and promote other people's products through affiliate marketing. I think it's an excellent way to build a reliable source of income and live life on my own terms. It takes time, but in my opinion, it's worthwhile!
Trust me. Anyone is capable of building a successful online business with the right set of knowledge and mindset.
If you want to learn from the same step by step training that I followed two years ago and get 24/7 support from successful online marketers, then check out my #1 recommendation below.
That's it for now. I hope this review was helpful to you. If you have any question or want to share your personal experience with Panelbase, feel free to leave a comment below!
Your friend

Stefan