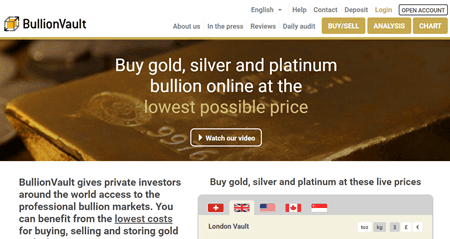 Welcome to my Bullionvault review!
In the wake of recent financial turbulence, many people are turning to tangible assets such as gold and silver.
These precious metals have long been considered safe havens, offering stability and protection against economic uncertainty and inflationary pressures.
As you navigate these volatile times, you may have encountered BullionVault, a popular platform for trading gold and silver.
Thanks to its competitive storage fees, ownership assurance, liquidity, and various other benefits, it's no wonder many people are drawn to it.
But is BullionVault truly a safe harbor amidst the storm or another risky venture in these uncertain times?
Is it legit or a scam? Stay tuned as we provide all the information you need about this platform.
BullionVault Review
---
Company: BullionVault
Website: bullionvault.com (affiliate link)
Price: Free to join. See the review below for trading commissions and storage costs.
Owner: Galmarley Limited
Rating:

9.5/10
What is BullionVault? 
---
Founded in 2005 by Galmarley Limited, BullionVault is the World's largest online gold and silver investment service.
It's impressive that BullionVault has over 65,000 clients that own over $2 billion in bullion assets!

The company is a full London Bullion Market Association (LBMA) member and the winner of two Queen's Awards for Enterprise Innovation (2009 and 2013).
When you buy gold through BullionVault, you own physical bars (bullion) that are stored in professional and highly safe vaults in London, Zurich, Toronto, New York, Toronto, or Singapore.
You will benefit from the lowest prices for buying and storing gold and silver and gain access to the professional bullion markets. That means you can trade gold, pay reduced commission rates, and profit from the market's fluctuations.
According to the company:
BullionVault's objective is to be the cheapest, safest, and most accessible worldwide market in privately owned bullion.  There is no safer way for private individuals to deal in and own gold, silver, and platinum, and there is no fairer proposition to the trader.
Is BullionVault a Scam?
No, it isn't. I have provided substantial evidence that this company is legit.
Not only it's legit, but the vast majority of BullionVault's customers are pleased with their service.
You can see proof of that by looking at the astonishing number of people giving a 5-star rating and providing excellent feedback on Trustpilot.
From 865 reviews, 708 people gave five stars, and 115 gave four stars!
Pros and Cons
---
Pros
Incredibly low prices for buying and storing gold.
Commission rates go down as people trade more.
The website is self-explanatory and very easy to use.
Highly reputable – The number of positive user feedbacks is incredible!
Excellent customer service.
Cons
Storing less than $2,000 worth of Gold is uneconomical. That is because the minimum monthly charge is $4.
Limited ways to fund your account, which is understandable due to security reasons.
The process of changing linked bank accounts can be very bureaucratic. Make sure you contact the BullionVault team before you change your bank account.
Reasons to Own Gold
---
Gold is considered an essential asset of a diversified portfolio because its price usually increases in response to events that decrease the value of other investments like stocks, mutual funds, and bonds.

Historically, Gold has maintained its value and is seen as insurance against times of economic and geopolitical uncertainty. For example, when inflation rises and our purchasing power decreases, gold prices usually go up. Therefore, it's seen by many people as a way to preserve their wealth for future generations. 
It's important to understand that prices can also drop due to many events.
For example, the price of Gold plummeted from 57 USD/kg in August 2012 to USD 34/kg in December 2015. Then, it started to gain traction upwards, and today ( 21 June 2017), the gold is quoted at 40 USD/kg.
However, when you focus on the long-term, you can see that the price of Gold has risen fourfold during the last 20 years.
How Does it Work?
---
BullionVault's website is well-designed and very easy to use.
The first thing you need to do is create a free account. It's very straightforward as you only need to provide your name, username, and email and choose a password.
What's great is that your account comes with a free sample of silver (0.004kg) and currency ($1, £1, €1), so you can try out buying or selling silver.
Create your free account here and give it a try!
Here is my account balance after I signed up: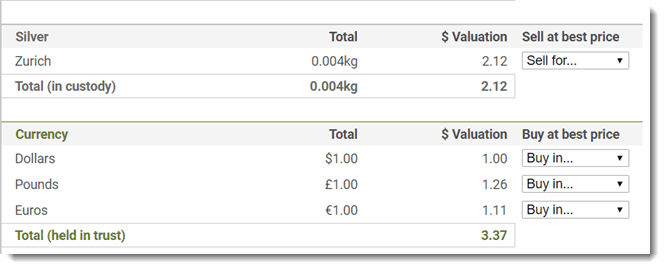 The next step is depositing funds into your account before you can buy bullion. Then, you will need to validate your account by providing proof of identity and bank details within two weeks.
Unlike many other platforms, there is no minimum deposit requirement for a bank transfer, and they won't charge any fees until you make your first purchase.
If you want, you can set up a monthly payment from your bank account to automatically purchase gold at the Daily London price.

It's comforting to know that you can sell your bullion at any time and withdraw in cash to your bank account. You can do that using the daily London price or the Live Order Board. 
The Live Order Board is like a stock exchange. It allows you to purchase Bullion from other customers and choose your price when you want to sell to others.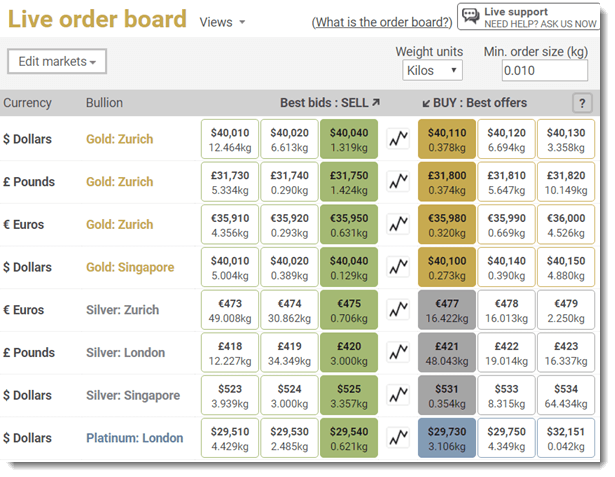 One feature I like is the possibility of setting up email alerts when the spot price reaches your desired price.
This can be very useful if you want to sell your gold for a profit! 
Although the safest way to keep your metals is in the vault, you can also withdraw the bars for a fee. The withdrawal cost varies according to the metal, location, bar weight, and payment method.

This reward platform is going viral! Cash out via PayPal, Visa, Gift Cards, and in-game currencies - Click here to find out how to generate an extra $10+ per day! 
How Much Will it Cost You?
---
BullionVault guarantees you won't find a cheaper place to buy Gold and Silver. 

The platform connects buyers and sellers from around the World and allows everyone to quote prices to each other.
What's interesting is that such price competition forces everyone, including BullionVault itself, to quote highly competitive prices. This guarantees you will always get the best price from whoever is quoting it.
Trading Commission
You will pay a single trading commission of 0.5% plus a currency-switching fee of 0.3% in case you place the order in British Pounds, Euros, or Japanese Yen.
If you buy more than $75,000 worth of bullion, your trading commission drops depending on how much you trade in a year. So, the more you sell, the less you pay!
Here is the commission rate:

Annual Management Cost
There is an annual management fee (custody charge) of 0.12% for gold and 0.48% for silver and platinum.
Keep in mind that this is the cheapest storage rate in the World. Indeed, major Exchanged-Traded Funds (ETFs) charge 0.4%, which is three times higher than BullionVault's storage price. Also, Banks will usually charge ten times more!
Another important thing to mention is that the minimum storage fee you need to pay is $4/mo for gold and $8/mo for silver. This makes small investments uneconomical.
Therefore, if you want to take advantage of the low storage price, I recommend you buy at least $4,000 in Gold. By having $4,000 worth of gold, you will pay $4/mo, which is exactly 0.12% per year in custody charge.
Standard and Security
---
The Bullion gold bars are at least 99.5% pure, but that doesn't mean you are "losing" that 0.5%. The reason is that only pure gold is allocated to your BullionVault inventory records.
BullionVault recommends that you store your bullion overseas to protect against the imposition of domestic exchange controls during a crisis.
You can choose to store your Bullion in some of the World's most trusted vaults already mentioned before. Therefore, you can rest assured the company will keep your bullion highly protected and insured. Here is the proof of insurance.
Final Thoughts
---
BullionVault offers state-of-the-art services to invest in Gold, Silver, and Platinum Bullion. I haven't seen a better alternative elsewhere! 
The low cost of storage combined with solid safety measures makes this company a popular choice for those who want to protect their money against years of economic and political uncertainty.
Like any other type of investment, Gold doesn't offer any guarantees, but it can be used as a vital component of a diversified investment portfolio.
> Click Here to Create Your Free BullionVault Account! (affiliate link)
I hope you found this BullionVault review helpful to your research. If you have any questions, feel free to leave your question in the comment section below.
If you have already used BullionVault, why not share your experience?
Thanks for reading!
Stefan