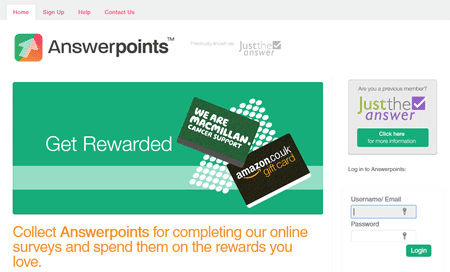 In this review, I am going to cover everything you need to know about AnswerPoints and give you my honest opinion about it. Is it a scam or legit?
Online surveys can help you earn a few bucks per month, but not enough to make a huge impact in your life. If you are serious about making money online, check out my #1 recommendation.
AnswerPoints Review
---
Product Name: AnswerPoints
Website: answerpoints.co.uk
Price: Free to Join
Strategy: Online Surveys
Score:

6.0/10
What is AnswerPoints? 
---
AnswerPoints is a survey panel owned and operated by Aurora Market Research Ltd, which is a marketing research company based in London, UK.
With AnswerPoints, you will be invited to participate in online surveys and get paid to share your thoughts and opinions on products and services.
This website was previously known as JustTheAnswer, but for some reason, they have rebranded it.

If you try to visit the old site JustTheAnswer.co.uk, you will be directed to Answerpoints.co.uk.
Pros & Cons
---
Pros
Free to join.
Earn 50 points as a sign-up bonus.
It's an easy way to make money online.
Cons
Low-income potential.
It can be difficult to qualify.
There are lots of user complaints.
It's not possible to redeem in cash via PayPal
Some people complain about the fact that they have to wait a long time for the Amazon voucher to arrive.
How Does it Work?
---
The sign-up is free and very quick. You just have to provide basic information such as name, surname, postcode, date of birth, and your email. Then, open your email and click the confirmation button to complete your registration.
Next, you will receive a confirmation email from AnswerPoints. Just open your email and click the confirmation button to complete your registration.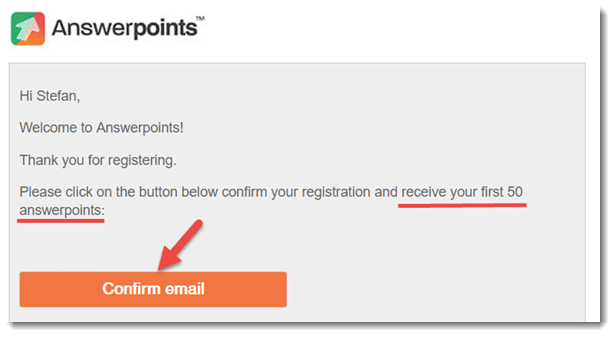 You will earn 50 points as a sign-up bonus.
It's important to know that 1 point = 1p, so you will get 50p as a sign-up bonus.
No Profile Survey
Different from most survey panels, AnswerPoints doesn't ask you to complete a profile questionnaire. This is quite odd because a profile is usually required to help companies select the right candidate for a particular marketing research.
Without a profile, I suppose you can expect to answer more pre-qualification questions every time you try to qualify for a survey opportunity. As a result, you will probably waste time answering the same questions over and over again.
Completing Surveys
AnswerPoints will send you an email invitation when a new survey opportunity arises. You can also find current opportunities by clicking on "Available Surveys."
The next step is to complete the pre-qualifying questions, which is, in my opinion, the most annoying part of the process. What happens is if you are not a good fit for the survey, you will be screened out and you won't get paid for that.
I suspect some companies collect the information they want through the unpaid pre-qualification process and after a couple of minutes inform the person he or she does not qualify.
I am not saying AswerPoints do that. But if you notice you are spending a lot of time answering very specific questions, run away! The pre-qualification phase should not take longer than 3 minutes.

How Much Can You Earn?
Typically, the longer the survey, the more points you will earn. However, don't expect to earn more than 150 points (£1.50) for a 15-30 minute survey.
Cashing Out
---
Once you reach 500 points, you can exchange them for £5 Amazon gift vouchers or donate to Macmillan Cancer Support.
You can also redeem 50 points for an entry into the quarter's prize draw for an iPad Mini 2. It's possible to buy as many entries as you like.
Final Thoughts – Is AnswerPoints a Scam?
---
AsnwerPoints is a legitimate survey panel, but as with any survey panel, the pay rate is just too low. Also, you may not get many survey invitations as you wish, so if you want more, here are some popular survey platforms that I recommend:
Swagbucks.com
Cashcrate.com
Verdict: Legit
My #1 Strategy to Make Money Online
---
If you are sick and tired of making pennies online, I have good news for you! It's possible for EVERYONE to start and grow a lucrative online business from home.
Imagine a business that allows you to earn a full-time income and have the flexibility to work whenever and wherever you want!
That's what I am talking about here…
Yes, there are many things to learn, but you can find excellent step by step training on the internet that helps you build different types of online businesses.
Affiliate marketing is a great business model for those starting out. I highly recommend it because of the low startup cost and the freedom that it provides.

You don't have to deal with inventory, shipping, customer service, and you don't have to spend money on advertising. All you have to do is create valuable content to your audience through your blog and promote products that people might benefit from.
If you want to learn from the same training program I joined 2 years ago, then check out my #1 recommendation here. The first 10 lessons are completely free and will guide you step by step to build a solid business foundation.
So, have you tried AnswerPoints or JustTheAnswer? If so, what do you think about it?
I'd love to read your comments below!