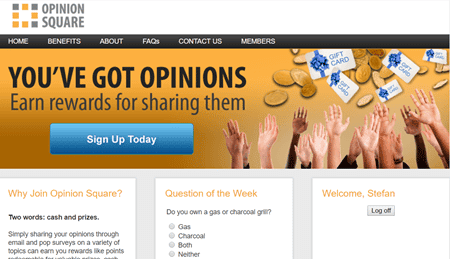 In this review, I am going to cover all you need to know about OpinionSquare and give you my honest opinion it. Is Opinion Square safe or a complete scam? Is it worth joining or a waste of time? I am here to answer these questions!
By the way,  don't forget to check out my #1 recommendation l to discover how I prefer to make money online and pursue a freedom lifestyle! 
Opinion Square Review
---
Platform: Opinion Square
Website: opinionsquare.com
Price: Free to Join
Strategy: Online Surveys
Score:

7.0/10
What is OpinionSquare? 
---
Opinion Square is a research panel owned and operated by TMRG, Inc, which is a leading marketing research company based in the United States.
The company claims their research community has over 2 million participants that provide valuable insight into Internet and consumer behavior.
As a member, you will have the opportunity to share your opinions on different topics and earn cash rewards for each survey you complete.
Opinion Square is different from other panels in that you will be asked to download software that will continuously monitor your internet surfing. Installing the software is not mandatory, but the drawback that you won't get as many survey opportunities if you don't download it.
By allowing free access to your computer, you will help companies understand about internet browsing and purchasing patterns.
Is Opinion Square Safe?
---
I am confident Opinion Square is a safe website.
However, you may be scared to install the software that monitors your Internet activities. I know how you feel.
By looking at the privacy policy page, I discovered the software also collects personal information when you are filling up an online purchase or an application form.
Here is what it says:
We may use the information that we monitor, such as name and address, for the purpose of better understanding your household demographics; however we make commercially viable efforts to automatically filter confidential personally identifiable information such as UserID, password, credit card numbers, and account numbers. Inadvertently, we may collect such information about our panelists; and when this happens, we make commercially viable efforts to purge our database of such information.
This means there is a chance the system can collect critical information such as passwords and credit card numbers, which is a bit scary! Therefore, you have to trust their internal security policies and procedures.
I truly believe they have a reliable safeguard system in place. But in case you don't feel comfortable, you can uninstall the software and request deletion of your personally identifiable information.
If you don't want to install the software, that's ok too! In fact, I discovered one member from the US who was getting 1 or 2 surveys per week even without the software.
Pros & Cons
---
Pros
it's free to join.
You can earn entries for prizes in case you are disqualified.
Great prizes.
Cons
You are encouraged to download software that will monitor all your internet activities and gather your personal data.
There is no sign-up bonus.
You can't cash out via Paypal.
There are not many surveys available.
It can be difficult to qualify.
How Does Opinion Square Work?
---
Registration
First and foremost, you must read and accept the Privacy Statement and User Agreement.
The sign-up is free very quick as you just have to provide basic information such as name, date of birth, gender and address.
Next, you are also encouraged to install the software to get more survey invitations.

You will find the instructions on how to do that.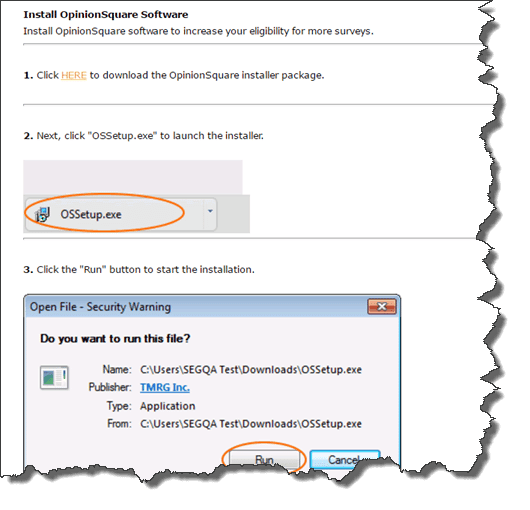 Taking Surveys
The website claims that you can expect to get 3 or 4 survey invitation per month according to your demographics and internet behavior.
In my opinion, 4 surveys per month will not encourage many people to keep a software spying on their lives 24/7. Not to mention you won't always qualify for all surveys!
Before you complete a survey, they usually ask you some pre-qualification questions to make sure you are a good match for a particular marketing research study.
In case you are disqualified, you can still earn sweepstakes entries for a chance to win $50 prizes.
To be honest, no one likes to be screened out over and over again, and that's why many people give up on online surveys over time. Heck, I used to take surveys before, and I know how frustrating it can be!
Points and Rewards
---
Every time you complete a survey you will earn points redeemable for prizes through the OpinionRewards program. Usually, the points you will earn for each survey are not worth more than $1! So, like any other survey platform, the payment is considerably small!
OpinionRewards.com is an online store where you can exchange your point for almost 25,000 different products and popular eGift Cards, including Amazon vouchers.
For example, you will need 1,500 points to request a $5 Amazon gift card.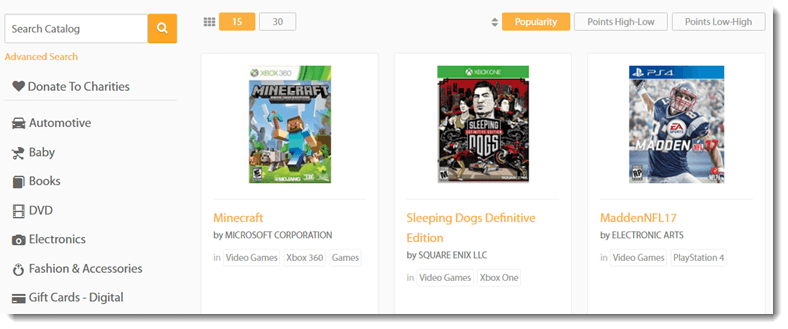 One thing I don't like about it is that they don't show how many points are needed for many products and gift cards.

Prizes
---
Opinion Square runs two monthly prizes worth $50, and other 3 Bonus prizes through the Treasure Hunt game.

Click here to read the official rules.
Have you noticed the odds of earning $100,000 is 1 in 6.5 million?
Why is that considering the fact that there are 2 million members and not everyone is active? This is quite weird!

This reward platform is going viral! Cash out via PayPal, Visa, Gift Cards, and in-game currencies - Click here to find out how to generate an extra $10+ per day! 
Final Thoughts
---
Opinion Square is a legitimate website to complete online surveys and earn some extra cash from home.

I am not very comfortable with installing software that can potentially save my passwords and bank account details somewhere. I don't think there are significant risks involved, but I prefer not to push my luck, you know…
There are other decent survey platforms out there which don't ask for any download and provide lots of survey invitations. Some of my favorite ones are:
* My #1 Strategy to Make Money Online *
---
In 2015 I discovered how to build an online business and make money on my own terms. Since then, I have made over $5,000 in affiliate commissions that continue to grow month after month.
My goal is to reach a full-time income and travel the world without having to worry about money!
This is possible when you build a lucrative website that allows you to work whenever and wherever you want. Equally important, without a boss or a client stressing you out!
It's is not an easy task! However, I believe anyone is capable of achieving incredible results with the same knowledge and mindset that I gained during the last two years.
Keep in mind that I had zero experience building a website, and I had no idea how it was meant to make me money!
So, if you want to learn how to start and grow a successful online business, I highly encourage you to check out the same step by step training that I followed two years ago.
As a matter of fact, it has a great free starter membership, so you can give it a try without risking your hard-earned money.
Click here and Check Out My #1 Step By Step Training
That's it for now. I hope this article was helpful to you. If you have any question, just leave me a comment below!
Your friend
Stefan