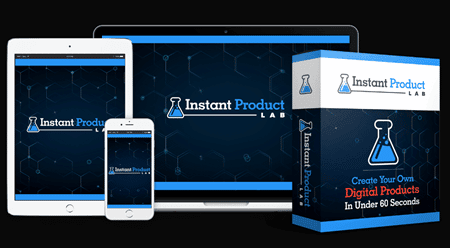 Why would you spend months writing an e-book to grow your business when you can just click the one button and get it done in less than 60 seconds? It seems too good to be true! So, is Instant Product Lab scam or legit?
I decided to investigate this shortcut and give you my honest opinion about it.
For a comprehensive training on how to build a real online business, check out my recommend platform.
Instant Product Lab Review
---
Product: Instant Product Lab
Website: http://instantproductlab.com
Price: $25.95
Owner: Glynn Kosky & Rod Beckwith
Score:

1.5/10
What Is Instant Product Lab?
---
Instant Product Lab is a cloud-based app that creates entire eBooks in a matter of seconds! Can you imagine that?
If you have just started your online business, you probably know that giving away a free eBook is an excellent strategy to grow your list of email subscribers.
Also, you know that a well-researched and compelling eBook can be sold on different platforms and generate a powerful source of income.
However, writing an e-book is something that very few people is willing to commit themselves to. It takes time and sweat! Besides, hiring freelancers to craft all the content and cover design will certainly cost you a fortune! Maybe over $200?
Well, but what if you had a software like Instant Product Lab that would generate e-books on demand in less than 60 seconds? That would be the perfect solution, right?
Not so fast.
How Does it Work?
---
It's very simple.
Let's say you have a website in the weight loss niche, and you want an e-book that will teach people how to lose belly fat.
You just have to type in a keyword for your e-book, for example: "how to lose belly fat," and the software is going to search the internet for related articles.
This search is done by a Web Scraping software and has been used by many other misleading JVzoo products like Curation Studio.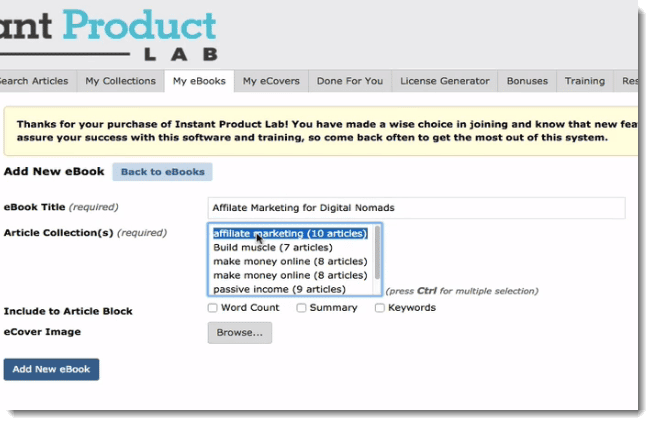 Next, Instant Product Lab is going to copy other people's content without the author's consent, and create the whole eBook for you!
Not only that, the software will instantly create a cover and a page template for your opt-in form, which you can customize and integrate with your autoresponder.

Is Instant Product Lab a Scam?
---
Instant Product Lab does what it says it does. So, I won't call it a scam.
Basically, it copies other people's content on the internet, and what you do with it is your responsibility.
The owners are legally providing the content to you, but if you try to promote that it as your own work, you will be infringing copyright laws. So, you can be in trouble for selling or promoting that e-book as it is!

Final Thought
---
I know. It's tempting to skip all the hard work necessary and simply buy a done-for-you website, a done-for-you ebook, and a whole done-for-you business. But shortcuts usually don't work.
Verdict: Not Recommended
My Recommendation to Build a Solid Online Business
---
You don't want to keep stuck like most people. You want to start making money, so you can grow your business and improve your quality of life!
Here is my honest advice for you:
Go write your own e-book!
Put your audience first and do your best to help people within your niche. They will thank you for that, and you will improve your writing skill, so the next e-book will be better!
And if you think this is a big challenge at this time, that's OK too! You don't need an e-book to succeed as an online marketer.
But first, I highly recommend you get significant traffic (visitors) to your website. Otherwise, there is no point in promoting anything.
If you are struggling to get traffic, or you don't even know how to get started, then check out my #1 recommended program.
They have an excellent step by step training that will help you understand how successful entrepreneurs grow a robust online business from scratch. I got started with zero knowledge, and they helped me grow my business from $0 to over $900/mo!
As a matter of fact, there are 10 free lessons, so you can test drive the platform completely risk-free. Click the link below for my full review.
Check Out My #1 Recommended Program

I hope this review was helpful to you. If you have any question or want to share your personal experience with Instant Product Lab, feel free to leave us a comment below!
Your friend
Stefan