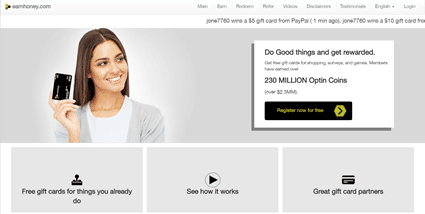 Welcome to my EarnHoney Review!
I was searching for ways to make money online when I discovered another reward platform called EarnHoney.
The homepage claims EarnHoney is one of the top 2 sites to make money online.
Not only that, but it also claims to have been featured on prominent media outlets such as MSN, Business Insider, and even The Huffington Post.
Before joining any website, you need to make sure you are dealing with a reliable company to avoid wasting your time. I have reviewed hundreds of sites and apps that maximize profits by avoiding payments.
So, can you really trust EarnHoney? Is it a scam or legit reward platform? I decided to test and investigate this site so you know exactly what to expect from it.
Before you leave my blog, don't forget to check out the step-by-step program that helped me build my own internet business, earn $1,600 per month, and quit my job in 2019.
EarnHoney Review
Name: EarnHoney
Website: www.earnhoney.com
Company: Bay Bee LLC
Price: Free to join
Type: GPT (get-paid-to)
LEGITIMATE
Overall Rating:

2.1/5
What is EarnHoney?
EarnHoney is a GPT platform where members get paid to complete offers, complete surveys, download apps, watch videos, and play games, and more!
The reward platform has been running since 2014 by Bay Bee LLC, an American company headquartered in Stamford, CT.
Although the site has been around for 6 years, it didn't get much attention, probably because of the unattractive design, low referral commissions, and little publicity.
You can complete the tasks on your PC/Laptop via the website or you can use the EarnHoney app on your Android device.
As a member, you will earn tokens called OPTin, which you can redeem for PayPal, Amazon gift cards, Debit Visa, or Optin Coin.
Is EarnHoney Legit? Does it Pay?
Yes, EarnHoney is a legit platform that will let you cash out once you reach the minimum payout threshold of $5.
I haven't seen any complaints about payments on the internet or Google Play. So, it's likely that you will receive the payment with no issues.
When I first reviewed EarnHoney back in 2018, I couldn't open the "Terms and Conditions" and Privacy Policy of the website as the link was broken.
Without these important pages and a contact channel, you don't know what to expect from the business. Besides, you can't ask for help if anything goes wrong. So, it didn't give me a good impression at that time.
The good news is that the company has fixed those pages, so users can now find all the relevant information they need before signing up.
The homepage states that EarnHoney has been featured on The Huffington Post, Business Insider's magazine, and MSN.

editorial

Well, I found the same article entitled "32 simple ways to make money without doing anything" at both MSN and Business Insider recommending EarnHoney.
However, I couldn't find any mention of EarnHoney at the Huffington Post. Perhaps the editor has deleted the article for some reason. Who knows?
How Does EarnHoney Work?
How to Register?
The registration is free and open for residents of any country. Just keep in mind that if you don't live in the United States, you may not find lots of tasks.
As I am from the UK, I can confirm there are very few surveys, offers, and other tasks. Therefore, the earning potential is incredibly low!
To create an account, click on the "Register Now for free" button and provide your email and password.
How to Earn OPTin Coins?
The opportunities to make money with EarnHoney are divided into the following categories:
Watch and earn.
Mobile app and connected TV.
Give your opinion.
Play games and earn.
You can earn even more by referring friends, posting on FB and Tweeter, and participating in the daily login giveaway.
Before I go into detail about each category, it's important to know that 1 OPTin coin equals $0.1000. So, whenever you want to know the equivalent amount in dollars, you just need to divide the OPTin value by 10.
Watch and Earn

In this section, you are supposed to get paid around 0.02 OPTin per video view.

There is a tutorial on how to start watching, but even though I followed the exact steps, I didn't get credited.
What's strange is that EarnHoney will direct you to a Facebook page where you can find the "watch video" button.
After you proceed, the video starts playing, but the OPTin coins are nowhere to be found.
Anyway, even if you do get paid, 0.02 OPTin is $0.002, which means you'd need to watch 500 videos to earn $1.
Mobile App and CTV
In this section, you can get paid for installing apps and watching videos on your android device.

This reward platform is going viral! Cash out via PayPal, Visa, Gift Cards, and in-game currencies - Click here to find out how to generate an extra $10+ per day! 

App offers have have become very popular during the last 2 years due to the huge surge in mobile games and reward applications.

You will be asked to download the app and meet a specific requirement. For instance, if the app is a game, you may have to play it until you achieve a specific score or level.
Offers
In the offer section, you can earn OPTin by signing up to free sites, filling up prize draw forms, subscribing to free trials, and more!
In the UK, I just found two offers that are a little different from those I normally see in other GPT sites such as Prizerebel, Rewarding Ways, or Swagbucks.
Instead of having to sign up for another GPT site or a subscribe to a free trial, EarnHoney asked me to post questions or answers about EarnHoney in a forum called Bitcointalk in exchange for 3.5 OPTin.
The other offer asked me to join the $150,000 bounty and promote OPTin Coin in exchange for 1000 OPTin.

Give Your Opinion
This section is dedicated to online surveys. I couldn't find any survey available here in the UK, except for the profile survey that was paying only 1 OPTin.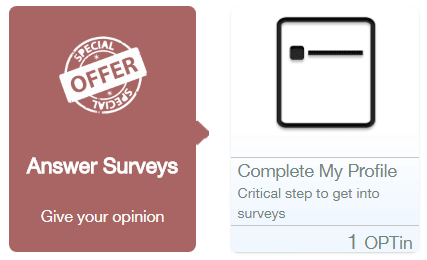 If you live in the US, EarnHoney will connect you with a leading marketing research company called Your Surveys. You will be invited to take part in surveys so you can share your opinions on different topics.
As a retired survey taker, I need to warn you about the risk of wasting a lot of time due to frequent survey disqualifications.
Every time you try to complete a survey, the marketing agency will ask you a few qualification questions to see if you are the right candidate. If your answers don't match with their desired demographics, they will screen you out.
Play Games and Earn
EarnHoney also gives you the chance to collect more coins by playing games. When you click the link to play the game, a video will automatically start playing on the side.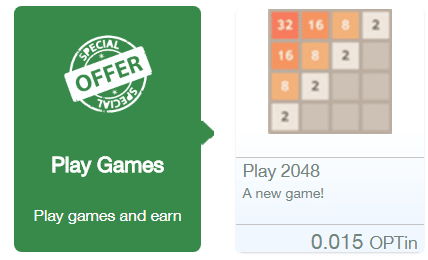 The idea is that you play the game while providing views for advertisers. That's how EarnHoney is generating revenue while you are playing the game.
There was only one game available when I was reviewing EarnHoney. After playing the game for a while, I didn't receive any coins.
Even if you get the credits, you will get fractions of a cent, so why would you bother?
Referral Program
EarnHoney has a referral program where members get paid 10% of what their referrals earn.
That means if your referral earns 100 OPTin, you will receive 10 OPTin.
Just copy the referral code/link and share it with your friends by email, or via social media. If they join through your link, they become your referral.

Payment
You can cash out a minimum of $5 via Paypal, Visa Debit, or Amazon gift card as soon as you reach 50 OPTin.
EarnHoney also gives you the option to donate your earnings to charities such as WWF, Red Cross, Food for the Poor, and more!
VIP users can enjoy faster redemption turnaround redeem coins up to their individual weekly limit from their pool of Instant OPTin.
To Increase your weekly VIP limit, you can do the following activities:
Earn 1000 OPTin earned – 25 O

PTin.

Connect your qualifying Facebook, Steam, Google, or LinkedIn account – up to 50 O

PTin.

Previously Submitted Valid W-9 Form – 50 O

PTin.
Keep in mind that Daily freebies and certain high-value offers do not qualify for Instant OPTin.
Conclusion
EarnHoney is a legitimate GPT site where users can complete a variety of simple tasks in return for cash rewards.
I don't think people will be happy watching videos and playing games just to earn fractions of a cent, though.
After testing hundreds of reward platforms in the past 5 years, I can tell you that EarnHoney falls very VERY short. There is a very limited number of offers and opportunities to make money, especially for non-US residents.
I don't recommend it!
If you live in the US, share your experience by leaving us a comment below! Do you have many offers and surveys? How much money can you earn with EarnHoney?
Verdict: Legit
Is There a Better Alternative to HoneyGain?
Yes, there are great options that can help you make over $100 per month even if you don't live in the United States.
In my opinion, Prizerebel should be on the top of your list because it connects you with a large number of survey and offer providers. Therefore, you will never run out of tasks!
If you would like to discover other decent websites, I have published a list of over 100 GPT platforms here.
My #1 Strategy to Make Money Online
I used to spend a lot of time on GPT platforms, but 3 years ago I discovered I could actually earn a living online by building PASSIVE INCOME websites.
Passive income sites are basically blogs full of useful content that attract an audience looking for information.
These sites will work for you 24/7 and generate commissions. When you have a website that ranks for competitive terms, you are guaranteed to attract a good number of visitors every single day.
The more content you create, the more visitors you will attract, and therefore the more money you make!

What I love about this business is the possibility of making money while sleeping or traveling.
Many people were able to quit their jobs work whenever and wherever they want. That means FREEDOM!
If you want to learn step by step how to create a website, attract visitors, and earn passive income, check out my #1 recommendation.
It's the same training program that I used 3 years ago to build my site from scratch.
>> Click Here and Check Out My #1 Recommendation Review
Final Words
Thanks for visiting my blog and taking the time to read my EarnHoney review. What do you think about this reward platform? Have you made any money with it? Let me know in the comment section below.
Also, feel free to ask any question and I am always ready to help! 🙂
Stay safe and peace out!