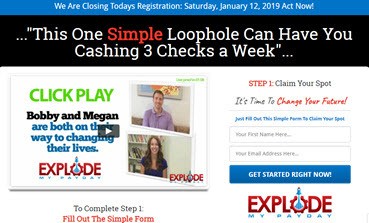 The owner of Explode My Payday is inviting you to become her business partner and earn lots of commissions on autopilot. Is Explode My Payday a scam or legit?
Let's find out!
If you want to discover the proven method that earns me $1,600+ per month from my laptop, skip to my #1 recommendation.
Explode My Pay Day
---
Name: Explode My Pay Day
Price: $47 + Upsells
Strategy: Affiliate marketing
Overall Rating:

0.5/5
There are many red flags that indicate something is wrong with this product. Here are the main ones:
Red Flag 1 – The Hype
---
Explode My Payday is based on the illusion that an incredible system can generate $1,000+ per day in commission with little or no effort.
Meaghan Harper claims that you just have to worry about collecting your money as her system does all the work for you.
I have seen this story over and over again since I started this review blog 3 years ago, and people still fall for such unrealistic claims.
The reason for that is simple. Many people still don't know how to attract visitors to a website and how to make money from it. Otherwise, they would quickly realise programs like Explode My Payday don't live up to the hype.
I have lost count of how many similar products I have seen, but none of them can generate commissions effortlessly.
They make you believe there is a loophole that allows just a few lucky people to make easy money online, but that is just an illusion designed to sell you the dream.

This reward platform is going viral! Cash out via PayPal, Visa, Gift Cards, and in-game currencies - Click here to find out how to generate an extra $10+ per day! 
Note that at the bottom of the video, they say user testimonials are not representative of average earnings. That means most people will not reach that.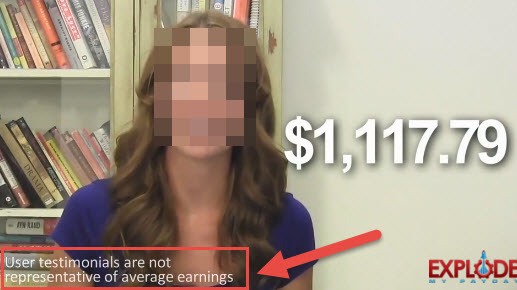 Red Flag 2 – The Contradiction
---
The sales page is contradictory because at one point, Meaghan says it requires no effort on your part, but later assumes that it takes 15 – 20 minutes per day.
Meaghan also contradicts herself when she says she is not asking for your money, but then encourages you to purchase Explode My Payday for $47.

Red Flag 2 – The Fake Testimonials 
---
Explode My Payday decided to purchase testimonials from freelance sites like Fiverr, so people you see on the video are paid actors.
I am not going to post their pictures here, but you can check out one of the actors offering the service via this page.
You agree that if the system really worked, there would be no need to include fake testimonials on the sales material.

Red Flag 4 – The False Scarcity
---
False scarcity is another tactic used by "make money online" product owners to increase sales.
They want you to act fast before you decide to do thorough research about the product on the internet.
If you discovered my review before you purchase the product, this tactic didn't work on you. Kudos for that!
Meaghan claims that the Explode My Payday website will be taken down on the same day and that she will only allow 45 people to join her business.

Well, that is not true otherwise she wouldn't bother selling her product on Clickbank and pay commissions for affiliates to promote it.
In fact, that's precisely what the system is all about as you will see next.
What is Explode My Payday?
---
Explode My Payday is a product for sale on a digital marketplace called Clickbank.
It consists of basic training and a done-for-you website that will supposedly generate money on autopilot.
It's very similar to other sites I have reviewed in the past such as One Click Pay Day and Desktop Commission System.
How Does it Work?
---
The website is a simple landing page that is just designed to collect people's email address and direct traffic (visitors) to Explode My Payday itself.

In other words, she is selling you a ready-made site whose only purpose is to promote the same product to others in a never-ending cycle.
If someone who visits the site ends up purchasing Explode My Payday, you will earn an affiliate commission.
The Risk
The system seems very easy to implement, and although the site is completely done for you, the traffic isn't.
You still need to use either free or paid traffic methods, and no company will do the hard work for you unless you pay them money.
Usually, these product owners encourage customers to buy solo ads to promote the site, which is extremely risky!
I don't know whether Explode My Payday recommends solo ads, but any other paid traffic method can incur in significant losses as well.
The free option requires lots of time and effort on your part to promote your site.
However, because your site consists of a ready-made landing page, you won't be able to get traffic from Google's search results, and hence, you will be limited to using social media to promote it.
Conclusion

– 

Is Explode My Payday a Scam? 
---
According to Meaghan, it just requires 15 minutes per day, and even a child can do this.

Well, the truth is that it's not easy at all!
There is no loophole!
There are so many things involved in this type of business, and if you are not aware of what it takes to succeed with affiliate marketing, you can easily fall for the hype.
Many people get frustrated because they purchase product after product in search of a system that finally works.
The reality is that no system will work for you if you don't put in the time and effort in the first place.
Explode My Payday is not a scam because they are delivering services (site and training) that allow you to make money. It doesn't mean you will succeed though.
The big issue is that the sales page gives people unrealistic expectations about the method, which doesn't feel right.
In any case, Explode My Payday gives you a 60-day money back guarantee.
What I Recommend
---
You need to learn how affiliate marketing works and take consistent steps to grow your internet business. Also, you need the right mindset and the proper foundation in place.
There are many ways you can go about building a sustainable online business and earning residual commissions.
You can find successful sites all over the internet that use the same method that I am about to tell you.
The strategy involves creating a blog and writing helpful content that targets specific keywords. Yes, it takes time, but it's a solid strategy that works if you get it right and you learn what it takes to rank on Google.
I learned the ropes thanks to this excellent step by step program and built a $1,000+/mo online business.
If you follow this one and take massive action, you will be on the right path to achieving your goals.
It's not easy, but it's achievable for anyone with strong motivation to become an online entrepreneur and work remotely.
Thanks for checking out this Explode My Payday review. If you have any questions, just let me know in the comment section below.
Stay safe and peace out!