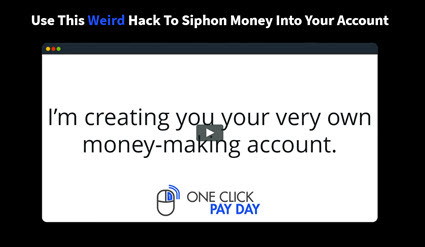 The creators of One Click Pay Day are claiming their software can generate thousands of dollars per day with just one click.
Can you really trust what these guys are saying? What is behind this system that looks like a money printing machine? Is One Click Pay Day a scam or legit?
Let's find out!
By the way, if you want to learn step by step the same method that earns me over $1,000/mo from my laptop, check out my #1 recommendation!
One Click Payday Review
---
Name: One Click Pay Day
Website: http://oneclickpayday.biz/
Price: $37
Overall Rating:

0/5
The Hype
---
The sales video of One Click Pay Day is all about convincing you that their system will bring you financial freedom with just one click.
I see…
Kathy Evans, the narrator, starts her presentation by saying she will be funneling commissions to your money-making account for the rest of the video.
Well, that is BS to encourage visitors to watch the video until the end.
She goes on by claiming these accounts generate, on average, $1,000 – $2,000 every single day.
That's right! With just one click, you can claim your commissions!
I have seen literally hundreds of similar done-for-you systems that are just a complete waste of money.
They never work as advertised and it's never as easy as they make it seem.
The Contradiction
---
It's important to mention the contradiction that we can find on the sales page.
Do you remember when Kathy claimed most people make more money than they do in a whole year at their jobs?
Now, scroll down the page and lake a look at what they say at the bottom.
The typical purchaser does not make any money using this system. The Easy Internet Plan does not guarantee income or success, and examples shown in this presentation do not represent an indication of future success or earnings.

Well, if the typical purchaser doesn't make any money, how is it possible that most people make so much money?
Did you note the contradiction?
Also, note they are saying all that in the name of The Easy Internet Plan. But what does it have to do with One Click Pay Day?
Folks, the truth is that One Click Pay Day is just the name of the site. They were probably using the same page to promote the Easy Internet Plan or whatever and forgot to change the name in the Disclaimer.
What Exactly is One Click Pay Day? 

---
If you provide your email address and go to the next page, you will realize they are selling you a product called Clone My Sites.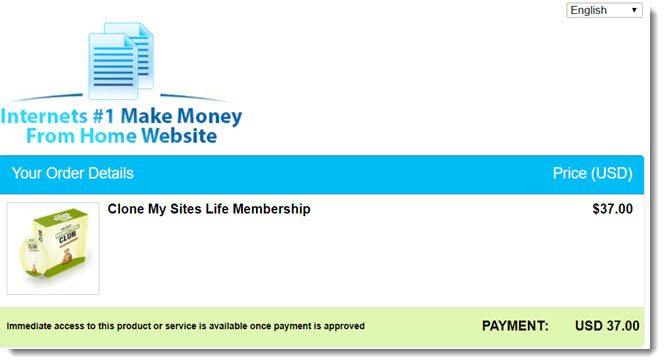 This leads me to believe that One Click Pay Day is either an affiliate or just a site designed to rebrand Clone My Sites.
In turn, Clone My Sites is a replica of many other "copy" sites such as Profit With Our Sites, Copy the Millionaire, Copy My Cashflow, and many others!
It 's basically a program that will provide some done-for-you sites so that you promote the same "get rich quick scheme" to other people in exchange for affiliate commissions.
How Does it Work?
---
The right question is: Does it Work?
Well, it works for the owners and affiliates who have a massive list of email subscribers.
In other words, only those internet marketers who have been promoting "make money online" products for years can make some decent income with it.
One Click Pay Day (aka Clone My Sites) has some training, but it's not enough for a beginner to start making hundreds, let alone thousands per day!
It's true that they will give you those websites. However, having a one-page site is not even 1% of the journey!
Your job is to get traffic (visitors) to those clone sites. Then, when a visitor clicks through your link and purchases the product, you will earn a commission.
The problem is that those are not WordPress sites that have the potential to rank on Google.
So, you are limited to paid traffic strategies that are very risky, especially for beginners.

They are risky because you have to spend a lot of money on advertising, but you never know how many sales you will make.
Unfortunately, many people become delusional because they want to make money quickly and easily.
Without a solid foundation, most people will just waste time and money!
Conclusion – Is One Click Pay Day a Scam? 
---
One Click Pay Day is just like thousands of other overhyped sites on the internet.
They try to convince you that making $1,000/day can be accomplished with clone sites that offer no value to people. No, no and NO!

This reward platform is going viral! Cash out via PayPal, Visa, Gift Cards, and in-game currencies - Click here to find out how to generate an extra $10+ per day! 
That doesn't mean the product is a scam, though.
On the other hand, it's possible to make some money, but it's not that easy.  Besides, you can ask for a refund before 60 days.

So, I would say it depends on your definition of scam.
Verdict: Not Recommended
How I Make Money Online
---
If you are searching for a way to earn a substantial income online, I encourage you to stop looking for a shortcut.
There is no loophole, trading robot, or anything that can generate a lot of money without you putting in the effort.
The first step is to accept that it takes a lot of time and effort.
Next, you need to decide on a realistic business model that allows you to start small and scale.
Personally, I decided to create a review site where I can provide helpful content and, at the same time, promote the best solutions for my audience.
I started as a complete newbie 3 years ago and built a $1,000/mo internet business thanks to this step-by-step training developed by Kyle and Carson.
The first 10 lessons are completely free, and with the starter membership you also get:
2 Free websites
Support from me, the owners and the entire community.
It's a great place to build passive income sites! But of course, it's not for everyone. So, sign up for free and see if that business model appeals to you.
Check Out My #1 Recommendation Review HERE
I hope this One Click Pay Day review was helpful to you. If you have any questions, feel free to ask in the comment section below.
Peace!