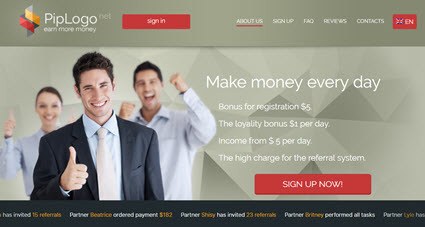 PipLogo is a website that is promising to pay you for completing ridiculously easy tasks. They also give you great bonuses and a generous referral program.
If PipLogo is so great, then why don't we see it being promoted in other blogs or Youtube channels? Is it a scam or a legit platform?
Let's find out!
By the way, if you want to learn step by step the same method that earns me over $1,000/mo from my laptop, check out my #1 recommendation!
Piplogo Review
---
Name: PipLogo
Website: piplogo.net
Price: Free
Overall Rating:

0/5
What is PipLogo?
---
PipLogo is a website that supposedly rewards users for giving feedback on companies' logos.
According to the site, Piplogo is a company that provides marketing services for the formation of corporate identity (aka Logo).
These services include research and analysis of participant's preferences.
After a bit of research, I discovered these guys have a clone site called hitlogo.net, which is the exact copy of Piplogo.net.
Have a look: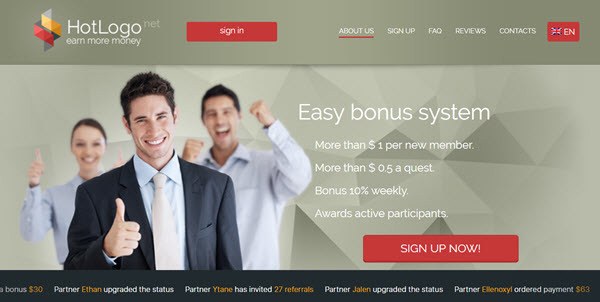 I also discovered that both sites are owned not by a company, but by an individual from  Blagoveshchensk / Russia.
You can verify that by searching for Piplogo.net at Whois.com.
How Does it Work?
---
The registration is free, and you will earn a bonus of $5 just for signing up.
Once you log in, you will see the list of available jobs that pay between $0.30 to $1 depending on your status.
All you have to do is select your preferred logo and then answer two questions about the reasons why you have made your choice.


What is weird is that the only difference between the logos is the color.
That makes me suspect that these are all fake jobs. Also,  I don't believe startups would spend money just to get other people's opinion about the color of its logo.
You Probably Won't Get Paid
---
I'm am confident that PipLogo is not paying and I have 3 main reasons for that.
First, these tasks don't look real. If they were real, then the website should have a link dedicated to companies that want to pay for the service.

I haven't found any link or contact detail for companies that want feedback on their logos.
Second, I haven't found any blog promoting PipLogo or any individual that received the payment.
Even with a 30% commission, bloggers are not interested in promoting this site. Maybe that is because they are all skeptical for a good reason.
Finally, the terms and conditions, which is in Russian, states that they have the right to refuse to cooperate with traders and block the user's account without explaining the reasons.
Here is the translation of the relevant clauses:
2.3 Administrators of the PipLogo network have the right to refuse to cooperate with traders without explaining the reasons for the refusal.

3.5 Administrators of the PipLogo network have the right to block the user's account on the system without explaining the reasons.

3.7 The Company is not liable for damages and other consequences arising from the use or inability to use the service.
Unfortunately, most people don't read the terms and condition and accept this situation without a clue.
What's worse, most of those who open the TOS can't speak Russian for God's sake!
How is Piplogo Making a Profit?
---
If the tasks are real, then they are charging companies for the marketing services provided.
But what if they are a scam?
Well, in this case, they could be selling your email address to third parties. That's the only way they could be making money right now because the site has no advertising or membership costs.
If it's a fraud, you will not lose money, but you will waste time and get spammed! Some people will try to promote PipLogo to get referrals, and that is free advertising for them.
Conclusion – Is PipLogo a Scam?
---
As you have seen from the above, there are important reasons to believe PipLogo is a scam. However, I can't say that out loud without concrete proof.

The best decision is to avoid Piplogo because they can block your account for any reason and deny your payment.
Verdict: Not Recommended
How I Make Money Online
---
I have this website that is generating an income for me 24/7.
I focus on writing articles such as this review and promote products that I trust.
When people buy from my affiliate links, I earn a commission. It's simple, and anyone can do it, but there are many things you need to learn first.

This reward platform is going viral! Cash out via PayPal, Visa, Gift Cards, and in-game currencies - Click here to find out how to generate an extra $10+ per day! 
As importantly, you need to put in the time and effort to attract visitors to your site.
It's a long journey, but in my opinion, it's worth it!

If you want to learn step by step how to set up a website, attract visitors effectively, and make money, check out my #1 recommendation.
It's a remarkable training community that will give you not only knowledge but also support and tools to create your internet business.
Check Out My #1 Recommendation Review HERE
Thanks for reading my Piplogo review. If you have any questions, please let me know in the comment section below.
Peace!