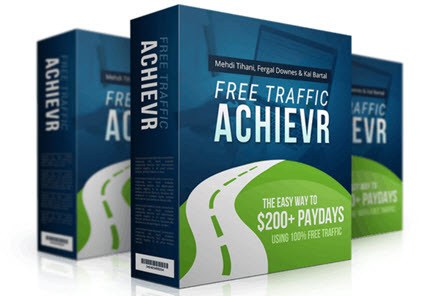 I just came across Free Traffic Achievr, a new course that promises to teach a new way to make $100 – $200 per day. Not only that but the method is 100% free and requires only 20-30 minutes of work per day.
Is it a reliable method or one of those get rich quick schemes?
Check out my review below as I will expose the method and give you my honest opinion about it.
By the way, if you want to learn step by step the same method that earns me over $1,000/mo from my laptop, check out my #1 recommendation!
Free Traffic Achievr Review
---
Name: Free Traffic Achivr
Website: https://freetrafficachievr.com/live
Price: $9.96 + Upsells
Strategy: Internet Marketing
Overall Rating:

2.4/5
What is Free Traffic Achievr?
---
Free Traffic Achievr is an internet marketing course developed by Mehdi Tihani, Fergal Downes and Kal Bartal.
They promise to show you a brand-new method to get free traffic and make hundreds of dollars per day.
Now, of course, they will not review the method for you unless you pay the price. And that is what pisses me off because after you open your wallet, you always discover the technique is not new or revolutionary.
What's worse, they also spread misinformation by claiming the old way of getting free traffic is dead.

What do they mean by "old way"?
Blogging?
No, it's not! If it were dead, then you wouldn't be reading this review right now.
There is Nothing New Here
---
My intention with this post is to expose the method because people have the right to know what they will learn before they pay the price.
Just saying the method is amazing because it's free and will generate a lot of money is not enough.
So he is the truth…
As I suspected, the method has been used by millions of marketers around the world already. It's all about Facebook marketing!
It's a very simple method.
You have to create a Facebook account and add people that are probably interested in what you want to promote.
For example, if you want to promote supplements, you will have to search for Facebook groups about this topic and start adding the members of that group.
You can also promote your offers directly to the group instead of chasing people one by one.
What you have to do is basically promote affiliate offers and when people buy through your link, you will get a commission.

The Training
---
The course consists of just 3 steps and has 7 videos in total. The steps are:
Your Audience – Learn how to get traffic via Facebook.
Positioning – Learn how to position yourself as an expert in your niche.
Making the Sale – Learn how to place your offers in front of your audience to make sales.
My Honest Opinion About Free Traffic Achievr
---
Short and to the point. I don't think this method will help you make $100s per day.
Perhaps you can make some sales per month, but don't expect that will happen by working just 20 minutes per day.
In my opinion, it's not an effective way to get free traffic unless you use bots to post on Facebook and spam Facebook Groups like a pro.
Ask yourself this question, do you add strangers in your Facebook? So, most people will not add you back because they don't know.
What you will have to do is become active in specific groups in your niche, answer questions and help people.
Let's face it. It's not easy and it takes time to grow a Facebook audience.
If you want to position yourself as an expert, you have the be the expert and provide a ton of value.
There are no shortcuts unless you don't care about ethics.
Conclusion
---
What I hate about these "make money online products" is that most of them implicitly or explicitly sell you the idea that making a lot of money online can be an easy and quick process.
Free Traffic Achievr will not show you a brand-new and effective method.
It's not different from what other millions of marketers use to make money via social media.

 Verdict: Legit
Is There a Better Choice?
---
Yes, there is! Instead of chasing the customer by using Facebook, I recommend focusing on content creation.
In my opinion, the best way to make money online is to use a combination of blogging, Youtube and social media marketing.
By creating helpful content that will get high Google and/or Youtube Rankings, you will get a lot of traffic.
It's not easy either, but it's way more effective than adding people on Facebook and posting links on FB groups.

This reward platform is going viral! Cash out via PayPal, Visa, Gift Cards, and in-game currencies - Click here to find out how to generate an extra $10+ per day! 
I started as a complete newbie 3 years ago and built a $1,000/mo internet business thanks to this remarkable step-by-step training developed by Kyle and Carson.
The first 10 lessons are completely free, and with the starter membership you also get:

2 Free websites
Support from me, the owners and the entire community.
They will teach you not just one, but a combination of marketing strategies so that will work synergistically to help you succeed.
 Check Out My #1 Recommendation Review HERE
I hope this Free Traffic Achirvr review was helpful to you. If you have any questions, feel free to ask in the comment section below.
Peace!