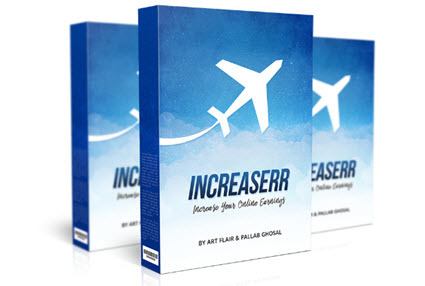 Art Flair and Pallab Ghosal have just released a new internet marketing course called Increaserr. This time they promise to reveal how to make between $581.51 and $1092.75 per day!
Is Increaserr a scam or can it really h you make thousands per month in passive income?
Check out my review where I give you my honest opinion about the course and methods involved.
Highly Recommended: Discover the same method that earns me $1,000+ per month from my laptop – Check out my #1 recommendation.
Increaserr Review
---
Name: Increaserr
Website: http://artofmarketing.academy/increaserr/
Price: $9.45 + Upsells
Strategy: Affiliate marketing
Authors: Art Flair and Pallab Ghosal
Overall Rating: 2.4/5
The Hype
---
The creators of Increaserr promise to show you how to set up passive income machines and use 3 secret traffic sources to generate $500-$1000 per campaign.
One of these traffic sources, they say, is penny clicks.
The problem is, the term "penny clicks" doesn't designate any specific traffic strategy. So, all you know is that they are using very cheap advertising to get clicks and sales.
According to them, you can invest 15 cents and get a $100 return. Heck, you can repeat the process over and over again and make money like clockwork!
Note that they want you to believe this is the easier way to make money online, and that it doesn't require much work.

I have to disagree and say that, regardless of the method, it does require a lot of work.
It's always misleading when someone makes such claims because there is no secret traffic source.
What is Increaserr?
---
Increaserr is an internet marketing course that will show you how to promote affiliate offers with paid advertising.
The training is focused on 3 paid traffic methods, which are Solo Ads, Facebook Ads, and Youtube ads.
Pros and Cons
---
Pros
It's an in-depth and well-structured course.
It's very affordable.
Cons
The sales page gives people the wrong mindset of what it takes to build a successful business.
You will only learn about paid traffic methods.
It's quite risky.
How Does it Work?
---
The business model revolves around affiliate marketing, which means you will earn commissions by promoting other people's products.
There are many ways you can make money as an affiliate, but Increaserr is going to explain the most popular method taught by other "gurus."
The first step is to choose a lucrative offer based on its high conversion rates. This offer is a digital product that is usually another "make money online" course for sale on Warriorplus or JVZoo.
Next, you must create a lead capture page, connect it with your autoresponder and promote it via paid traffic methods.

Once people subscribe to your email list, they will be directed to the product's sales page, where they can purchase the digital product.
If someone buys it, you will earn a commission, which is usually 50%.
You will build a list of email subscribers in the process, which allows you to promote more offers to those individuals over and over again. That's called email marketing.
The Training
---
The course consists of 19 modules that will show you step by step how to:
Select the perfect offer.
Get 100% commission by acquiring license rights.
Create congruent capture pages.
Perform email marketing effectively.
Get traffic via Facebook ads, Youtube ads, and Solo ads.
Use retargeting as a marketing tool to recover bounced traffic. https://retargeter.com/what-is-retargeting-and-how-does-it-work/
Create a bonus page.
Can You Make Easy Money With Increaserr?
---
Although this method might look simple, it's very challenging because you need traffic (visitors) to your capture pages.
The problem is that you will have to pay for advertising, which is not cheap at all!
Facebook, Youtube and Solo ads are used more effectively by product owners and not affiliates. That is because affiliates struggle to make a profit.
You can make lots of commissions in a few days, but the question is: How much profit will you make considering all the investment in ads, autoresponder, tracking software and hosting?
It's not easy, folks. That's why I don't recommend paid traffic sources for beginners.
Conclusion – Is Increaserr a Scam?
---
Increaserr is not a scam, but there is nothing revolutionary about the strategies you will learn.
The course is in-depth and affordable. But keep in mind that you will have to purchase hosting, domain name, autoresponder and lots of advertising.

For this reason, making a profit is not as easy as it may seem at first glance.
It's a risky business because you rely on paid traffic to make a profit. That means your marketing campaigns must convert very well!
Verdict: Legit – Not Recommended
Is There a Better Choice?
---
Yes, there is! Instead of chasing the traffic, the safest method is to attract an audience by using free traffic sources.
These are mainly a combination of blogging, Youtube, and social media marketing. All you must do is focus on creating helpful content that will get high Google rankings.

This reward platform is going viral! Cash out via PayPal, Visa, Gift Cards, and in-game currencies - Click here to find out how to generate an extra $10+ per day! 
It's not easy either, but at least you can start with a little investment and grow over time.
I started as a complete newbie 3 years ago and built a $1,000/mo internet business thanks to this step-by-step training developed by Kyle and Carson.

The first 10 lessons are completely free, and with the starter membership you also get:
2 Free websites
Support from me, the owners and the entire community.
Check Out My #1 Recommendation Review HERE
I hope this Increaserr review was helpful to you. If you have any questions, feel free to ask in the comment section below.
Peace!