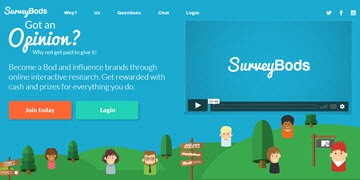 In this review, I will be talking about Surveybods, a website that gives members the opportunity to take surveys and get paid online.
There are many similar sites on the internet, so why should, or shouldn't you join Surveybods? Is it a scam or legit?
You may also want to discover the proven method that makes me $1,000+ per month from my laptop. Click here for my #1 recommendation.
Surveybods Review
---
Platform: Surveybods
Website: https://www.surveybods.com/
Price: Free
Company: ResearchBods Online Ltd
Membership Eligibility: UK (+16)
Strategy: Online Surveys
LEGITIMATE
Overall Rating: 

3/5
What is Surveybods?
---
Surveybods is a marketing research community owned and operated by a reputable UK based company called ResearchBods Online Ltd. So, it's definitely not a scam and it does pay.
The platform allows members to share their opinions with brands, and thus, help influence the development and improvement of products and services.
Some of the well-known companies that work with Surveybods are Jet2.com, MTV, Nickelodeon, Hello!, MailOnline, and NSPCC.
After taking a survey, you will receive points that you can redeem for bank transfers or Amazon gift cards. You will also be entered in the monthly prize draw of £1000.
Pros and Cons
---
Pros
It's a trustworthy panel.
Get started with 200 points (£2).
It's available worldwide.
Earn entries for great prizes.
Cons
Low pay.
It's only available in the UK.
There are not many surveys, depending on your profile.
You may waste a lot of time due to disqualifications.
PayPal is not available.
It may take a long time to cash out.

This reward platform is going viral! Cash out via PayPal, Visa, Gift Cards, and in-game currencies - Click here to find out how to generate an extra $10+ per day! 
How Does Surveybods Work? 
---
Registration
You can sign up for free by providing basic details such as your name, email, and date of birth. A quicker option is to use your Facebook account.
There are no age restrictions to join Surveybods, but if you are under 16 years old, you should ask your parents or guardians to read the User Conditions and consent to it.
After that, you should check your email and follow the link to activate your account.
Profile Surveys 
The next step is to answer a few profiling questions that should take about 2 or 3 minutes. You will earn 50 points (£0.50) after it's done.

When you open the dashboard, you will realise you already have 200 points (£2) in your account, which is nice!
Besides, there are other 3 profiling surveys worth 50 points each. Complete all profile surveys to ensure you receive as many surveys as possible.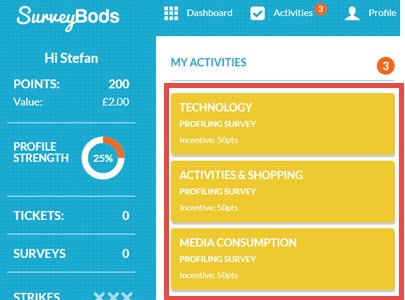 Online Surveys
You will receive survey invitations by email whenever your profile matches a new marketing study. You can also find new survey opportunities via the dashboard.
If you are not getting as many surveys as you want, I  recommend signing up to other sites such as Prizerebel and Offernation.
These sites have partnered with lots of marketing research companies so that you will have tons of surveys every day.
Most surveys award between 50 – 150 points and take 10 – 15 minutes to complete. You will also get entries into the £1,000 monthly draw.
The biggest problem not only with Surveybods but also 99% of survey sites is that they screen out participants after a few minutes in. That is because each research study only selects a specific group of people.
From my years of experience taking online surveys, I noticed that I was disqualified over 50% of the time. Unfortunately, there is no other way around this.
When I took into account all the time I spent trying to qualify and taking the actual survey, I came to the conclusion that I was making less than half of the minimum wage.
I agree that surveys are good for pocket money when you have no other alternative.
However, the internet offers an incredible opportunity for the average joe to earn a full-time income from home. Click here to discover how you can start from scratch and grow a successful internet business. Even if you have no knowledge or special skills to begin with!
Panel Status
---
Surveybods awards loyal members with a unique status according to how many surveys they have completed. You may be prioritised over lower status member for any special research tasks which may become available.
2 Surveys = Bronze
5 Surveys = Silver
10 Surveys = Gold
20 Surveys = Platinum
30+ Surveys = Diamond
Avoid Strikes
---
The platform has a quality control system to check if you are giving honest answers.
As a result, you will receive strikes if you rush through surveys, give contradictory or wrong answers.

Depending on how many strikes you have, Surveybods may suspend or even terminate your account.
Many people try to build a fake, alternative version of themselves in order to get more survey invitations and avoid disqualifications. For example, they may lie about having pets, babies, and playing video games.
Well, I am not here preach what's right or wrong. But it's important to know that your answers will be constantly checked and matched with previous ones.
So, being consistent is key, and in my opinion, the best way to avoid contradicting yourself is to always tell the truth.
Payments 
---
When you reach 1500 points (£15), you will see the "Redeem Your Points" button on your profile page.
You can request the payment to your bank account or claim an Amazon gift card.
Amazon vouchers take up to 5 business days to be sent, while bank payments usually take 2 – 3 weeks.
Does SurveyBods Respect Your Privacy?
---
According to the website, SurveyBods won't share your contact information with anyone and won't send you junk email.
I had a look at their privacy policy and from what I can see, they are taking important measures to respect and protect your privacy.

They are very transparent regarding all the data they collect from you and how they use them if you decide to join the panel and take surveys.
Also, they guarantee all the rights as required by GDPR, including the right to access, and delete your information.
Final Thoughts
---
Surveybods is a legitimate survey panel that anyone can use to earn a few extra cash online.
There are not many surveys, so you may need to sign up with other sites as I mentioned before.
Frequent disqualification is very common among most survey panels, so it can be frustrating to answer all those questions without any compensation at the end. But that's how online surveys work anyways.
Another drawback is that they don't give you the option to cash out via PayPal.
Apart from that, there is no serious issue I have identified so far.
Verdict: Legitimate
How I Make Money Online
---
In 2015, I discovered an excellent training platform that showed me step by step on how to build an income generating website.
As importantly, I found this business model would help me reach time and location freedom.
So, I worked hard and finally reached a point where I can pay all my bills with my website.
It was life-changing because now I don't need to rely on my job to pay the bills, can you imagine? I just wished I had discovered this platform much earlier!
In short, I create articles and reviews that rank high on Google and attracts lots of eyeballs. You can do that by providing valuable content and target low competition keywords in your articles.
Once you attract a decent number of visitors on a daily basis, you can make money by promoting other people's products through your site.
This business model is called affiliate marketing, which works for those who put in the work and have the patience to wait for results.
Keep in mind this is not a push-button system that delivers magical results. Competition is strong out there, and that's why I encourage you to get proper training.
If you want to know more about this platform, check out my No.1 Recommendation review. It has a free trial available to test the waters!
Thanks for checking out my Surveybods review. If you have any questions, just let me know in the comment section below.
Stay safe and peace out!