In this review, I am going to explain and give you my honest opinion about Job Spotter, an app that supposedly rewards users for taking pictures of hiring signs. Is it a scam or a legit application? How much money can you make?
Find out below!
You may also want to discover the proven method that makes me $1,000+ per month from my laptop. Click here for my #1 recommendation.
Job Spotter App Review
---
Platform: Job Spotter
Website: https://jobspotter.indeed.com/
Strategy: Earn Amazon vouchers for snapping job signs
Developer: Indeed UK Operations Ltd
LEGITIMATE
Overall Rating: 

3.8/5
What is Job Spotter?
---
Job Spotter is an innovative app owned and operated by Indeed, the world's largest job website. So, the word scam doesn't even come close!
The app's purpose is to discover hiring businesses and display the job opportunity on their online portal.
To automate the process, the company came up with a great idea to create Job Spotter and reward users for taking photos of hiring signs.
It's nice to know we are getting paid to help local businesses and job seekers.
Take photos of "help wanted" signs displayed on storefronts and earn points redeemable for Amazon gift cards. Yes, that's all you have to do!
Pros and Cons
---
Pros
Minimal effort is required.
It's available for both iOS and Android devices.
It's available in 60+ countries.
Cons
No cash payments.
You never know how many points you will get for each job ad.
How Does Job Spotter Work? 
---
Step 1 – Download and Install the App
Job Spotter app is available both for Android and iOS devices. Therefore, you can find the app for download on Google Play or the App Store.
The Job Spotter website has a direct link for download.
You will have to allow the activation of the location services on your phone. That's because Job Spotter needs to identify the businesses' locations.
Step 2 – View the Job Spotter Field Guide 
Before exploring your neighborhood for job opportunities, it's essential to read the Job Spotter Field Guide.
It has a tutorial and guidelines to ensure your submission gets approved and earns more points.
Step 3 – Take and Submit Photos 
Hunt for job signs posted in front of restaurants, coffee shops, local stores, etc. Your job is to take a photo of the hiring sign and another one of the storefront with the store name in it.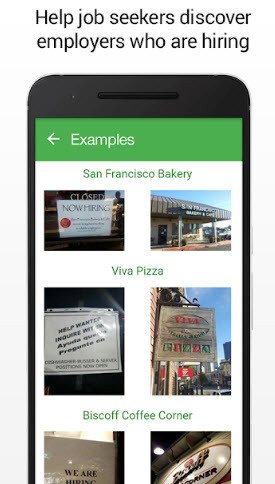 The hiring sign must be focused and close enough to read all the details.
Remember that the jobs should allow applications in person or via email.
Be aware if you submit images containing people, Job Spotter will reject your submission. Photos taken from inside a vehicle will also be rejected for safety reasons.
Step 4 – Redeem Your Points for Gift Cards
It usually takes 2-5 days for Job Spotter to accept your submissions.
You can redeem your points for Amazon gift cards once you have the minimum balance required. Gift cards are processed within approximately two weeks.
Unfortunately, Job Spotter doesn't offer an option to redeem points for cash, which can put off some people that don't make regular purchases online.
How Much Money Worth of Vouchers Can You Make? 
---
There is no limit to the number of points you can earn. Your earnings will depend on how many job signs you find and how many points you will get for each submission.
The FAQ states that you can earn up to 150 Points (100 points = $1) for each approved submission, depending on factors that I will be covering in more detail in the next section.
I read on the internet that some people in the UK were making more than that. One guy claimed he made 305 points ($3.05) with one ad and £40 in one week.

However, most people seem to be getting an average of $0.50 per submission.

That is a pretty decent pay rate considering you won't waste more than 1 minute taking the pictures.
Also, I discovered some people were making more than $100 per month with Job Spotter.  It's possible, but I imagine you will have to walk a lot to find so many job opportunities in one month.
How to Get The Most Points for Your Submissions? 
---
Here is a list of all the attributes of a job sign that will increase your earnings:
The vacancy is for a specific store where the sign was located and not company-wide.
Applicants cannot find the job position on the company's site or another job/career site.
Job needed in small businesses.
The store accepts applications in person.
The sign mentions the job title.
The image is sharp and simple to read.
Because Job Spotter is helping job seekers to find new positions, you will get very few points if you send ads that are already available through the corporate site and/or are not for that particular store location.
It's important to mention that if your sign has already been submitted in the last 30 days, it will be considered a duplicate, and you won't get any points.

This reward platform is going viral! Cash out via PayPal, Visa, Gift Cards, and in-game currencies - Click here to find out how to generate an extra $10+ per day! 
Now, if you see the same job sign after 30 days, you can resend it and earn points!

Earn Points Reviewing Job Signs
---
Another way to earn more points is by verifying submissions made by other members. You can do that by tapping the "verify" icon.
The more verifications you make, the more you fill-up the progress bar. By the time you reach 100% you will earn 10 points ($0.10).
All you have to do is confirm whether the photo is clear and posted at a business.
Final Thoughts
---
In my opinion, Job Spotter is a great app because it helps you collect points worth Amazon vouchers with very little effort. 
However, I don't think it's worth walking around your town frantically trying to find job signs everywhere.
Just maintain your daily routine and keep an eye on storefronts where you pass by. That's the best way to make the most out of Job Spotter.
Verdict: Legitimate – Recommended
How I Make Money Online
---
In 2015, I started my journey to earning a substantial income online to achieve time and location freedom.
In that year, I discovered the possibility of building a website, attracting an audience, and earning awesome commissions.
Different from what I imagined, building a site was the easiest part. The hard part was getting enough visitors (traffic) to it. As website owners, the more traffic we have, the more money we can make using different revenue streams.
What I love most about having a website is that I can choose to work whenever and wherever I want. Besides, I can go on a long vacation and still keep making money.
If you want to learn the right steps to grow a profitable website, check out my top recommended platform.
The owners, Kyle and Carson, will help you build a solid foundation for your internet business so you can start small and succeed, even if you have zero experience.
Thanks for checking out my Job Spotter review. If you have any questions, just let me know in the comment section below.
Stay safe and peace out!