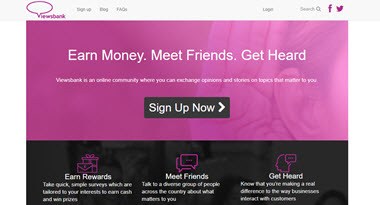 Viewsbank is a website that claims you can earn rewards and win great prizes for participating in marketing research studies.
Lots of surveys sites out there have a lovely façade, but when it comes to opportunities and payments, they fall very shot. Is this the case with Viewsbank?
In this review, I will give you my honest opinion whether Viewsbank is a good option or a waste of time.
You may also want to discover the proven method that makes me $1,000+ per month from my laptop. Click here for my #1 recommendation.
Viewsbank Review
---
Platform: Viewsbank
Website: https://www.viewsbank.com/
Price: Free
Strategy: Online Surveys
LEGITIMATE
Overall Rating: 

3.4/5
What is Viewsbank?
---
Viewsbank is a community where members get paid for sharing their opinions on different topics as well as participating in focus groups, product testing, phone surveys, and mystery shopping projects.
You can also create and participate in interesting polls and interact with the community.
The website is operated by Consumer Intelligence Ltd, a marketing research company that provides consumer and competitor insights for the public and private sector.
Is Viewsbank a Legitimate Site? 
---
Yes. Viewsbank is a legit and reputable site that complies with the Data Protection Act 1998 and is annually audited by the DMA. So, you can rest assured your privacy is protected.
Pros and Cons
---
Pros
Automatic payments to your PayPal account every month (as long as you reach the £12 threshold).
There is a wide variety of surveys.
There is an interactive community around it.
Members can create a poll and earn £10 if it trends.
Fair pay rate compared to other survey sites.
Earn £5 to participate in the Unique Quote Research Project.
Trusted site.
Cons
It's open only for UK residents.
How Does Viewsbank Work? 
---
Registration
You can sign up for free using your email address or facebook account. Don't forget to check your email in order to activate your account.
After that, you will be encouraged to complete a short profile survey worth £1.
Viewsbank will use your profile to match you with relevant surveys opportunities as well as perform quality checks on your future survey answers. So, it's important to provide consistent answers to avoid any penalty.
Unique Quote Research Project – Earn £5
Viewsbank will ask permission to use your details in insurance research quotes.
Basically, Consumer Intelligence is getting paid to provide real insurance quotes from comparison sites and insurers. They can only request a quote on behalf of a real person, and that's where you come in.
Whenever they use your biographic information to get those quotes, you will earn £5.
According to Viewsbank, you can rest assured you won't receive any marketing emails and your credit score won't be affected.
Visit their Unique Quote Research Project page to learn more.
Online Surveys
In the Assignment's tab, you will find all the opportunities that are currently available, including another profile survey worth £1.

The more surveys you complete, the more your chances of being invited for more in the future.
If you are not getting as many surveys as you want, I highly recommend joining Prizerebel, one of the best GPT sites ou there.
For more opportunities, check out my post about the TOP Survey Sites in the UK here.
Different from most sites, Viewsbank doesn't have a point system. Instead, it will show you upfront how much money you will earn, and the survey duration.
For surveys that last for 5-10 minutes, the pay rate usually ranges from 30p – £1.50.
Some surveys will give you entries for the monthly prize instead of cash.
Sometimes the reward won't show up immediately on your Account page after you have completed the survey.
That's normal as your balance account should be updated within up to 24 hours. So, don't worry at this point.
Mystery Shopping
In addition to surveys, you may also be invited to participate in mystery shopping projects, which might involve calling your bank or getting insurance quotes.
Depending on the project requirements, they can pay you up to £130!
Polls
The cool thing about Viewsbank is that members are encouraged to create and answer polls, which are open for discussions. After the vote, you can see a pie chart with the result.

The dashboard is like a forum where people comment on different topics, and it's very interactive!
You will earn a £10 reward if you create a poll that trends, plus 1p every time you vote on a poll that trends.
Here is one poll example: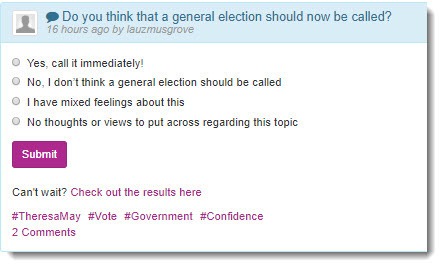 Payments 
---
If you reach the minimum threshold of £12 until the last day of the month, you will get paid via PayPal on the second Tuesday of the next month.

This reward platform is going viral! Cash out via PayPal, Visa, Gift Cards, and in-game currencies - Click here to find out how to generate an extra $10+ per day! 
VERY IMPORTANT: Viewpoint assumes that your PayPal address is the same one that you used to register. So, if you signed up with a different email, you should change it on the "Account > Edit" tab.

Final Thoughts
---
Viewsbank is a legit survey panel that you can join and earn some pocket money online.
The company is trustworthy, and there are very few complaints about it on the internet.
During the last three year, I have reviewed hundreds of reward platforms, and I am yet to discover one that is free from complaints about payment and other issues.
Most people rate Viewsbank as excellent, so if all you want is to earn money with easy surveys, you probably won't be disappointed.
Verdict: Legitimate
How I Prefer to Make Money Online
---
In 2015, I discovered an excellent training platform that showed me step by step how to build an income generating website.
As importantly, I found out this proven business model was working for people all over the world and helping them achieve time and location freedom!
So, I put my heart and soul into it and finally reached a point where I can pay all my bills with my online revenue.
When you create a site and provide content to the internet, you build yourself an online asset.
> CLICK HERE to learn more about No.1 Recommended platform.
It has a free trial available to test the waters!
Thanks for checking out my Viewsbank review. If you have any questions, just let me know in the comment section below.
Stay safe and peace out!