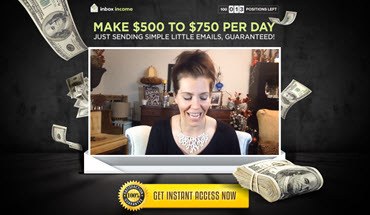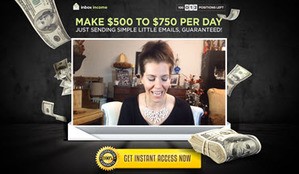 The owner of Inbox Income is trying to convince you that his system will help you earn an easy $500 – $750 per day online. Surprisingly, you only need to spend 25 – 30 minutes per day working from the comfort of your home!
In other words, he suggests that you can quickly achieve financial freedom and quit your 9-5.
So, you are probably wondering if Inbox Income is a scam or a real opportunity to escape the rat race.
In this review, I am going to show you why you need to ignore the hype and be very careful with this type of products.
Tired of the hype? Discover the proven method that earns me $1,000+ per month from my laptop! Skip to my #1 recommendation here.
Inbox Income Review
---
Website: inboxincome.co
Price: $49
Strategy: Affiliate Marketing, Email Marketing
Overall Rating:

0.4/5
The Hype 
---
I know it's easy to fall for the hype when we are so desperate to find a way out of the rat race. I struggled financially for a long time and wished there was an easy shortcut.

The so-called "gurus" like the one you see on the Inbox Income sales page know that people who are short of money are the most vulnerable.
So, they will try to convince that earning $3,000+ per week is easy with a push-button system, which is exactly what people want to hear.
According to the owner, Inbox Income takes no effort and doesn't require any knowledge or skills.
Well, the reality is that if you go ahead and start using the strategy with the wrong mindset of making easy money, you will waste your time and money.

This reward platform is going viral! Cash out via PayPal, Visa, Gift Cards, and in-game currencies - Click here to find out how to generate an extra $10+ per day! 
What is Inbox Income? 
---
Inbox Income sales page does a good job of hiding the true nature of what is required to succeed.
The only clue Steve gives is your job involves sending out a few emails that you don't have to write yourself.
It seems too good to be true the possibility of getting paid just for sending emails, I know. However, that's just the tip of the iceberg.
You may ask yourself what are those emails all about? To whom will you send them out? Where is the money coming from?
No answer to these questions have been given, but they essential to understand why it's so difficult to make money with this system.
Inbonbox Income is basically a step by step training and tools that will help you make money through email marketing.
How Does it Work? 
---
The training will show you how to promote products as an affiliate using email marketing as the primary advertising method.
You will learn how to integrate a lead capture page to an autoresponder, set up an email follow up sequence, and get traffic (visitors) to that page. You are building what is called a marketing funnel.

Keep in mind the job of sending out promotional emails is the easiest part.
The Challenge
The challenge is to get leads (sign-ups) via your capture page so that you have a list of emails to promote to.
It's important to understand that there is no money to be made without leads and that no one is willing to do the work for you unless you pay to advertise your page.
Assuming you have a list of subscribers, you will only make money when someone opens your email, clicks on your affiliate link and purchases the product you are promoting.
Ineffective and Risky
Inbox Income will teach you how to get leads. That's true! The problem is that making money using funnels can be very inefficient and risky, especially for beginners.
It's inefficient because unless you create content via a blog or Youtube Channel, you will be limited to promoting your pages on social media (Facebook, Instagram, etc.) and forums. But if you don't have a massive number of followers, you won't succeed. Period.
Now, it can be risky when you decide to use paid traffic strategies such as solo ads and Facebook ads. That's because it's not easy to earn enough commission to cover all the costs involved.
Gurus will tell you to buy solo ads, which means renting out someone else's list of emails.
Although you can grow an email list relatively fast using solo ads, this method doesn't guarantee you will make any profits.
Beware of The Small Print
Just take a look at the small print at the bottom of the page, which contains the following sentence:
"The typical purchaser doesn't make any money using this system. My Millionaire Mentor does not guarantee income or success and examples shown in this presentation do not represent an indication of future success or earnings" 
The product owner admits the system doesn't work for everyone, which means there are risks involved.

By the way, who is My Millionaire Mentor? It seems that he copied this print from another site and forgot to replace by Inbox Income. Anyway…
Fake Testimonials
---
Besides all the unrealistic income claims, another red flag is the fact that Inbox Income uses paid actors on the video presentation. Yes, all the testimonials are fake!
I am not going to expose the actors in this review because unfortunately, I might get in trouble for using their images.
However, you are free to visit Fiverr.com and search for video testimonials. You will find most, if not all the actors selling their services there.
Conclusion – Is Inbox Income a Scam? 
---
Although Inbox income gives you training and ready-made pages to use, it's not a push-button system that will help you make easy commissions.
Achieving financial freedom through an online system takes much more than 30 minutes per day and a few emails.
It's not a shortcut, and there are risks involved!
I will not call Inbox Income a scam, but the sales page doesn't give people realistic expectations. So, it's not the type of product that I'd recommend.
Verdict: Not Recommended 

What I Recommed
---
One of the best ways to make money online is to choose a niche market and provide content for the internet.
Personally, I decided to create a blog and write content in the "make money online" niche. But if you look around, it's possible to find successful sites in many other niches!
Yes, it takes time and effort to write content, but in the long term, all the hard can start paying you residual income.
It's also a great strategy to collect leads for free and take advantage of email marketing. Besides, it's much cheaper compared to other approaches.
If you want to build a solid foundation for your internet business, check out my No.1 Recommended Platform.
The owners Kyle and Carson have developed this incredibly helpful training and community that has turned LOTS of newbies into 6 figure earners.
I have been a member for three and a half years and reached remarkable results. Click here to learn more about my story.
Thanks for checking out my Inbox Income review. If you have any questions, just let me know in the comment section below.
Stay safe and peace out!