Welcome to my VoxPopme app review!
Voxpopme is a mobile application that promises to pay you for short video surveys.
If you are not an extreme introvert like me, you may prefer sharing your opinions on camera rather than through multiple-choice surveys. 😉
It looks nice on the paper, but can you really trust Voxpopme? Will you get paid? If so, how much money can you expect to make?
Check out my review where I explain everything you need to know and give you my honest opinion about it.
Also, you may want to discover the step by step program that helped me build an internet business from scratch and earn a full-time income online. It's free to get started and 100% newbie-friendly!
Voxpopme App Review Summary
---
Name: Voxpopme
Website: https://site.voxpopme.com/
Price: Free
Company: Voxpopme Ltd
Membership Eligibility: US, UK, Australia, Ireland, Singapore, and New Zealand (+18)
LEGIT
Overall Rating:

4/5
What is Voxpopme?
---
Voxpopme is a mobile application that allows you to make money by voicing your opinions for marketing research studies.
The difference between Voxpopme and the majority of survey apps is that it requires you to answer questions or express opinions through short videos.
Many people prefer providing video responses rather than taking boring multiple choice surveys. If that's you, then you will probably like this app!
By sharing your opinions, you are helping brands to identify consumer trends and develop or improve products and services.

This reward platform is going viral! Cash out via PayPal, Visa, Gift Cards, and in-game currencies - Click here to find out how to generate an extra $10+ per day! 
Some companies invest in video responses because they can identify your reactions to a particular product or topic. As a result, they can get a deeper understanding of how people feel, which significantly increases the quality of market research.
After you submit your video response, you will earn real cash (not points) that you can withdraw via Paypal once you reach the minimum payout requirement.
Voxpopme is a company registered in England and Wales, and it's available for respondents in the UK, the US, Australia, Ireland, New Zealand, and Singapore.
Before I explain how the app works, let's have a look at the pros and cons.
Pros and Cons
---
Pros 
Make money from your phone wherever you are.
Reliable app.
Video surveys usually pay more than regular surveys.
Answer questions in less than 60 seconds.
Get paid via PayPal.
Earn an extra £1 or $1 when you sign up through a referral link and submit your first video response.
Cons
There are not many opportunities available.
The minimum payout is a bit high, so it takes time to cash out.
Your image can be used publicly on the company's social media with your authorization.
How Does Voxpopme Work?
---
Installation and Registration
Voxpopme is available for both iOS and Android devices. Therefore, you can download and install it directly via the App Store or Google Play.
After the installation, I recommend you read the Terms and Conditions before proceeding.
You can sign up using either your Facebook account or email address. For both options, you also have to provide your date of birth, gender, country, and city.
IMPORTANT: The email you provide in the registration form should be the same as the one you use for your Paypal account. You can send payments to another PayPal email, but it will take longer to be processed.

RECOMMENDED: Click here to see my no.1 recommendation for making money online.
Your First Task
When you log in for the first time, you will be invited to record a short video and earn £0.50.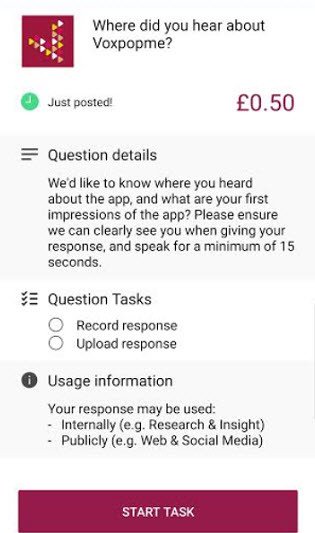 In this video, you have to tell them where you heard about Voxpopme and what were your first impressions.
You must ensure that you have plenty of light in your room and that you speak for at least 15 minutes. 
The video may be used both internally for market research as well as published on their website and social media.
Profile Questions
To unlock new questions, you should answer a few profiling questions. You can find these questionnaires right at the top.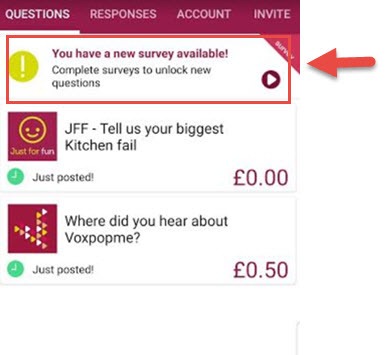 Answering these questions will help Voxpopme match you with the right type of survey for you.
Taking Paid Video Surveys
You will receive a push notification when a new survey becomes available. All the opportunities will be listed on the dashboard.
It's important that you complete the survey as soon as possible because the number of respondents is limited. Don't wait until the next day or you might miss it.

All Voxpopme responses must be between 15 to 60 seconds, and the payout is usually less than £2.
Keep in mind that once you submit the video, it becomes the exclusive property of the company.
"Just For Fun" Questions
When you get started, there is an unpaid question called "Just for Fun".
If your user rating drops below the qualification level, you will start getting these questions instead of paid ones.
But why should you complete them?
Well, "Just for Fun" questions are designed to increase your user rating so you can start receiving paid questions again.
So, make an effort to provide quality responses. In that way, your rating will always be high, and you won't have to waste your time trying to recover.
How To Record a Great Response
I recommend using the maximum time allowed, which is usually 60 seconds. During this time, you should provide a clear and in-depth response.

Express your thoughts naturally, without overthinking.
Make sure your room has plenty of light so they can clearly see your face.
Lastly, avoid places with background noise.
How to Avoid Being Declined
Your videos can be declined for the following reasons:
You didn't answer the question – Maybe you misunderstood the question.
Your answer is incomplete.
Your video is less than 15 seconds.
Poor quality sound – avoid background noise,
Your face can't be seen clearly – record a video in good lighting.
 Inappropriate content – avoid swearing, nudity, and recording videos from the toilet, bed, or vehicle.
How Will Voxpopme Use Your Responses?
Before starting the task, you should check the usage information in the survey description.
Your responses can be used either internally, for market research and insights, or publicly on websites and social media.
If you don't want your videos to become public, then you should not complete those specific surveys.
Invite Friends and Earn 
---
When you refer a friend to join Voxpopme, and the person submits an approved video response, you will BOTH earn an extra £1 (UK) or $1.
You will receive the credit into your Voxpopme account within 24 hours.
To refer a friend, simply tap on "Invite" and then share the automated message on your social media accounts.
RECOMMENDED: Click here to see my no.1 recommendation for making money online.
Payments
---
You can cash out your earnings via Paypal once you reach $15.
There is no other payment processor at the moment, so if you don't have PayPal, you must create an account.
Once you press the "cash out" button, you should receive the payment within 72 hours.
If your payment is taking longer, the best approach is to send them an email to [email protected]
User Reviews – Complaints
---
Voxpopme has been rated 4.1 out of 5 on Google Play, which is excellent!
I had a look at many user reviews and found very few complaints, which makes me confident to assume that Voxpopme is a very reliable app.
Some people experienced technical issues, but nothing serious like blocked accounts or missing payments.
Unlike many cash apps, Voxpopme doesn't seem to terminate a user's account for no reason. Their Terms and Conditions don't even mention this possibility.

Conclusion
---
Voxpopme is a legitimate video survey app operated by a trustworthy company.
Most people have a positive experience with it and wished there were more opportunities.
The main reason Voxpopme is a great app to make money online is that you can complete the task 10 times quicker than traditional online surveys and earn the same!
Unfortunately, there are not many questions, so it takes a long time to reach the minimum payout balance.
Nevertheless, it's good to have it as an additional source of income.
If you want to get paid more for your feedback, you can try usability testing sites like Testing Time, UserFeel, What Users Do, and User testing.
Verdict: Legit
How I Make Money Online
---
In short, I publish helpful content for my website, which attracts visitors and generates affiliate commissions.
As an affiliate, I earn commissions when people read my articles and then purchase the products that I am promoting through my links.
There is no direct selling or product fulfillment involved because I don't own any product.
All I do is provide content and direct people to quality products that solve their problems.
In my opinion, this is one of the best ways to make money because it gives you time and location freedom. 
You can work whenever and wherever you want as all you need is a computer and internet connection.
Not only that but you are the boss, and there is no limit to how much you can earn as an affiliate.
If you want to learn step by step how to create an affiliate site and the effective strategies to grow an audience, check out my #1 recommendation here. It's newbie-friendly and free to get started!
Thanks for reading out my Voxpopme review. If you have any questions, feel free to leave me a comment below. I am happy to help! 😉