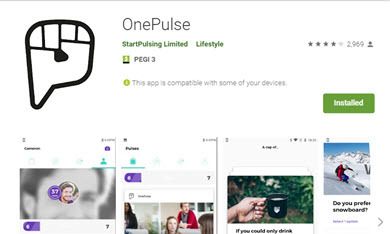 Welcome to my OnePulse app review!
You may have heard about the possibility of making money with OnePulse, and now you are craving for more information about it. Is it a scam or legit? How much money can you earn?
You've come to the right place! In this review, I explain in detail how OnePulse works and tell you what I think about it.
You may also want to discover my #1 recommendation, which helped me build an internet business from scratch and earn a full-time income from home. It's free to get started and 100% newbie-friendly!
OnePulse App Review Summary
---
Name: OnePulse
Website: https://www.onepulse.com/
Price: Free
Company: Start Pulsing Ltd
Membership Eligibility: UK, US and Kenya
LEGIT
Overall Rating:

2.6/5
What is OnePulse?
---
OnePulse is a mobile application that allows you to get paid to answer quick surveys from your phone.
Companies need your opinions to perform marketing research and make better business decisions.
The app is available for both Android and iOS devices, and has been rated 4 out of 5 stars on Google Play, which is quite good!
The great thing about OnePulse all that surveys, known as Pulses, take between 10 seconds to 5 minutes to complete.
The pay rate is quite good compared to the traditional surveys, which usually take much longer.
In the beginning, you will earn $0.25 – $0.27 per Pulse, but as you complete more Pulses, you will level up and earn more.
The downside of OnePulse is that most surveys are unpaid, so you end up spending lots of time without making any money.
Is OnePulse a Scam?
---
There are outrageous apps out there that only designed to generate profit for its owners.
What they do is collect lots of valuable information and then block people's accounts for no reason.
They sell your information to companies and don't pay users!
Despite that, I probably will never call an app an outright scam simply because it's difficult to collect proof. 
In my opinion, OnePulse is not one of those companies. It's likely that you will reach $5 and cash out IF you stick to it for long enough. So, no. I don't think OnePulse app it's a scam.
BUT there are some complaints that I would like to comment later on.
For now, let me show you the pros and cons of this app.
Pros and Cons
---
Pros 
Quick surveys of up to 3 questions.
The minimum payout is just $5.
No disqualifications.
Earn more when you level up.
Reliable.
It's available for Android and iOS devices.
Fast payment via PayPal.
Cons
Low pay.
There are very few paid Pulses.
Many people find it hard to reach the first $5.
There is no referral program.
How Does OnePulse Work?
---
Installation and Registration
Download and install OnePulse from Google Play (Android) or App Store (iOS).
Then, accept the Terms and Conditions and register for free using your email address or Facebook account. You're in!
IMPORTANT: If you travel to another country, you should not use OnePulse as your account may be flagged, and you may be blocked. Also, you should not use a VPN, or you will risk losing your account.

First Pulses – Tutorial
When you log in for the first time, you have to complete 5 paid Pulses, which are designed as a short tutorial. Go through all of them to earn $1.25 and some XP (experience points).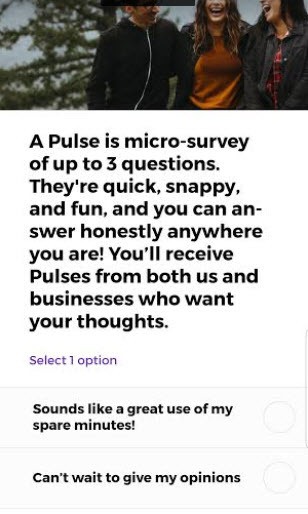 When you finish the tutorial, I recommend filling out all the profile questions to receive more Pulses relevant to you. By telling more about yourself, you can unlock more opportunities.
Your profile is located on the 4th tab on the app. You can find the same profiling questions as Pulses on your main dashboard.
According to the FAQ, you shouldn't worry about sharing your opinions because your responses will be completely anonymous.
To start on the right foot, I also recommend turning the app notifications on. It's probably already activated when you install the app, but it's worth double checking.
Tap into the profile tab, select "account", and then "notification".
You have the option to get notifications when both Paid and Free Pulses or only Paid Pulses become available.
Once you get a notification, the Pulse can max out in a matter of minutes, so you should try to respond as quickly as possible.
RECOMMENDED: Click here to see my no.1 recommendation for making money online.
Free and Paid Pulses
There are free and paid Pulses. The free Pulses are about current events or new things you can share.
Free Pulses gives you XP (experience points), which helps you level up and earn more money per Pulse. More on that later.

As for the paid Pulses, they are requested by companies who want your opinion to identify trends and behaviours to make better business decisions.
You can identify a paid survey by a dollar sign at the bottom.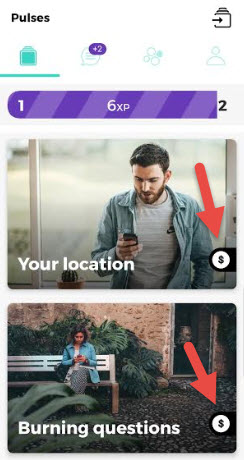 Different from traditional survey panels, OnePulse won't ask you to complete screening questions, meaning you won't be disqualified.
Most Pulses are multiple choices, but some of them require some writing as well.
If you are given an open text, write as much as you can as businesses need honest and in-depth responses.

This reward platform is going viral! Cash out via PayPal, Visa, Gift Cards, and in-game currencies - Click here to find out how to generate an extra $10+ per day! 
When you finish answering, you can see the results of the Pulses that you complete and compare your opinions to others. Sometimes it's interesting to know what other people think about a particular topic.

Levels & XP
Whenever you answer a free or paid pulse, you will gain XP, which helps increase your level. There are 17 levels in total.
When you reach higher levels, you will unlock more opportunities and earn more money per Pulse.
Each level is worth 1 cent more than the previous one. So, the first level pays 25 cents per pulse, whereas the 17th level pays 41 cents.
Note that the first 4 levels are very easy to reach, but the more you rise up the ranks, the more XP you will need to level up.
Therefore, it takes a significant amount of time to reach the last level and earn the maximum pay rate.
Nevertheless, I think an average of 30 cents per 1-5-minute surveys is pretty decent.
Withdraw 
Once you have reached $5, you can withdraw your OnePulse earnings via PayPal.
They won't allow you to withdraw more than $5 per day, but to be honest, I don't think anyone will ever reach $5 so fast!
OnePulse recommends that you register with the same PayPal email address to make things easier for them. But you don't have to.
You can set up your PayPal on the "account" tab, just below the "Notifications".
Once you request the payment, it should be in your account within 24 hours.
How Much Money Can You Earn With OnePulse?
---
It's difficult to estimate because it depends on how many paid Pulses you are invited to.
After completing the tutorial, I expected to get a few Pulses to see some cash coming in.
To my disappointment, I got more than 10 free Pulses and no paid ones.
I'll Keep OnePulse installed for 1 month to see how much I can earn.
Many people complain about the lack of Pulses, so OnePulse doesn't seem like a great opportunity to earn a consistent income.
UPDATE: I wasn't invited to any paid Pulses, so I am still stuck at US$1.25.
User Reviews
---
OnePulse has been rated 4 out of 5 on both Google Play and App Store, which is excellent.
Most people give positive feedback, but many users complain about the lack of Pulses.
Some people claim that after earning a few dollars, the app stops sending surveys, which makes it impossible to cash out.
Conclusion
---
OnePulse is a legit mobile application, but it's very difficult to earn any money with it.
I like the fact that surveys are short and don't waste time with disqualifications.

The main problem with OnePulse is the lack of paid surveys, so reaching the minimum payout threshold can take a long time!
Except for the first tutorial Pulses, I just got free Pulses that only increased my level.
It's quite disappointing when most Pulses are free, and you collect more XP than actual money.
If you want to earn more money by voicing your opinions, I recommend Prizerebel, Prolific, Quickthoughts, Crowdtap, and Voxpopme.
Verdict: Legit
How I Make Money Online
---
In short, I write helpful content for my own website, which gets traffic (visitors) and generate affiliate commissions.
My "job" as an affiliate is to provide content and promote other people's products. It doesn't feel like a job at all!
When people click on my links and make a purchase or take some kind of action, I earn commissions.
In my opinion, this is one of the best ways to make money because of the freedom that it provides.
The freedom of working whenever and wherever I want is what motivated me to give up on my career and build my internet business. It was the best decision of my life!
Keep in mind this takes time and commitment!
So, if you are prepared to put in the work and grow an affiliate site, check out my top recommendation here. It's newbie-friendly and free to get started.
Thanks for reading out my OnePulse review. If you have any questions, feel free to leave me a comment below. I am always happy to help! 😉