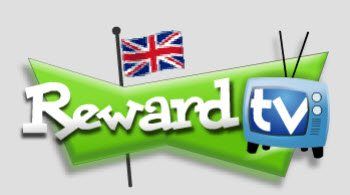 RewardTV allows you to earn some extra money by just taking trivia quizzes about your favorite TV programs. It just looks so easy! So, is RewardTV a scam or legit?
Read my review to discover all you need to know about this platform, and if it is worth your time.
RewardTV Review
---
Product Name: RewardTV
Price: Free
Strategy: Make money by taking TV trivia quizzes
Overall Rating:

6/10
What is RewardTV?
---
RewardTV is a platform that rewards you for completing TV trivia games. There are also some profile questions that you can answer for some extra points, but there are not many of them.
The site will give you more than 100 trivia games per day based on TV programs that were aired the day before. These programs are divided into three categories:
Evening TV
Sports
Films on TV
Is RewardTV a Scam?
RewardTV has been running since 2002 by Nielsen, a reputable marketing research company. Besides, I couldn't spot any serious complaint about the site. So, I can only assume it's legitimate.
Pros and Cons
---
Pros
Free to join
Easy job
Many trivia games every single day
Cons
The reward is based on an auction.
Very low-income potential
Only available in the USA and the UK
You have to wait 10-12 weeks to receive your prize
How Does it Work?
---
After you create a free account, you can select the programs you watched yesterday.
The list is quite big, and you should find options in popular channels such as Sky1, ITV, Channel 4, Channel5London, and Sky Sports One.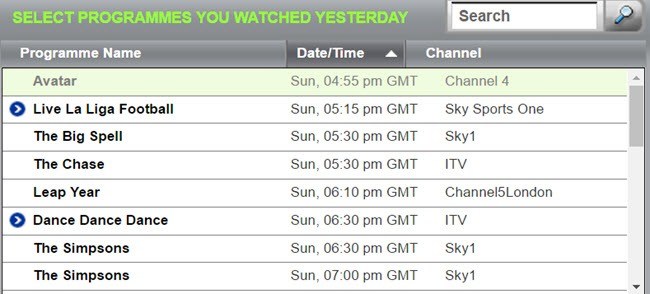 Just select one and start the quiz. Here is one example: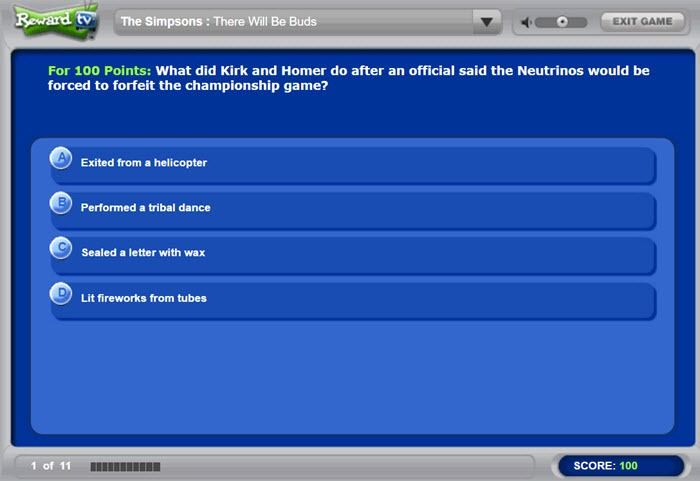 As you can see, each correct answer will earn you 100 points.
You can also win daily entries for prizes according to the following criteria:
Play one game for a new £5,000 Prize Draw entry
Play at least two games for an additional £1,000 Prize Draw entry
How Much Money Can You Make? 
---
RewardTV is a bit different from other GPT (get-paid-to) sites as your points are used in an auction. So, you should bid on various items and hope that nobody bids higher than you.

I dislike this system because people will always bid much higher than what the reward is actually worth.
For example, people are offering 1,096,200 for just £10. Heck! You need to answer almost 11,000 trivia questions to earn that action. That's insane!
There is also an option called "shopping spree," where you have a chance to get Gift Cards for much fewer points.
Using this option, you could exchange 100,000 points for a £10 Amazon E-Gift card.
The problem is that there is a very limited number of prizes each week, and they are offered on a first-come-first-serve basis. So, you have to be very lucky!
Final Thoughts + My #1 Recommendation
---
RewardTV is not a scam, but it will probably take months to save enough points to win an auction.

Personally, I don't like watching TV programs so it doesn't work for me. Moreover, I prefer to spend time growing my online business, which is already generating $900/month in residual income.
The income potential is unlimited, so you can reach a full-time income and beyond. Just keep in mind that it takes a lot of time and effort to reach this level, but it's definitely worth it!
If you want to learn about the platform I am using to build my affiliate marketing business, check out my recommendation here! 
So, have you tried RewardTV? What do you think about it? Feel free to leave your comments below! 🙂
Your friend
Stefan