Welcome to my Zap Surveys app review!
Zap Surveys promises to pay you good money for sharing your opinions with marketing research companies.
According to the company, you are guaranteed to earn $6.25 on your first survey!
No other survey provider offers such as a high incentive for first-timers, so what's the catch?
Is Zap Surveys a scam or a legit application? Does it actually pay for your time and effort?
You need to be careful as many apps out blame you for fraudulent activity as an excuse to avoid the payment.
In this review, I am going to cover everything you need to know about Zap Surveys app and give you my honest opinion.
If you are struggling to earn a decent income online, I highly advise you to check out my #1 recommendation!
It's the exact same program that helped me reach $1,600 per month from my laptop and quit my job in 2019. No special skills are required!
Zap Surveys App Review
---
Name: Zap Surveys
Website: www.zapsurveys.com
Company: Apps That Pay, LLC
Strategy: Online Surveys
Membership Eligibility: Worldwide
Price: Free
Similar Apps: Tap Tap Money, MOBROG, Rewardable
LEGITIMATE
Overall Rating:

1.5/5
What is Zap Surveys?
---
Zap Surveys is a mobile application owned by Apps that Pay, LLC, a company specialized in "money apps" for both iOS and Android devices.
As a member, you will receive daily surveys in which you will share your valuable opinions about products and services.
Most opportunities involve participating in marketing research studies.
However, you can also earn cash by completing offers, shopping, and referring friends.
Zap Surveys App has been downloaded more than 100,000 times on Google Play so far.
Besides, the company claims to have paid over $30,000,000 to its members worldwide!
Pros and Cons
---
Pros
It's available on Android and iOS devices.
Earn $6.25 on your first online survey.
Earn cash back on your online purchases.
There is a decent number of surveys, depending on your country.
Earn Check-in bonuses.
There are over 12 cash out options including PayPal and Amazon gift cards.
The company donates to charity.
Cons
Most surveys pay less than $1. So, it's not a high paying survey app.
You will disqualify for surveys many times and waste time in the process.
Surveys can take longer than stated.
You can only cash out once your wallet reaches $25, which will take "ages".
Zap Surveys can terminate your account at any time!
There are many complaints on Google Play.
How Does Zap Surveys Work? 
---
Installation and Registration
Zap Surveys is available for your Android or iOS device.
So, you can download it on Google Play or Apple Store depending on your operating system.
After the installation, simply sign up using your Facebook or email account.
Insert a Zap Surveys Referral Code to Earn $0.75
After signing up, the app will ask if you have a referral code.

You can use mine (BFY0OANBYB) to claim your $0.75 referral bonus.
But just to be clear…
As I don't recommend Zap Surveys, I'm not collecting any referral commissions from the company.
Start Your First Survey and Earn $6.25
Zap Surveys will give you $6.25 if you complete the first survey, which doesn't take more than 3 minutes.
It's literally free money!
I have reviewed many survey panels that don't pay a single penny for completing half an hour of profiling questions.
Just bear in mind that most surveys will pay you only a few cents.
Besides, you won't be able to cash out until you reach $25, so you are forced to stick around for a long time if you want to receive your payment.
RECOMMENDED: Click here to see my no.1 recommendation for making money online.
Take Surveys
Zap Surveys has partnered with 3 marketing research companies that will invite you to join their survey panel. These are Tap Research, Peanut Labs Inc, and PollFish.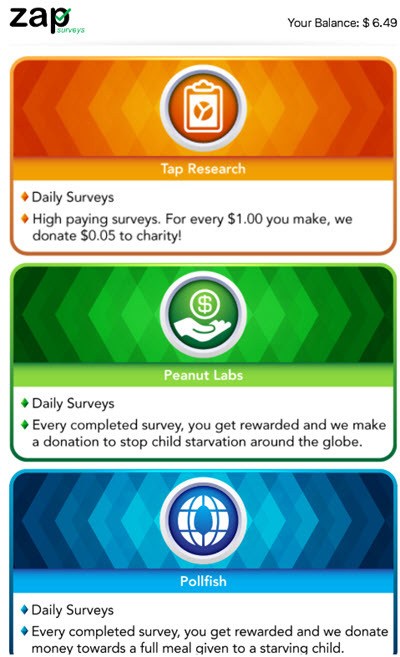 All you have to do is select the survey provider and follow the instructions.

What every panelist (including me) dislike about online surveys is the pre-qualification process.
Before you complete the actual survey, you will have to answer a few questions so that the company can make sure you are the ideal candidate.
For example, a marketing study about baby food brands will screen out every person who is not a parent.
If you are disqualified, you may only get 1 or 2 cents, which won't add up quickly.
How Much Money Can You Make? 
I cringe when marketing when sites and apps claim to offer high paying surveys when in fact, they don't!

This reward platform is going viral! Cash out via PayPal, Visa, Gift Cards, and in-game currencies - Click here to find out how to generate an extra $10+ per day! 
On Zap Surveys, most studies last 10-15 minutes and pay less than $1. 
Some 10-minute surveys can pay as little as $0.19, which is a terrible rate!


That's not a high paying opportunity like Respondent.io or Engage in Depth.
Usually, the longer the study, the higher the payment, but this is not a rule.
The amount of money that you can make will depend on the number of survey opportunities in your country as well as the number of surveys you qualify for.
I general, it's not very difficult to reach $20 – $30 per month, but it will probably require many hours.
Donation
For every survey you complete, they will not only pay you but also donate to charity.
The donation will be directed at fighting children starvation in developing nations. It's an excellent initiative!
If you complete surveys with Tap Research, the company will allocate $0.05 for every $1 that you make.
Offers
In addition to online surveys, you will also find some offers inside the Peanut Labs tab.
These offers include:
Joining a survey or GPT (get paid to) site for free
Installing apps/games.
Entering prize draws.
Accepting free trials (your credit card is usually required).
Always read the instructions carefully because each offer has different rules.
There are many offers where you have to provide your phone number and email address. Most of them pay less than a dollar!
Pretty easy, right?
Well, if you accept this type of offer, that means you will give permission for companies to call you for marketing purposes.
Now, complete a bunch of these offers and you will probably get an annoying call every 5 minutes!
Daily Login Cash
Another way to earn cash is to log in to your Zap Surveys account and claim your reward.
All you have to do is select "Check-in" and tap on Day 1, Day 2, and so on.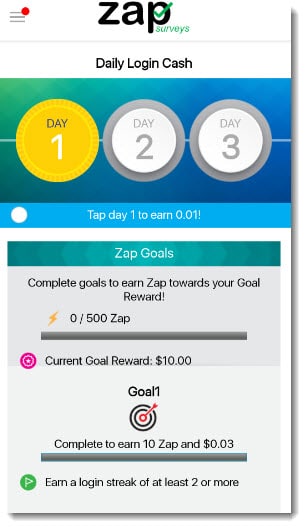 Not only you will earn $0.01 for each Check-in, but you will also earn bonuses if you check-in for a number of consecutive days.
For example, the first challenge consists of logging in for 45 days in a row. You will earn an extra $0.75 if you complete the challenge.
Invite your friends and earn $0.45 per referral
When you create your Zap Surveys account, you will be assigned a referral ID to share with your friends.

You will earn $0.45 for every person that installs the Zap Surveys app and inserts your code.
In turn, your friend will get $0.75.
You can find your referral ID by tapping on "Refer Friends".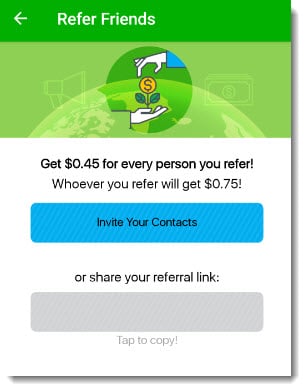 Payment
---
Once you reach $25, you can cash out directly to your Paypal account.
Alternatively, you can claim an eGift card sent directly to your email address.
There are over 12 payment options available depending on your country.
I think the minimum payout of $25 is unnecessarily high!
Many people struggle to reach the minimum threshold amount because of frequent survey disqualifications.
The result?
They simply give up in the process and never collect the money they worked so hard for.
In my opinion, people should give preference to GPT sites and apps with a much lower requirement.
For example, Prizerebel has a minimum threshold of only $5, and it's my favorite GPT platform!
User Reviews – Complaints
---
Reading the reviews on Google Play, I noticed that many people complain that they can't log in after some time.
If they can't log in, I suppose those members lost "their" money and accounts.


UPDATE 2020: Zap Survey continues to upset members in 2020 with the same login issue.
So, I decided to visit their official website and open the Terms and Conditions.
I was already expecting to see this, but I wanted to confirm if there was a clause that gave them the right to terminate the user's account.
And I found it!
Termination and Survival
We may terminate your access to the App at any time, with or without cause, with or without notice, effective immediately.
Yes. They can literally block your account and prevent you from cashing out.

The problem is that most people don't take the time to read the terms and conditions, so they miss important information.
They are not aware of the risk of getting banned! 
Or… maybe they do, but they don't expect the company will block them for no reason.
When that happens, it's a frustrating experience because there is absolutely nothing you can do!
Even if you didn't read, you accepted the terms and conditions automatically by the time you signed up.
It's crazy to think that companies can treat people this way, but this only happens because they are not breaking any laws. Well, not that I know of.
Conclusion – Is Zap Surveys a Scam?
---
Technically speaking, Zap Surveys is a legitimate app, but there are many complaints on the internet.
The problem is that the company can terminate your account at any time, with or without reason.
So, there is no guarantee you will make any money.
I believe everyone should get paid, regardless of whether the company is making a profit or not.
If you are sick and tired of reward sites and apps that don't pay or pay very little, read the next section as I am going to show you a better way.
Verdict: Legit – Not Recommended
My #1 Strategy to Make Money Online
---
No one can make a decent income with reward apps!
Offers and online surveys never pay much, and there is also the risk of being denied payment after all the hard work.
Well, there is a better way!
In 2015, I discovered a step by step program that showed me how to build an internet business and earn a job-replacing income from home.
After applying all the strategies, I was able to reach $1,600 per month in affiliate commissions.
Here is a screenshot of my earnings:

There are lots of other members who were able to quit their jobs and are now enjoying time and location freedom.
The business revolves around setting up a site and creating helpful content that ranks on Google.
It's not complicated, but you must put in the time and effort to make it work.
My advice? Join for free and start your first 10 lessons today!  

Final Words 
Thank you so much for reading my Zap Surveys app review. If you have any questions, please let me know in the comment section below.
I wish you all the best.