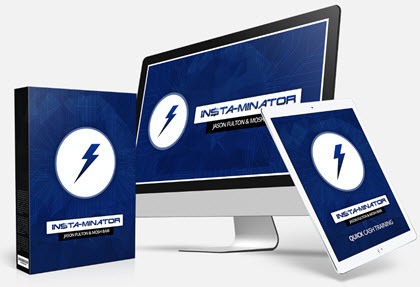 Jason Fulton and Mosh Bari have just released Insta-Minator, a new course that claims you can make an easy $333.54 per day starting tomorrow.
If you are sick and tired of seeing biased reviews on Google and YouTube, you have come to the right place!
In my Insta-Minator review, I am going to expose the method and give you my honest opinion it. Is it a scam or legit?
Find out now!
if you want to learn step by step the same method that earns me over $1,000/mo from my laptop, check out my #1 recommendation!
Insta-Minator Review
---
Name: Insta-Minator
Website: https://www.insta-minator.com/live
Price: $12.95 + Upsells
Strategy: Affiliate marketing
Authors: Jason Fulton and Mosh Bari
Overall Rating:

2.5/5
The Hype
---
The sales page of Insta-Minator is overhyped just like most internet marketing products.
They want to convince that this cash system is the fastest and easiest way to turn your hobbies into a job-replacing income.
You don't need any skills, website, autoresponder, or traffic budget.
It all seems too good to be true, but the reality is that it's not as easy as they make it seem.
What is Insta-Minator?
---
Insta-Minator is a video training developed by Jason Fulton and Mosh Bari, both veterans of the WarriorPlus.
I have reviewed their last product called Blistering here in this blog. So, if you are curious, you can check that out.
The course is going to teach you about a basic system composed of a WordPress site and a push notification plugin.
Next, they will show you 5 methods that you can use to get buyers traffic. In other words, how to attract visitors that are ready to buy.
There is also an alternative method that doesn't require a website. It's called Facebook messenger Chatbot.
It's not a very effective method when used alone, so if you are serious about making a substantial income online, you will need the website.
Pros And Cons
---
Pros
It works in any niche
It's newbie-friendly.
The course covers 5 traffic methods.
Cons
They don't teach you how to set up a WordPress site.
The sales page is overhyped.
How Does it Work?
---
Insta-Minator will show you how to make money with affiliate marketing in any niche market. You can build a business around any topic you want such as Pets, Fitness, Dating, etc.
The strategy revolves around building a simple WordPress site and installing a push notification plugin like Pushcrew.
When people visit your site, a pop up will ask them to allow push notifications.
After that, you will be able to promote products as an affiliate. Meaning when people click on your link and purchase the product, you will earn an affiliate commission.
The challenge lies in getting traffic to your website in the first place.

With that in mind, the course will teach you different strategies that are proven to work in any niche.
These include free and paid traffic methods that are no secret to any experienced internet marketer.
Can You Make $333.54 Per Day With Insta-Minator?
---
Although you can make hundreds of dollars in a single day, it's highly unlikely you will achieve that by tomorrow.
It's totally unrealistic!
Regarding the traffic strategies, there are no shortcuts here. If you decide to use free traffic methods, it's going to take you years of hard work to crank out $333/day.
Now, you can achieve quicker results with paid traffic methods. However, there is a significant risk of losing all your investment if you are not careful.
In my opinion, you should only use paid traffic if you are a very experienced marketer, or you are prepared to lose a lot of money to get that experience faster.
Buyers traffic is not cheap, so your profit margin is significantly reduced.
The Training
---
I like the video training is well-structured and covers different traffic methods.
The downside is you will need to look for more information and tutorials on the internet
For example, you will need to learn how to set up a WordPress site, if you don't know yet.
In my opinion, the focus of the training should not be on how to use push notifications, but how to build trust and authority to get high Google rankings. That would give you a solid foundation!

Then, you could use all the other strategies to grow your business.
Conclusion – Is Insta-Minator a Scam?
---
Despite the hype, I don't consider Insta-Minator a scam.
The course delivers valuable information on marketing strategies that are proven to work.
However, because it's only $12, you will not get an all-encompassing internet marketing course.
Don't expect you will start making money in a short period.

This reward platform is going viral! Cash out via PayPal, Visa, Gift Cards, and in-game currencies - Click here to find out how to generate an extra $10+ per day! 
If you rely on free traffic, you will need to create a lot of content either by blogging or vlogging. There is no other way around it!
Now, if you decide to go for a paid traffic method, proceed with caution as there are no guarantees you will recover your initial investment.

Verdict: Legit
Is There a Better Choice?
---
Yes. There is!
In 2015 I found a supportive community-based platform that I still recommend to all my readers.
Their complete step by step program helped me built an online business from the ground up and reach $1,000/mo. It's still growing, and there are no limits!
The first 10 lessons are completely free (no credit card required), and with the starter membership you also get:
2 Free websites
Support from me, the owners and the entire community.
One of the most critical aspects of this platform is the community of thousands of active members.
You will be able to interact with everyone and learn from 4-figure earners. That makes a huge difference!
If you want to learn more about it, check my full review by clicking on the green button below.
 Check Out My #1 Recommendation Review HERE
I hope my Insta-Minator review was helpful to you. If you have any questions, feel free to ask in the comment section below. I'm always more than glad to help!
Peace!