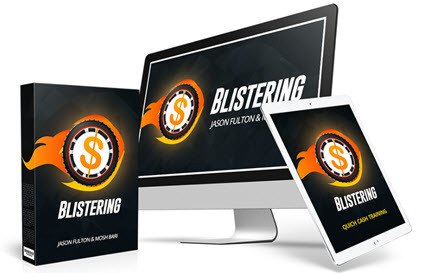 The owners of Blistering are claiming their new fast cash system banks $272 by working less than 20 minutes per day. Can Blistering really help you achieve such life-changing results or is it another scam?
Check out my honest Blistering review below where I explain how the system works. But before you do so, I want to make it clear that:
This is just my honest opinion about the product based on my experience as an Internet marketer.
I am not affiliated with Blistering.
If you want to learn proven the method that earns me over $1,000/mo from my laptop, check out my #1 recommendation!
Blistering Review
---
Product: Blistering
Website: www.blisteringonline.com
Price: $12.95 (Frontend) + Upsells
Creators: Jason Fulton and Mosh Bari
Overall Rating: 2.1/5
The Hype
---
Blistering's sales page makes some bold claims that are very hard to believe.
For example, it says Blistering is the fastest way to make a substantial income online consistently.

They say you can start making $100- $200 daily within just a few hours from now. Not only that but the method and software will help you achieve such incredible results effortlessly.
Yes, forget about Youtube videos, SEO, Blogging and product creation!
Instead, the owners encourage you to buy Blistering to copy the same system that generates $10K- $15K per month.  
What is Blistering All About?
---
Blistering has been promoted as a formula and software to copy successful marketing campaigns.
The strategy revolves around using the software (WordPress plugin) that automatically creates bonus pages, which you will have to promote using different traffic strategies.
It will teach you 5 different strategies to get traffic (visitors) to those bonus pages. When the visitor clicks the link on that page and purchases the product, you will get an affiliate commission.
How Doe it Work?
---
The software is basically a WordPress plug-in that you will have to install on your website.
If you don't have a website set up, you have to build one after purchasing a hosting and domain name. Yes, you must have a site otherwise you can't make Blistering work for you.
The plugin, which is called Page Builder, will provide 10 done for you bonus pages.
You can modify these pages by changing the logo, adding your picture, promotional videos, etc.
By adding your affiliate link in the plugin settings, you will direct visitors to the merchant's products through your link when they click on the green button.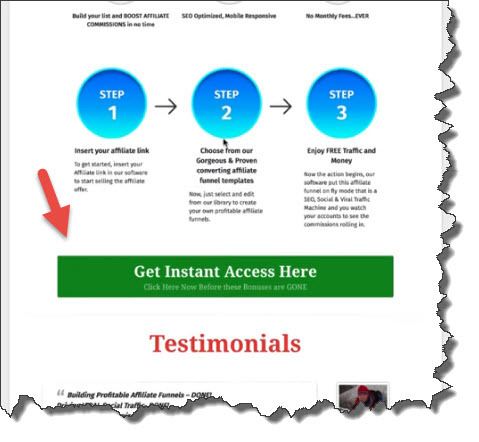 Once your bonus pages are set up, your job is to attract visitors to them. That's the biggest challenge!
There are 5 buyers traffic methods that you will learn inside Blistering, and the focus is on Facebook marketing.

Can You Really Earn $272 Per Day?
---
If you are just beginning and even if you already earn some income online, I would say you have a lot of work to do before you can start making $272/day consistently.
You will need a massive list of email subscribers and social media followers to earn that amount of money.
The problem with Blistering is that it gives you 10 ready-made landing pages with bonuses that will eventually become outdated.
Even if you have a significant list of subscribers, you will need to bring more and more traffic to your promotions because you can't promote the same stuff to the same people over and over again.
Now, to get more and more traffic, you must deliver valuable content via Blogging or Youtube.
Social media alone is usually not effective because you need to build trust with your audience. There is no other way around it.
You have to become a content creator, or you will struggle to get traffic.
Is Blistering a Scam Then?
---
No. Blistering is not a scam because it delivers some valuable training and resources you can use to make money online.
It works as long as you take consistent action. However, there is no guarantee you will make any money after a few days or even months.
I don't like the way they give people unrealistic expectations about the business model.
Besides, you are limited to using only 10 marketing campaigns, which can become outdated.
Personally, I like to promote only what I think is the best for my audience and my internet business. But with Blistering, I am enticed to promote specific Warriorplus and JVZoo products that, in my opinion, are not that great.
Verdict: Not Recommended

What I Recommend
---
Succeeding as an internet marketing is more than just promoting a few bonus pages.
You need to establish yourself as an authority in your niche by researching a lot and providing valuable content to your audience.
Sorry to disappoint, but I need to be honest with you. Working just 20 minutes per day won't be enough to reach your entrepreneurial goals.
The internet is getting more and more competitive, and people are working 10 hours per day to build their online assets.
Work hard in your free time, and eventually, you can reach a point where you can stop working for months, and the money will keep flowing. But until there, you will have to grind and find your space.

This reward platform is going viral! Cash out via PayPal, Visa, Gift Cards, and in-game currencies - Click here to find out how to generate an extra $10+ per day! 
I've been an affiliate marketer for 3 years, and I've tested hundreds of internet marketing products. I can assure you guys there are no shortcuts to making a substantial income online.
For an in-depth course to build your online business on solid ground and get hordes of free traffic, check out my #1 recommendation.

I started from NOTHING and built a $1,000 per month internet business thanks to this down to earth step-by-step training developed by Kyle and Carson.
Thanks for checking out my Blistering review. If you have any questions, feel free to ask in the comment section below.
Stay safe and peace out!