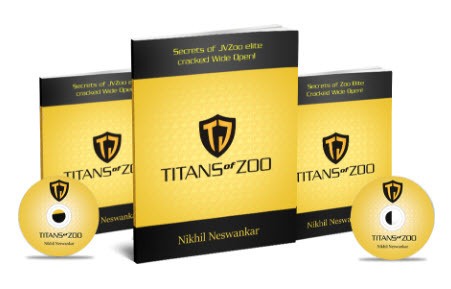 Titans of Zoo has just been released, and there are already lots of positive reviews on Youtube and blogs that are essentially created to promote it.
They will focus only on the positive aspects of the product to encourage you to buy from their links. I am sure it's going to sell like crazy!
But how do you know if Titans of Zoo is not another scam?
In my review, I am going to show you the pros and cons of Titans of Zoo so you can make an informed decision.
By the way, if you want to learn the exact method that earns me over $1,000/mo from my laptop, check out my #1 recommendation!
Titans of Zoo Review
---
Product: Titans of Zoo
Website: www.titansofzoo.com
Price: $12.95 (Frontend) + Upsells
Creator: Nikhil Neswankar
Overall Rating:  3.7/5
The Sales Page
---
Titans of Zoo's sales page is an invitation to steal the exact system that helped a complete newbie to launch a 6 figure digital empire.
For $12.95, Nikhil promises to share with you the private coach sessions that he had with top marketers on a leading affiliate network called JVZoo. Hence the name 'Titans of Zoo.'
According to Nikhil, everything he discovered was entirely different from what other internet gurus had told him.
After that, he went from stuck and lost to a successful product creator.
What is Titans Of Zoo?
---
Titans of Zoo is an internet marketing course comprised of 8 interviews with some of the top marketers on JVZoo.
In short, the course will teach you how to create/launch your own digital product and become a 6-figure earner on the same marketplace.
Pros and Cons
---
Pros
Right mindset – The sales page is upfront regarding the hard work required to earn a 6-figure income from an online business.
The interviews are well structured and cover the most critical steps required to launch a digital product and make sales.
There are valuable tips from top experts on JVZoo.
It's affordable.
There is a 60-day money back guarantee.
Cons
The course is in-depth, but you still need more information and tutorials to be able to set everything up, including landing pages, and your autoresponder.
The Training
---
The training is broken down into the following 8 steps:
Millionaire Mind Programming with Peter Beattie – Learn how to build the right mindset for success.
Finding Your 6-Figure Idea with Ray Lane – Learn why you need to have your own product, why do most people fail in this business and more!
Get a Marksman with Todd Gross – The importance of having a mentor.
Create Your Profit Pulling Offer with Walter Bayliss – Learn how to create a product that sells.
The Automatic Sales machine with Ivana Bosnjak – Learn how to build a sales funnel that converts.
The Invisible Traffic Assassin with Jai Sharma – Learn how to create an army of affiliates.
Press Go Make Sales with Gary Alach – Learn how to launch your product successfully on JVZoo.
Growth Hacking with Michael Thomas – Learn how to provide excellent customer service.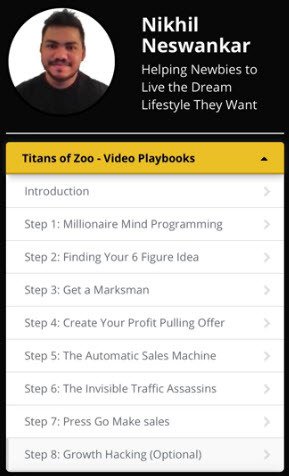 In each interview, the expect goes in-depth and expose valuable tips that are crucial to your success as a JVZoo seller.
All interviews are essential, but you should give particular attention to step 6.
In this video, you will understand the importance of affiliates to get traffic to this type of business. Without affiliates to promote your product on Youtube, blogs and social media, you will struggle to get traffic and sales.
So, it's vital that your product gets the attention of affiliates who will expose it to their email list and other marketing channels.
How Difficult is This Business?
---
Although the sales page is not overhyped, it says you can expect results in 3 or 4 weeks. I would say this is a very optimistic figure if you are just a beginner.
There are too many product creators fighting for exposure on JVZoo, and it can take years to become a successful one. It's not easy, but that is also true of any other business.

You need to have a track record of creating high converting and highly profitable sales funnels. Otherwise, affiliates won't promote your product.
The problem is, if you don't have a background, how can you convince affiliates to promote your first product? It's possible, but it won't happen overnight.
That's why many people start out as affiliates. If you become a top affiliate, it can be easier to convince others to promote your first product. Why? Because you'd have built a strong reputation in your niche.
Conclusion – Is Titans of Zoo a Scam?
---
Titans of Zoo is definitely not a scam. It's a decent training, with lots of valuable tips and tricks to launch products on JVZoo successfully.
However, you should not expect quick results as you will need to build a reputation before lots of affiliates start promoting your offers. That can take months or probably years of hard work!
Verdict: Legit
How I Prefer to Make Money Online
---
I have my internet business, which is exactly what you see right now – A blog that attracts visitors from Google. You probably visited my site after searching for Titans of Zoo, am I right?
Creating a product gives you total control and can be hugely profitable, but it has its cons too.
For example, you need to provide customer service, which can be quite stressful depending on your business.
Another disadvantage of becoming a JVZoo seller and depending on affiliates for traffic is that you need to launch a new product frequently to keep the money coming.
I'd rather create content and promote other people's products. In that way, I don't need to create product after product, which takes a lot of time.
Besides, I don't need to handle customer service. So, if I am on a vacation trip, I don't stress about anything!

I started from NOTHING and built a $1,000/mo internet business thanks to this step-by-step training developed by Kyle and Carson.
The first 10 lessons are completely free, and with the starter membership you also get:
2 Free websites
Support from me, the owners and the entire community.
I hope my Titans of Zoo review was helpful to you. If you have any questions, feel free to ask in the comment section below.
Stay safe and peace out!